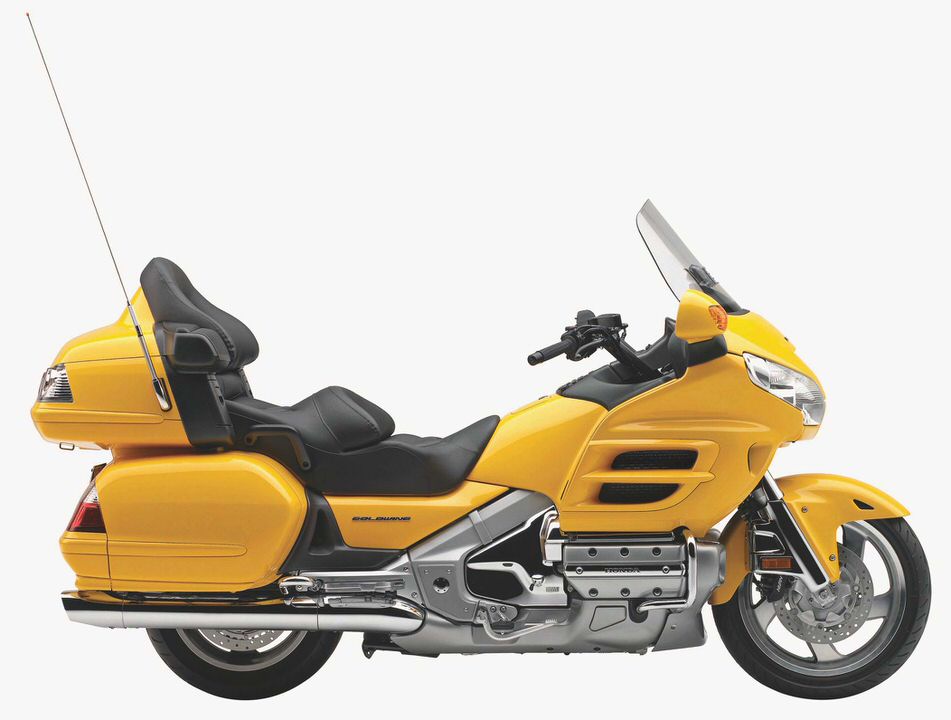 Goldwing family
Honda GL 1800 Goldwing
HEATERS ARE NOW AVAILABLE IN HARTCO'S HONDA GL1800 SEATS.  Hartco is now producing the new 2012 Honda GL 1800 Gold wing.  Because of the innovations and the drastic departure from the norm in touring, the GL 1800 touring bike demands a custom motorcycle seat? that can keep up. Hartco spent months in preparation for the newly designed motorcycle seat needed to compliment the 1800. Folks, fasten your seat belt because this PRO TOUR custom motorcycle seat is built for a rocket ship.
Every curve and every area of support was designed with only the GL 1800 in mind. Whether it be long distance touring, screaming on the curves, or daily transportation to work, throwing a leg over the Hartco PRO TOUR is always exciting. As with all Hartco saddles, each 1800 PRO TOUR custom motorcycle seat is built one at a time per the customer's specifications and needs.
If he or she is inseam challenged and needs to be closer to the ground, the saddle will be constructed as low as needed and narrowed where appropriate. If the driver needs to be further away from the bars, we can move him back two full inches. If a big man saddle is required, we can build one for the largest of riders.
A fully adjustable and removable driver's backrest is available with a pouch on the back for the passenger's munchies or other necessities.
The saddle comes in all soft touch vinyl or in a marine grade velour top with a matching passenger backrest cover in a variety of gorgeous colors. For passengers that want more room in the back or feel the passenger leans too far back, Hartco makes a replacement Honda GL 1800 passenger backrest that offers an inch and a half more passenger space and a more upright passenger backrest.
Hartco PRO TOUR Saddles are the ONLY custom motorcycle seats in the world built with Visco Elastic Memory Foam, a state-of-the-art foam developed for NASA and the aerospace industry. Up until now, Memory Foam has only been used in applications where long periods of immobility or the danger of high impact was involved. Hartco's new Memory Foam far surpasses conventional foams, gel inserts, or air bladders.
This foam conforms instantly to the exact shape and sitting position of the driver and passenger and distributes the body weight of each rider evenly over the surface of the motorcycle seat so that there are absolutely no pressure points.
Our new memory foam is capable of withstanding tremendous shock and absorbing vibration which would make other seating materials unbearable. This means hours of interruption-free riding rather than a contest to see who can stand the pain the longest. Hartco PRO TOUR Honda custom seats are built one at a time according to height and leg length and each foam is hand poured for perfect weight density for driver and passenger.
Hartco PRO TOUR custom motorcycle seats are available with a built-in driver backrest which is adjustable up, down, forward, backward, and folds forward for easier passenger mounting. The PRO TOUR series of after market custom Honda motorcycle seats is available in models for GL 1800, GL 1500, GL 1200, GL 1100, and GL 1000.
My Vintage Motorcycles Photo Gallery by Chip Curley at pbase.com
2009 Honda DN-01 Road Test Rider Magazine
Honda NSF100 European Cup Final – Ultimate MotorCycling
Honda CBX – Classic Japanese Motorcycles – Motorcycle Classics
Honda PCX125 & PCX150 Motor Scooter Guide