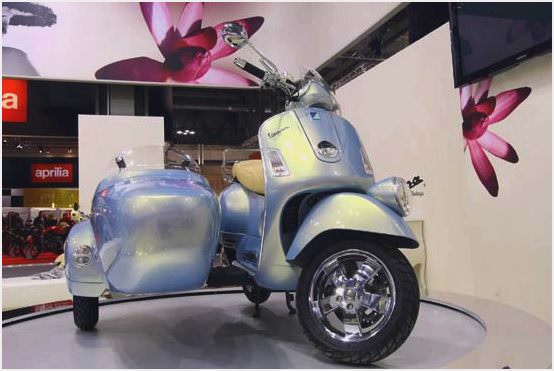 Hero Leap Hybrid Scooter
January 30, 2014
Yesterday, Hero Moto Corp showcased India's first hybrid scooter, Leap, in its pre-production form.
Hero Leap Is powered by an 8KW electric traction motor and also incorporates a 125cc petrol engine, which acts as a range extender. This allows Leap to overcome the biggest problem faced by electric vehicles, limited range.
With the combination of fully charged lithium ion batteries and petrol powered range extender (fuel capacity of 3 liter), Hero Leap can run for a maximum of 340kms and has a claimed top speed of 100kmph in combined mode.
As with all electric vehicles, Hero Leap is a clutchless and gearless scooter and has near silent electric motor. Hero Leap's 8kw electric motor produces 60Nm of torque from the word go and is mated to a toothed belt drive.
We are also delighted to see 240mm front disc brakes in Leap and hope these would be standard feature, when it is eventually launched in India.
While there is no word yet on pricing, we hope it isn't exorbitantly priced and becomes a regular feature on the Indian roads, rather than a lifestyle statement, owned by a few.
Hero Leap Press Release
Leap, the first electric-serial-hybrid scooter from India, returns in its pre-production form. It has been designed keeping in mind Hero's global markets.


When the Hero Leap first appeared as a prototype at the 2012 Auto Expo, it seemed a vehicle from the distant future.
But here we are…well along the path of putting the future into your hands.
Powered by lithium-ion batteries and an 8kW electric traction motor, the Leap eliminates the limited range of an electric vehicle by incorporating "a range extender – anon-board generator set" powered by an extremely efficient all new 124cc engine. Normally, the Leap would be recharged by plugging into a wall outlet, but if that isn't available, the 3-liter fuel tank and the range extender of the Leap gives it four times the range of batteries alone, and the petrol of course can be quickly refilled.
With its sleek aerodynamic styling and all-LED lighting system, this scooter makes a strong statement of Hero's technical innovation, and how far the company will go for a greener future.
The Permanent magnet AC (PMAC) traction motor that powers the Leap spins out maximum torque of more than 60 nm from a standstill, so this advanced scooter requires neither a clutch nor a transmission. Final drive is by the high-technology toothed belt that lives cleanly in the swing-arm, designed to last the life of the vehicle. Top speed of the Leap is 100 kph when running with the range extender, and its near-silent acceleration in full electric operation is better than that of many gasoline scooters.
For braking, the Leap smoothly and quickly slows with its powerful Brembo two-piston front 240 mm disc brake.


VTX
Lost Legend-News & Reviews-Motorcycle Trader
Cruiser Motorcycle Review of the Honda Shadow Aero – Yahoo Voices – voi…
1966 CB77… Today's Honda bike du jour – National Classic Motorcycles …
2012 Grand Prix motorcycle racing season – Wikipedia, the free encyclopedia