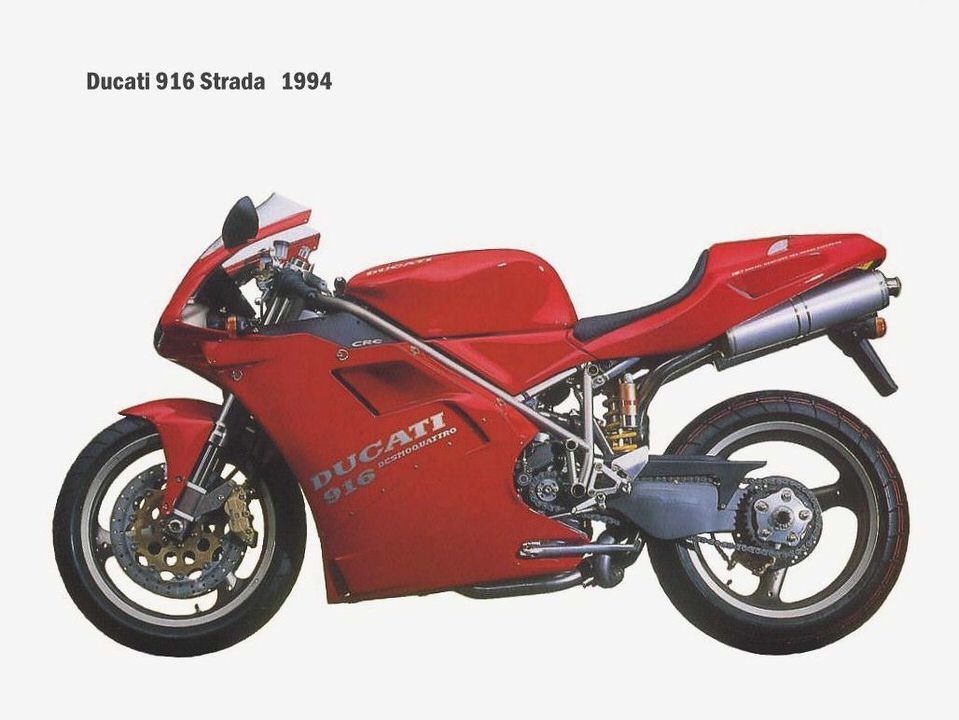 History of the Superbike: 1969 – 2001 – 1994: Ducati 916 Strada
1994: Ducati 916 Strada
It was a bit much to expect another all time classic motorcycle to surface just two years after Honda's awesome FireBlade redefined the meaning of life, but Italians never play by the rules. And only the Italians could have designed and built the 916 Strada.
This sensuous, poetic, thoroughbred racehorse made every other motorcycle look like a reject from the ugly farm. This was art. Even if it had run like a sack of shit, the Ducati would probably still have become famous solely for its impossibly good looks, but the truth became clear upon its UK launch in late 1993 – it went like no Vee-twin had ever gone before.
Ever.
Even though the 916cc engine was the same basic liquid cooled, DOHC, eight valve, 90 degree V-twin used in the earlier 851 and 888 models, the overall package was infinitely superior in terms of both looks and performance. The Weber Marelli electronic fuel injection system worked perfectly, the tubular steel trellis frame ensured brilliant handling, and the compact measurements and light weight of the bike made it feel like a factory 250cc Grand Prix racer.
But the looks. Oh the looks. Twin exhaust pipes curled up under the single seat unit (this bike was for purists), a single sided swinging arm for fast rear wheel changes in endurance racing, the Ferrari red, one-option-only paint job and the curves of the smooth, sleek bodywork.
One could easily fall in love with a Ducati 916.
Even small touches like the neatly placed steering damper, the small (and practically useless) mirrors, the basic switchgear and instruments. All of these things said 'race bike'. It's easy to imagine a Ducati worker crying in frustration as he forces himself to add mirrors and a number plate to his immaculate conception.
And a race bike is what the 916 is. Built to take advantage of WSB rules for twins, the 916 won the title at its first attempt in the hands of Carl Fogarty and it's won another four crowns since. It's doubtful if even Ducati know how many races and championships it's won worldwide in the last seven years.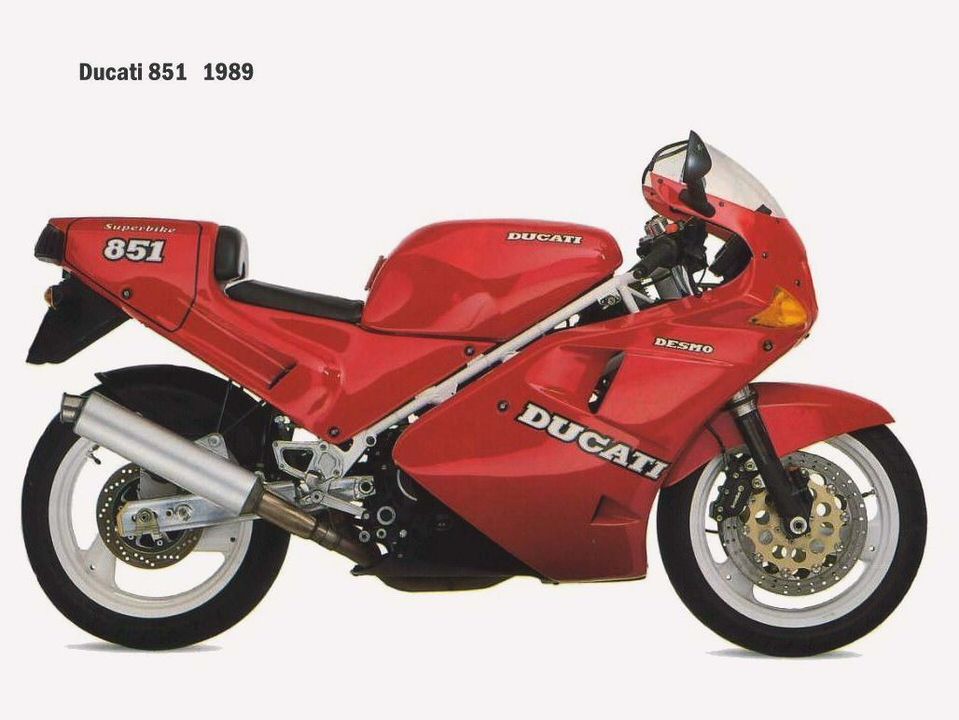 The bike was designed by Massimo Tamburini in the Cagiva Research Centre since Cagiva owned Ducati at that time. He had a team of university graduates under him including Pierre Terblanche who designed the equally exquisite Ducati Supermono. Tamburini stated that he wanted to build a bike that would be remembered for its looks as much as for its performance.
I think he may just have succeeded.
When the 916 was launched, it cost £11,800 in the UK and the first 200 bikes destined for Blighty were snapped up almost immediately, as were the first 100 bikes for the following year. The 916 won practically every accolade a motorcycle could in 1994 from the press and industry alike. Performance-wise, Ducati played clever.
The bike never churned out the most horsepower found on a motorcycle (though a claimed 114bhp @ 9000rpm was good enough for over 160mph), and at 198kg (435lbs) it wasn't as light as a Blade, but what it did have was wrapped up in such an exquisite package of chassis, Brembo brakes and wheels and Showa suspension, that it enabled riders to go faster on a 916 than they would on an evil-handling beast with more power.
The 916 is still going strong albeit in a 996 big bore guise now and with so many 'R', 'S', 'SP' and 'SPS' versions available – not to mention the limited edition Sennas – it's really quite confusing. But the confusion shouldn't last too much longer. The successor to the 916 has been expected for a couple of years now and there's a good chance it'll break cover at the Milan show later this year. It's safe to say that it's the most eagerly awaited bike of recent times.
But can it be another classic?
DUCATI MONSTER 900: monster ducati 900 dark , scarico ducati monster 900 ,
Ducati Monster M900 Motorbikes
Soup :: 1098 Countdown: Ducati's Red Rocket Launch :: 01-08-2007
Ducati 1098S VS. 999 – Motorcyclist Magazine
Add Ducati Motorcycles to Volkswagen's Insatiable Appetite For Growth – Forbes