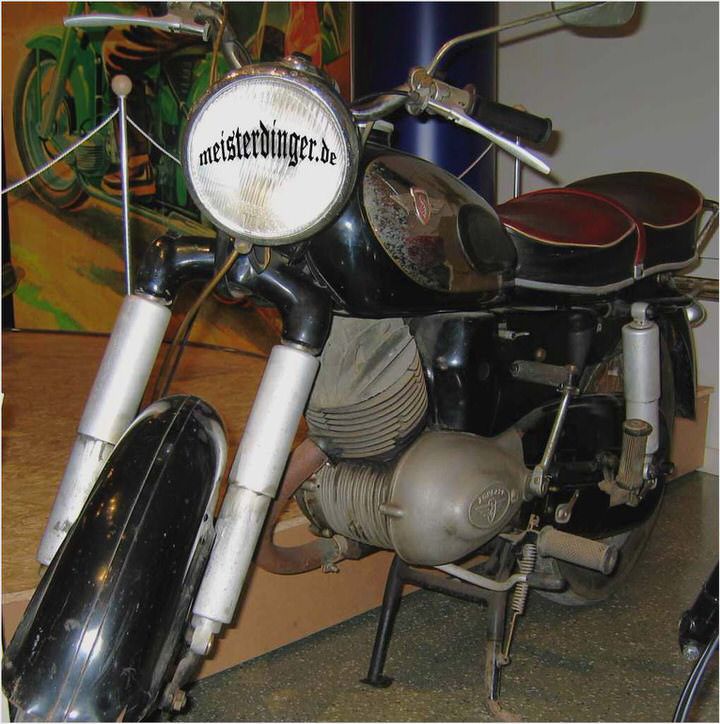 Zündapp Scooters (1951-1984)
In 1951 Zündapp decided to take a look at the scooter craze sweeping Italy. After designing a few prototypes based on some of the more popular Italian designs, Zündapp decided that Germany was ready for a homemade scooter.
The Bella is not as curvy as the Vespa or Lambretta scooters of the day, but the elegant design did catch the eye of the ciritcs at the 1953 Frankfurt show.
Characterized by a very large front fender with a slim rear end and a tubular motorcycle-like frame, the Bella had strong resemblence to the Moto Parilla Levrier scooter. The Bella had large 12-inch wheels and was originaly produced in only a 150cc model. Later a 200cc model was released which boasted 10hp.
In 1955 an electric start version of the 200cc model was released as well as a special USA-only model called the Suburbanette. Substantially changed for the American market, the Suburbanette wasn't nearly as popular as the original model and in the end only 370 were sold.
The R201, which arrived later in 1955, had more curvy styling than the original R200 and a new carburetor. Also a Steib sidecar made was available as a dealer option—the sturdy frame made it an ideal platform for a sidecar. In 1956 Zündapp released the R153 and R203, followed by the R154 and R204 in 1957, each having a slightly larger engine than the previous year.
The last 150cc Bella was manufactured in 1958, but the 200's were continued until 1962. A 175cc model, the R175S, was introduced in 1961 and continued through 1964.
The End of Zündapp
After the Bella, Zündapp made the Roller 50 and RS50 scooters, which compared to the large Bella, are very slimmed down. These scooters, which were very similar to the Lambretta of the day, were made until 1984. The smaller, 50cc engine was inline with the trends of the day, but didn't sell as well as was hoped.
For the next 20 years, Zündapp produced the Roller 50 and RS50 scooters, but in ever decreasing numbers.
In 1984 and 1985, Zündapp began to experience severe financial troubles and as a result, the entire stock and factory was sold to China.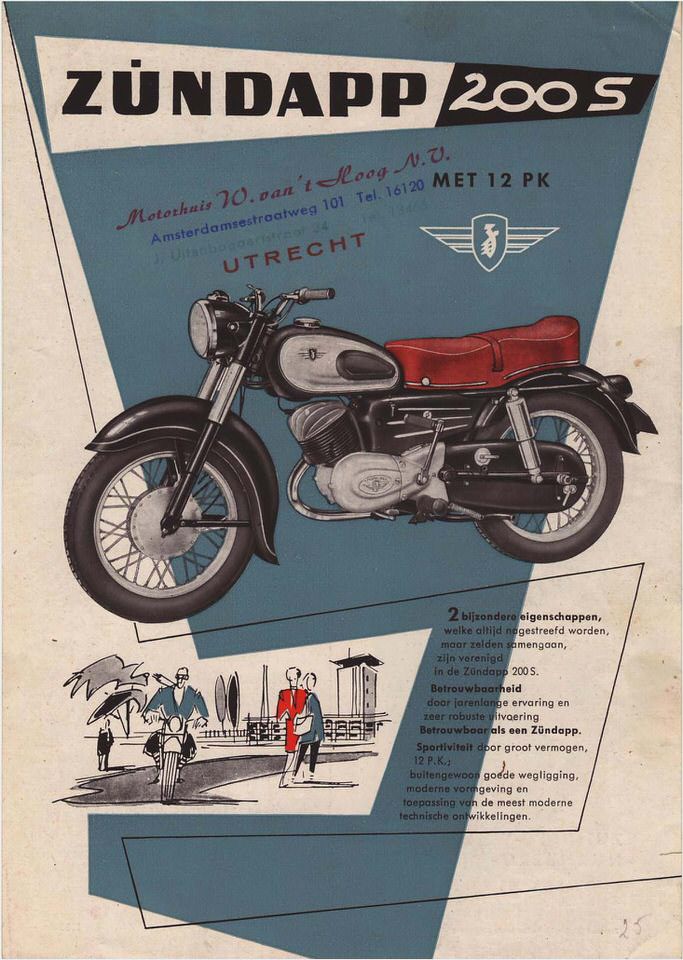 Sources
Dallapozza, Christian. Dalli's Zuendapp Bella Scooter Homepage. http://www.zuendapp-bella.com.
Dregni, Michael and Eric. Illustrated MotorScooter Buyer's Guide. Motorbooks International, Osceola, WI: 1993.
Dregni, Michael and Eric. Scooters!. Motorbooks International, Osceola, WI: 1995.
Sparrow, Andrea and David. Motor Scooters Colour Family Album. Veloce Publishing Plc. England, 1998.
Zeichner, Walter. Zündapp-Motorräder 1947-1984. Schrader Automobil-Bücher Handelsgesellschaft mbH, München: 1988.
All contents copyright 1998-2004 Eric Porter unless otherwise noted.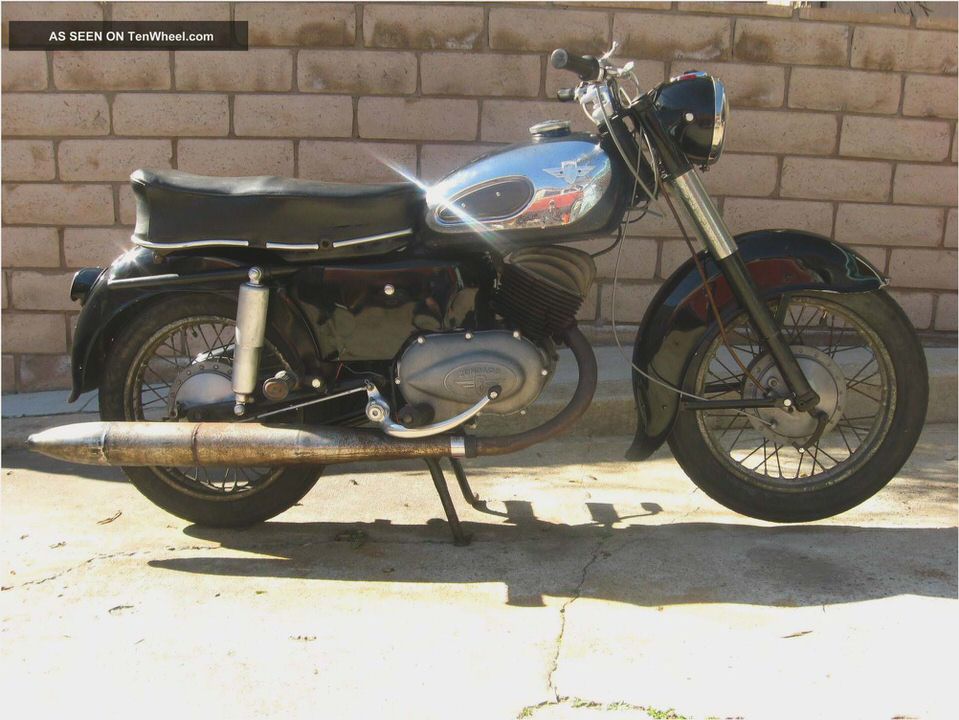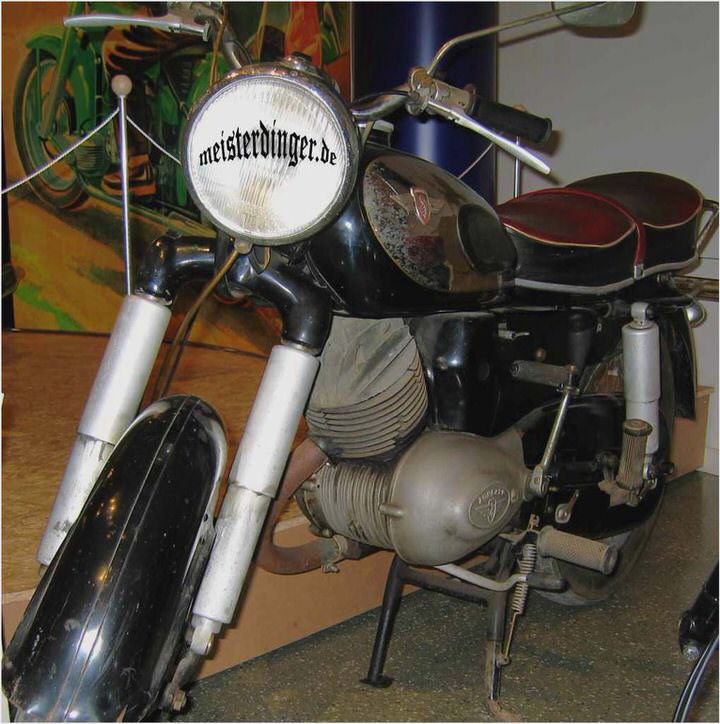 Monti's Bike Zündapp (and my RX) Ramu's Blog Page
Zündapp Werke, GmbH
Ed Youngblood's Motohistory News July 2008
Fabrique Nationale de Herstal
September 2012 whizzbang 1698 Page 3