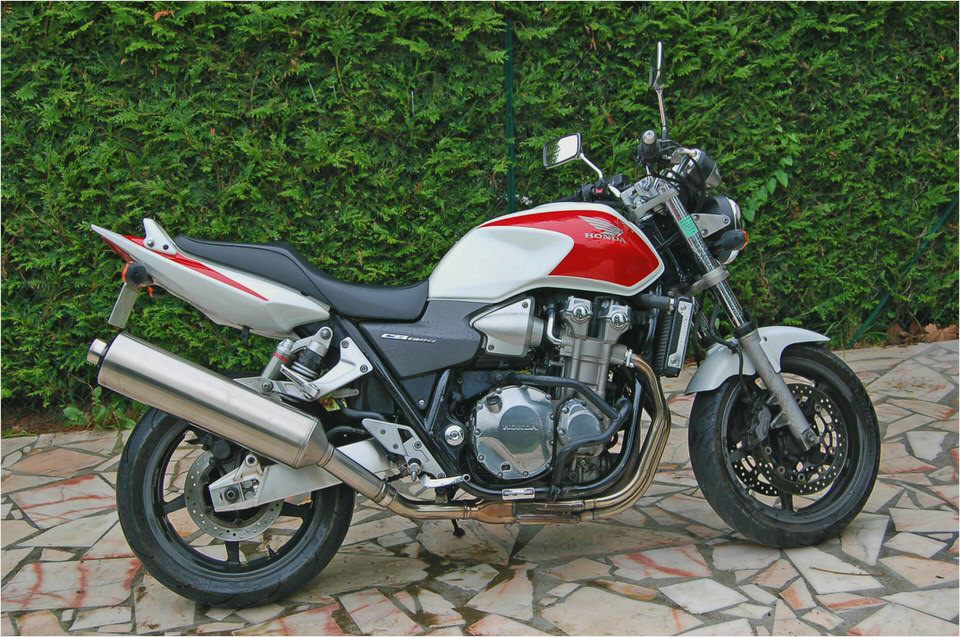 Honda CB400SF
Contents
Model History [ edit ]
The bike was introduced in Japan for the 1992 model year, with an engine similar to that of the early CBR400RR and CB-1. Originally a Japan only bike, it was later also available in Singapore and Australia (2008).
Super Bold'or
Starting in 1999 the CB400 has also been available in Japan with a small headlight fairing, this model is known as the Super Bol D'Or
1992 – 1999 [ edit ]
The CB400 Super four (1992) [ 1 ] was produced between 1992 and 1999 in a variety of colours.
[1994] minor changes were made to the engine to improve efficiency, a new instrument cluster with fuel gauge in the tachometer was added [ 2 ]
Engine
Compared to the cbr400rr, the engine was tilted backwards to obtain a much more erect cylinder bank. Carburetion went from downdraft to sidedraft type, but still CV. The cylinder head received new mounting lugs to the frame totally different from the original CBR design.
Originally fitted with gear cam drive system, the new version of the engine fitted to the CB400SF was outfitted with a more conventional chain drive system. Overall gearing was altered so that the engine turned less rpm in 6th gear compared to the CBR and CB-1. Also, the gearbox received a wider ratio so that while 6th gear was taller, 1st were lower compared to earlier versions of the engine.
Redline was set to 12500 rpm for the CB400SF compared to 13500 rpm for the CB-1.
1999 – 2002 [ edit ]
The CB400 VTEC (Spec I) (1999) [ 3 ] introduced some major engine improvements to the model through the use of the VTEC system. While having four valves per cylinder, below 6750 rpm one exhaust and one intake port are disabled. This technique improved the engines low and mid-range power, while retaining performance at high rpm by resuming four valve operation.
The CB400 Vtec (Spec I) also exhibits improved fuel economy, improved handling and suspension and a lower weight than the Super Four.
2002 – 2003 [ edit ]
CB400 Vtec (Spec II) (2002) [ 4 ] changed the operation of the VTEC system so that four valve operation begins at 6,300 rpm across all gears. This model also introduced some minor engine modifications, as well as adding the HISS ignition security system and a redesigned instrument panel.
2003 – 2007 [ edit ]
CB400 VTEC (Spec III) (2003) [ 5 ] changed the operation of the VTEC system so that four valve operation begins at 6,300 rpm in gears 1-5 and 6750 rpm in 6th. Other minor improvements were introduced including a lower seat height, the addition of a passenger grab rail in all markets and a change to a LED tail light.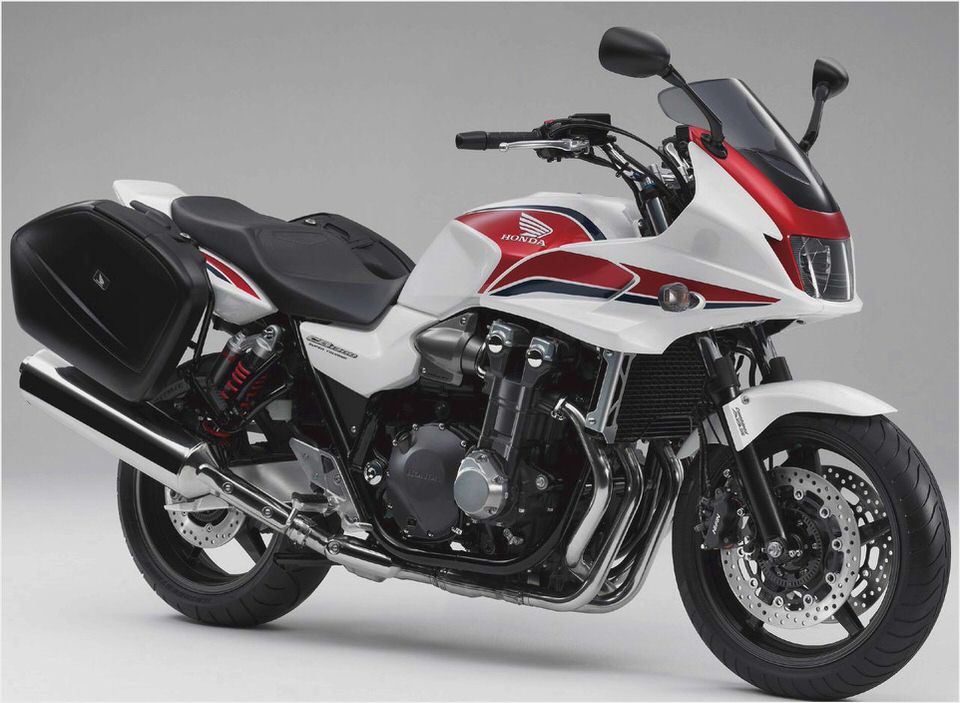 The CB400 VTEC was available as both the Naked CB400 and the partially faired Super Bol D'Or
2008 – Present [ edit ]
CB400 Super Four – Revolution (2008) [ 6 ] introduced PGM-FI Fuel Injection to the CB400 family, bringing with it convenience as well as improved fuel economy. Operation of the VTEC system was further refined such that in gears 1-5 four valve operation is engaged at 6300 rpm with wide open throttle, or otherwise 6750 rpm, VTEC engages at 6750 in 6th gear at all times.
Beginning with the Revo, ABS is an option on the CB400 and consists of a version of Honda's combined-ABS. ABS CB400 have three piston sliding calipers on the front brakes instead of the four piston opposed system that is standard.
The CB400 Revo is available as both the Naked CB400 and the partially faired Super Bol D'Or
Special Editions [ edit ] [1995] Honda released a version of the CB 400 with a bikini headlight fairing called the CB 400 Version R [ 7 ] [1996] Honda released a version with updated brakes, adjustable preload shock absorbers and a double perimeter frame called the CB400 version S [ 8 ] [ 9 ]
[1998] 500 units of a special anniversary edition were manufactured. These units have a special colour scheme including famous white body color with red stripes. Translation of 50th anniversary Honda's press page [ 10 ]
Specifications [ edit ]
All specifications are manufacturer claimed unless otherwise specified. [ 11 ] To determine which model your bike is, refer to the white sticker under the seat, which has a code on it, such as FIIS, FIIIS etc.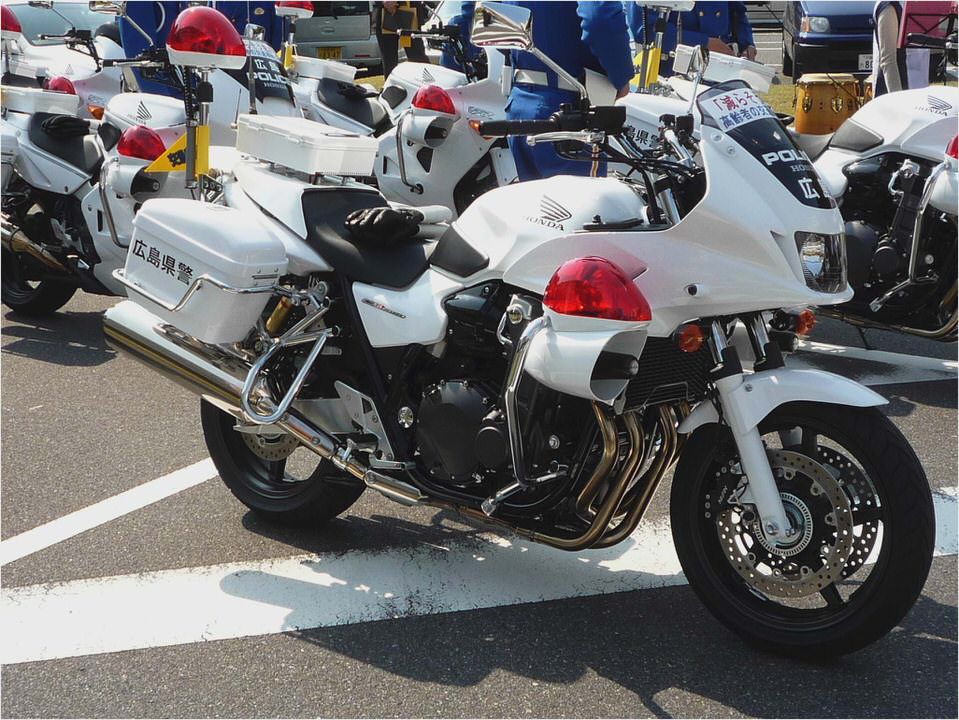 Honda CR 125 CR125 Honda Dirt Bike For Kids
Honda VT 750 Shadow: The Phantom Menace
Honda NSX-R
Turbo Kits for Acura, BMW, Ford, Honda, Mazda, Mitsubishi, Nissan, Subaru…
2010 Honda Shadow RS