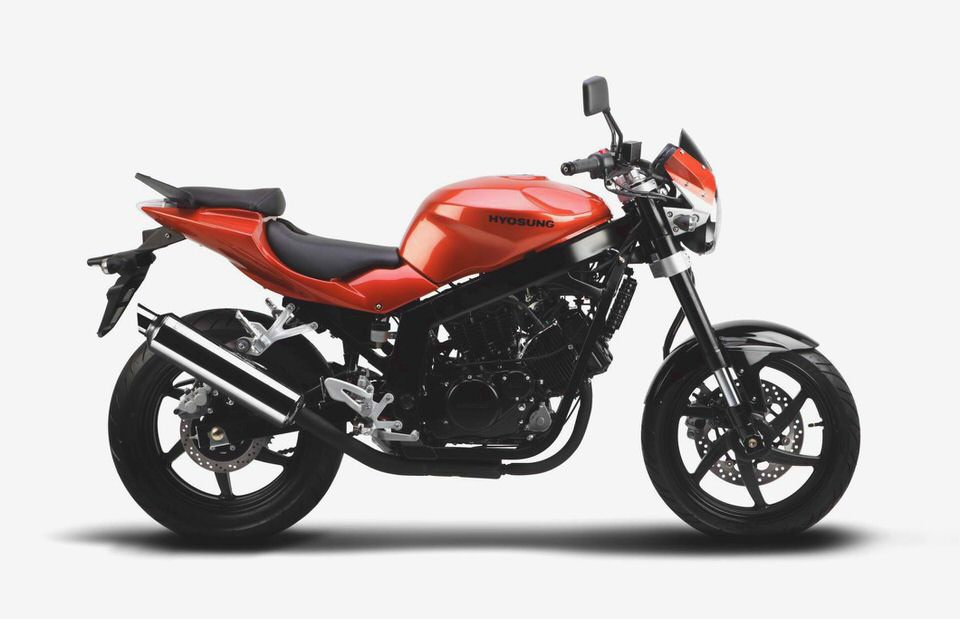 Hyosung wants to make a quarter-litre comeback in India after a long hiatus. Can it cut in 2012?
Top 5 Bikes 200cc-350cc
Bajaj Pulsar 200NS review, test ride
The GT250R signals Korean bike maker Hyosung's comeback to the Indian quarter-litre bike segment after an eight-year hiatus. In 2004, Hyosung's 250cc naked streetbike, the Comet, landed in India as a limited edition thanks to Kinetic Motors, while this time round, Garware Motors aims to blaze its own Comet trail with a modern, fully faired, sportier variant of the original.
The 250R has its job cut out; entering a segment where two able contenders have already clashed to cover much ground, each cornering their fair share of turf. Can the entry of this full-size Hyosung motorcycle give the established Honda CBR250R and Kawasaki Ninja 250R a headache? Let's find out.
'Massive' best describes the Hyosung GT250R, a bike certain to delight those seeking pose value. The faired-in sportsbike commands a presence almost on par with its elder sibling, the GT650R, which lends the GT250R more muscle than usually associated with a 250. However, on the flip side, styling is indeed dated and at loggerheads with the lighter, leaner designs one commonly sees in India today.
The GT250R shares more than just body panels with the GT650R though. Up front, you find similar twin disc brakes and an effective, two-stage projector headlight.
The bike's analogue and digital instruments look dated too, but are legible. The palm grips feel decent and switchgear crisp, but these lack the finish and smoothness offered by the Japanese competition.
A highlight of the Hyosung is its massive 17-litre fuel tank that aids the pukka sportsbike look and is nicely sculpted to fit the rider's knees. The fairing mounts a pair of useful adjustable rear-view mirrors and a large transparent visor which provides good protection from the elements when the rider is tucked into a racing crouch at high speed. An LED tail-lamp gives the GT a modern look, while its split rear grab bars, though solid to hold, look awkward and nothing short of ungainly.
A purposeful-looking silencer and the chunky 150/70-section rear tyre contribute to this new Hyosung motorcycle's muscular stance.
At the heart of the GT250R is a four-stroke, air-and-oil-cooled V-twin engine. As earlier, this short-stroke, DOHC powerplant deploys four valves per cylinder. The engine outputs 28bhp at 10,000rpm, with a peak torque figure of 2.2kgm made at 8000rpm, channelled to drive the rear wheel through a five-speed gearbox.
The soggy clutch proved a major damper, robbing the bike of much riding pleasure, but we thankfully faced no such hurdles from the GT's gearbox, which shifts smartly in a one-down, four-up pattern.
The exhaust note could sound better. Despite deploying a contemporary electronic fuel-injection system, the GT250R is noticeably devoid of pep low down in its rev range. Dull initial power delivery here means sudden getaways demand a fistful of throttle and the need to keep engine revs hovering over 6000rpm and on the boil.
Once past this point, however, the GT250R wakes up to get going in earnest.
This Hyosung engine feels best when revved between 6000 and 8000rpm, although protesting vibes do play spoilsport when gassing it hard. The GT250R accelerates past 100kph from a standing start in 9.96sec, after which it belts on to cross 120kph in 15.42sec.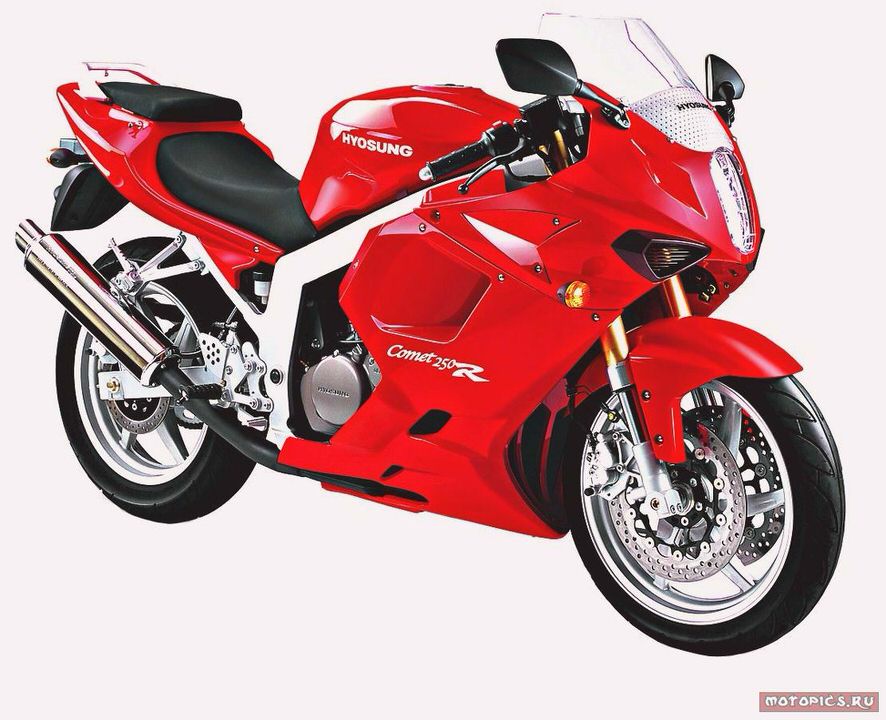 The rider is seated in an out-and-out sportsbike riding position torso set close over the tank in a pronounced lean down to the handlebars. The GT250R's front and rear suspension lack the confident feel desired from a sportsbike. Sure, a soft setup makes broken city roads less bothersome at low speed, but turn up the wick and the GT falls short of its sportsbike image.
The steering also lacks the lightness and sharpness of its competition.
Around winding corners, the GT's age is amply apparent. It lacks the precise handling required to attack corners, and prefers being ridden at a steady gallop instead. The GT250R feels more at home on the highway, where it displays good straight-line stability.
Effective braking is offered by the GT250R, with 300mm twin disc brakes in front and a single-disc unit bringing up the rear. The GT250R stopped from 80kph in an adequate 31.32 metres, although front brake feel at the lever can improve.
Our fuel tests show the Hyosung GT250R returns a healthy fuel economy of 26.4kpl in city traffic conditions, while on the highway delivering an even better 33.5kpl, no doubt assisted by a tall fifth gear.
The Hyosung GT250R is easily the best Hyosung bike Garware has so far introduced in India. Its big-bike looks could certainly prove a big draw to some, but there's still no single department in which the GT250R truly excels or rises above its quarter-litre rivals. Steady straight-line dynamics aren't enough reason to have us raving over the new motorcycle.
And sub-par fit-and-finish, plus a lack of good low to mid-range performance tops the lengthy list of negatives. The biggest thorn in the GT's side though, could prove to be the high price tag the company has hinted at, in the region of Rs 2.5 lakh.
It's also sobering to know that the street-naked GT250, a motorcycle that will be better suited to Indian roads, is also waiting under Hyosung's wings to take flight.
Total Motorcycle Website – 2005 Hyosung GT650, GT650L
2002 Hyosung GV 125 Aquila Troubleshooting, Repair, Maintenance & Tune…
HYOSUNG GT250 FI OWNER'S MANUAL Pdf Download.
OneWheelDrive.Net 2006 Hyosung GT650 – Subtle Machinations
Hyosung GT650R Review and Test Ride