The traditional orange livery of KTM says it all. It isnt a posh Herms orange or a trendy mid-century citrus. Rather, it is a shade that recalls highway workers clad in DOT-approved reflective garb. The color is all function with a dismissive nod to form, which is fitting, as the Austrian manufacturer has spent the last 73 years building durable off-road bikes better suited to pavement-free adventures than aggressive urban jaunts.
But no longer.
The new 990 Super Duke represents Austrian KTMs first undiluted road-going effort. Being thrust against such worthy Italian contenders as the Ducati Monster S4R and the Aprilia Tuono 1000 R is the perfect occasion to defy tradition, ditch the conventional color, and clad it with go faster bits and custom trim from the KTM PowerParts catalogue, which can be ordered at the point of purchase. ( Click image to enlarge )
This Super Dukes custom parts not only distinguish it from stock KTMs, but also from a sea of similarly ambitious naked bikes. The key here is discretion. Rather than baring engine, pipes, cables, and all the visual detritus necessary to make a motorcycle function, this personalized Duke hides enough to maintain an air of mystery, just like a seductive woman.
The stock fuel tank appears as though it were chiseled from a slab of obsidian, blacked out modifications, lending the Super Duke the sleek angularity of a stealth bomber and the special order carbon fiber heat shield, spoiler, and rear seat cover lend the bike an even more assertively poised angle of attack. Dual titanium Akrapovic slip-on mufflers provide a bump in power, while the dramatic aural amplifications offer an appropriate complement to the bikes dramatic appearance.
More subtle details include a carbon fiber brake reservoir cap, rear fender, clutch and ignition covers, and front and rear chain guide protectors, a carbon fiber swingarm shield and covers for the airbox and footrests. Racing suspension and five-spoke Dymag carbon fiber wheels, which reduce unsprung weight and aid handling as they contribute to the bikes distinctive styling, round out the factory custom package.
In any guisecustom or stockthe Super Duke proves its sporting intentions on the track, where it performs with a level of potency on par with its direct competitors. The 75-degree DOHC V-twin is torquey and flexible, and the 999cc engine provides plenty of smooth power, with only the slightest hint of a raw edge.
The second-generation LC8 powerplant fires up on a reassuringly aggressive note, and while the Super Dukes 120-horsepower twin may not accelerate with the thrust of a 4-cylinder liter bike, it provides more than enough front wheel-lifting grunt, putting it in the league of its comparably powered counterparts. Power delivery is manageable and quite controllably smooth, creating levels of performance that should satisfy most aspiring streetfighters who also appreciate a modicum of delicacy with their throttle response. The 990 may not have many, or any, parts in common with KTMs MotoGP 250 and 125 race machines, but the competitive lessons have been learned. ( Click image to enlarge )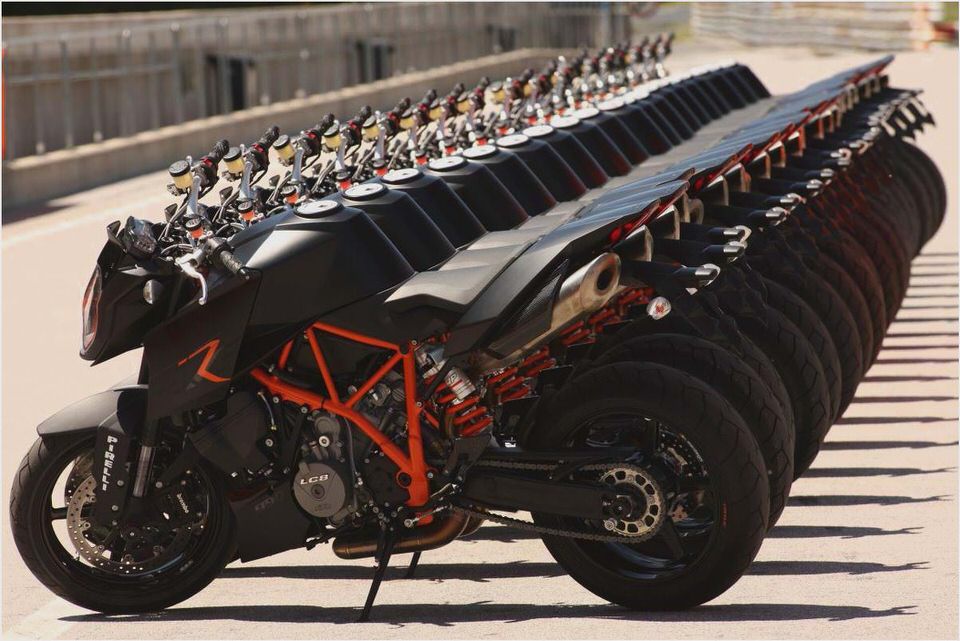 Also satisfying are the Super Dukes ergonomics, which incorporate a comfortable seat and an untaxing riding position; characteristics that make it more of an upright sportbike than a detuned superbike. Exemplary WP suspension components enable excellent dynamics, and the bikes rider-friendly suspension settings make it easy enough to live with on punishing road surfaces.
Turn-in is sharp, and the bike doesnt drop unexpectedly, nor does it demand several chops in order to negotiate direction changes. Braking is commensurate with handling, thanks to front 4-piston, radially mounted Brembos, which bring the bikes mass of just over 400 lbs to an efficient halt.
One mildly weak link in the bikes track performance is the gearbox, which required careful foot movement to engage gears. It tended towards a false neutral or two and occasional missed shifts between 3rd and 4th gears; it will be interesting to see how much this issue manifests itself on the road. Other than that, the Super Duke produces outstanding supersport performance, delivering a linear, torquey motor and wonderful handling in an easy-to-ride, confidence-inspiring package. ( Click image to enlarge )
Real world demands go beyond knee scraping and threshold braking, and if KTMs road-bound trajectory is any indication, the manufacturer is just beginning to explore the possibilities of what it can do with high-performance bikes on public pavement. While their upcoming, fully faired RC8 model should further exploit this visceral and potentially lucrative genre, the Super Duke is a bold entry whose distinctive styling is sure to push the design zeitgeist in a more sharply creased, angular direction. If it doesnt, KTM can enjoy basking in the knowledge that its superb products stand alone as uniquely sculpted forms that are as distinctive as the companys trademark orange hue.
Source Basem Wasef motorcyclingmag.com
Moto3 vs MX2: Just dirt bike engines in a Grand Prix chassis?KTM BLOG – KTM BLOG
Ktm 125 Naked Street Bike
2014 KTM 1290 Super Duke R FIRST RIDE
2014 KTM 1290 Super Duke R First Look – Motorcycle USA
So… I went for a test ride on a KTM RC8 – PistonHeads