The home of 2-wheeled commuting
Home News Scooter Review: KYMCO Downtown 300i – Maxi Scooter Test
Scooter Review: KYMCO Downtown 300i – Maxi Scooter Test
Published: 02:50PM Dec 15th, 2010
I've been testing scooters for a while now; I've also been riding scooters for pleasure for over 25 years and I must admit that I don't get excited too often these days by new scooters, they all pretty much do what it says on the tin.
They all twist and go, and offer a bit of storage and weather protection. Some of them do things a bit better than others or offer good value for money, while others have a bit of extra character or style. As much as I love riding the latest machines it's not very often that I'm upset to see them go back at the end of a test.
Occasionally though I'll feel a bit of sadness when they're returned to their rightful owners.
The KYMCO Downtown 300i was one such scooter to fall into that latter group. It's the latest addition to the company's stable and it's a very competent machine. We should have included this one in our quarter-litre group test during summer, but it didn't arrive in the country in time, which was a shame.
Never mind, at least it gave us a chance to test it out on its own.
The first thing you notice with the Downtown is its physical size. It looks like a larger capacity maxi scoot and could easily pass as one. The size helps to give it a good presence on the road and earns it a bit of respect from other road users.
Having said that though, the sheer size of it isn't a handicap and once you start to use it that bulk disappears and it's certainly no heavyweight.
Most machines in the 250-300cc range deliberately overstate their capacities; for instance, the Honda PS 300i tips the scales at 279.1cc, which is still higher than the Vespa GTS 300 Super at 278cc, the SYM GTS 300 Evo is 263.7cc, the Yamaha Xmax is 249.78 and the Peugeot Satelis a lowly 244cc. The KYMCO Downtown isn't showing off, but it comes with a powerful 299cc fuel injected engine which puts out a class-leading 29.5bhp (measured at the crank) and let me be the first to tell you that those few extra cc's make all the difference when you're out on the open road.
I like my scooters to look attractive; they don't necessarily have to fit a stereotypical image, but they do need to be easy on the eye and the Downtown is a good-looking machine from any angle. It's also built very well and everything on it looks to be of good quality. All the plastics look and feel strong; they fit well, line-up properly and don't rattle about.
Even the black plastics look shiny and durable, which is quite often an area that can let some of the less mainstream scooters down. Couple that with large and powerful twin halogen headlights, complete with LED side lights, an attractive and useful front screen, digital instruments, complete with trip computer, clock and fuel gauge, an analogue tacho and speedo and you've got yourself a pretty nice scooter.
Add a sumptuous seat with riders back support and room for two lids beneath it, a very comfortable pillion seat with grab rail, a lockable glovebox behind the legshields (with charge point inside) and you're well on the way to having a useful mid-capacity scooter. If you look closely at the front wheel you'll notice the tell-tale inner ring which usually accompanies an ABS system.
It's not fitted to this scooter yet, but you can bet that it'll be an option before too long. There's also provision for tyre air pressure sensors, so expect a premium version of the Downtown in 2011.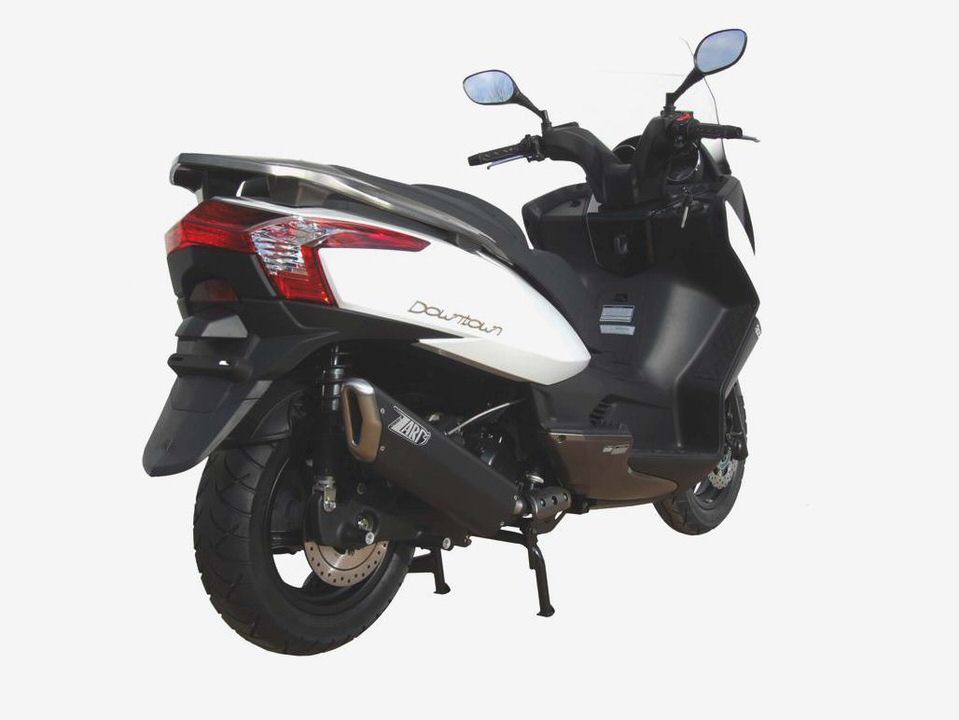 I briefly touched on the engine before. It's a powerful liquid-cooled, fuel injected 299cc, four valve OHC with twin balance shaft to reduce vibration. On initial acceleration there's a momentary lag, and I do mean momentary probably less than a second and then the transmission catches up and propels the scoot forward quite quickly towards its top speed.
Despite the lag, it will still beat most other vehicles away from the lights, even when carrying a pillion (my other half loved being on the back of the KYMCO). Those extra ccs and all-important torque make a difference in the midrange and help to increase the top end significantly as well.
Most 250/300cc scooters will just about top 80mph in the right conditions (that's a true GPS speed, not indicated) but the KYMCO hit 88mph on the GPS and it felt much faster than my Vespa GTS 300 Super and I'm sure it'll top 90mph in the right conditions. That extra bit of power is very useful when overtaking, during motorway use or for simply powering out of corners.
The Downtown is marketed as a sports tourer and they've got that description bang-on. You can certainly have some fun with this machine, or cover a few hundred miles in total comfort, either on your own or two-up. I tend to ride scooters quite hard (it's kind of a small capacity syndrome where I feel like I've got to make up for the public's perception of a scooter being slow).
Luckily the Downtown likes to be ridden hard; you can be as aggressive as you like with it and it'll behave exactly as you want it to. I was throwing it around the bends like I would a bike; it has very good handling characteristics and those brakes are superb (the levers are span adjustable as well).
I only had the scooter for a couple of weeks and during that time didn't get chance to use it for longer trips, which was a shame because I'm certain it would have been very nice to ride long distance on the motorway. The extra bit of power would really come in useful on a 200 mile journey, as would the comfortable seat and riding position. The only criticism I have is that unless you're vertically challenged you would struggle to put your feet in the forward position.
The usual 90 degree bend is perfectly adequate though and you can stretch your legs a bit if need be. Not to worry, it's only a minor thing but worth noting.
My final ride on the scooter was only a 20 mile trip on a cool autumn afternoon, but included a good section of dual carriageway, a busy town centre and some nice twisty roads. The Downtown lives up to its name and can handle stop/start slow speed traffic with perfect manners and balance, but it's just as willing to have some fun when you leave town behind. I loved every minute of my time on board and felt a bit sorry that the scooter would soon be gone from the garage; it left an empty hole; usually that space is soon filled by something else, but I'm not sure what will fill the Kymco void.
Words photos: Iggy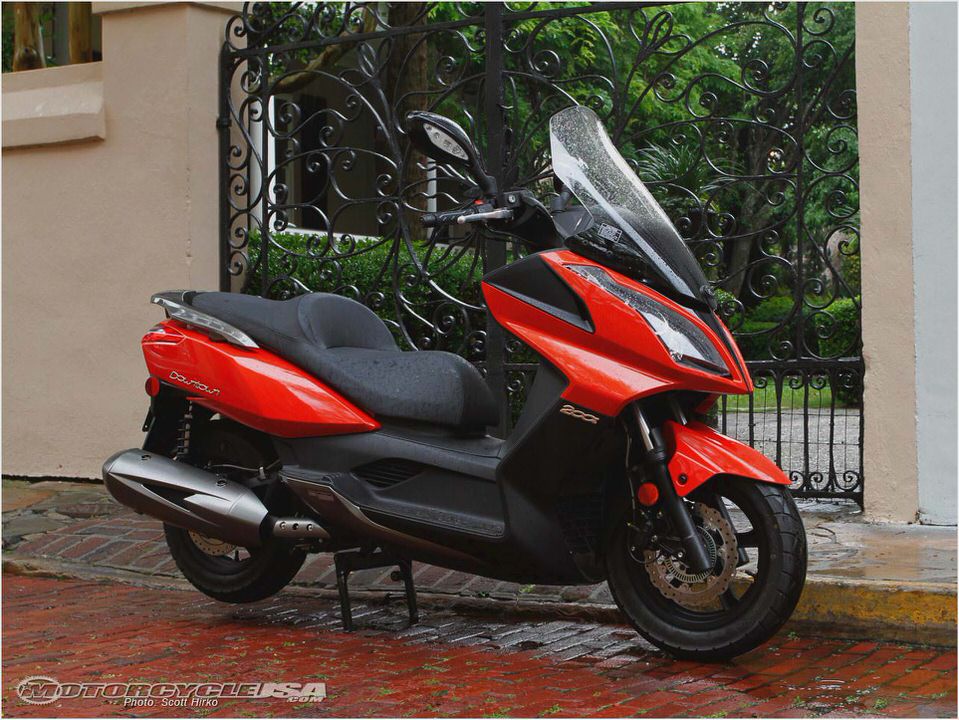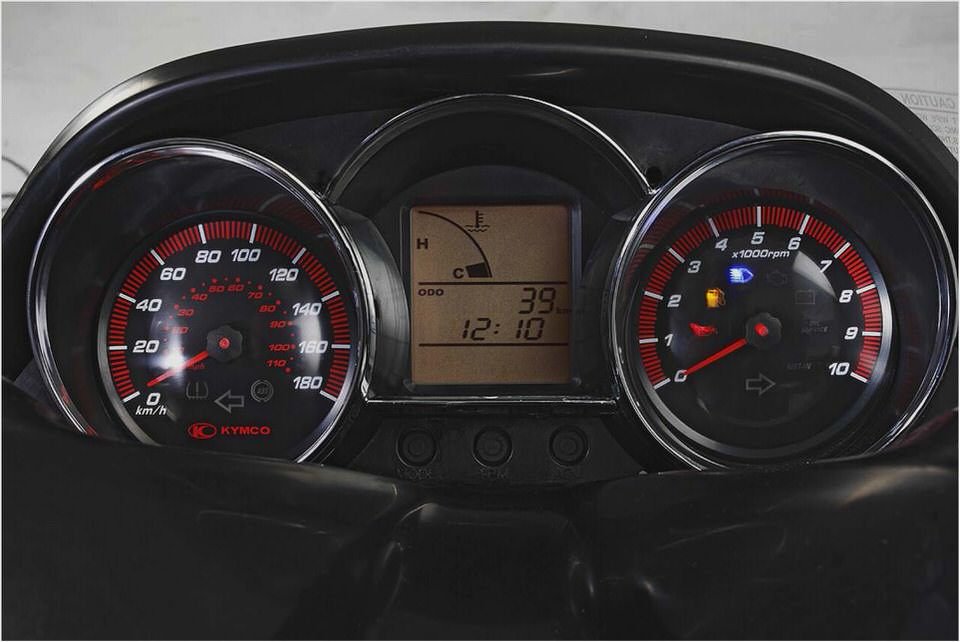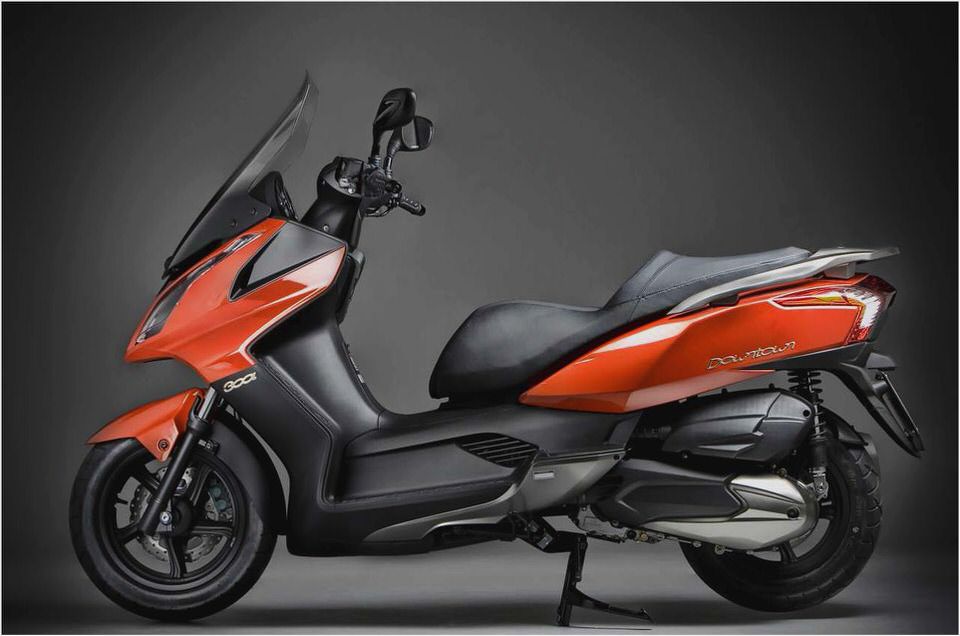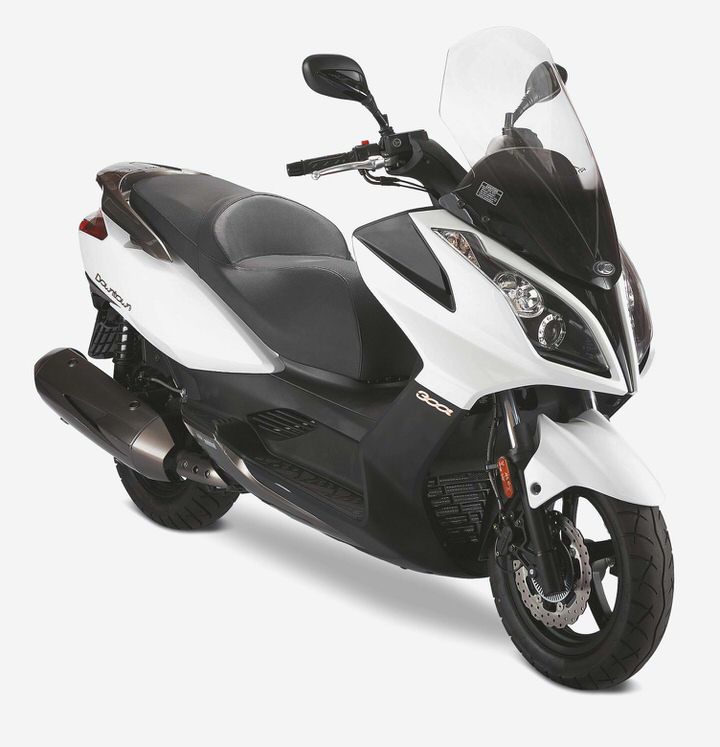 Vespa LX 50 Review
UTV Reviews :: 2009 KYMCO UXV 500 4×4 Review
2013 KYMCO Downtown 300i – New 2013 Downtown 300 i at Motorcyclist Magazine
2007 Kymco Xciting 500 Road Test Rider Magazine Kymco Reviews
People 250 kymco: kymco people gran dink 250 test kymco people s 250