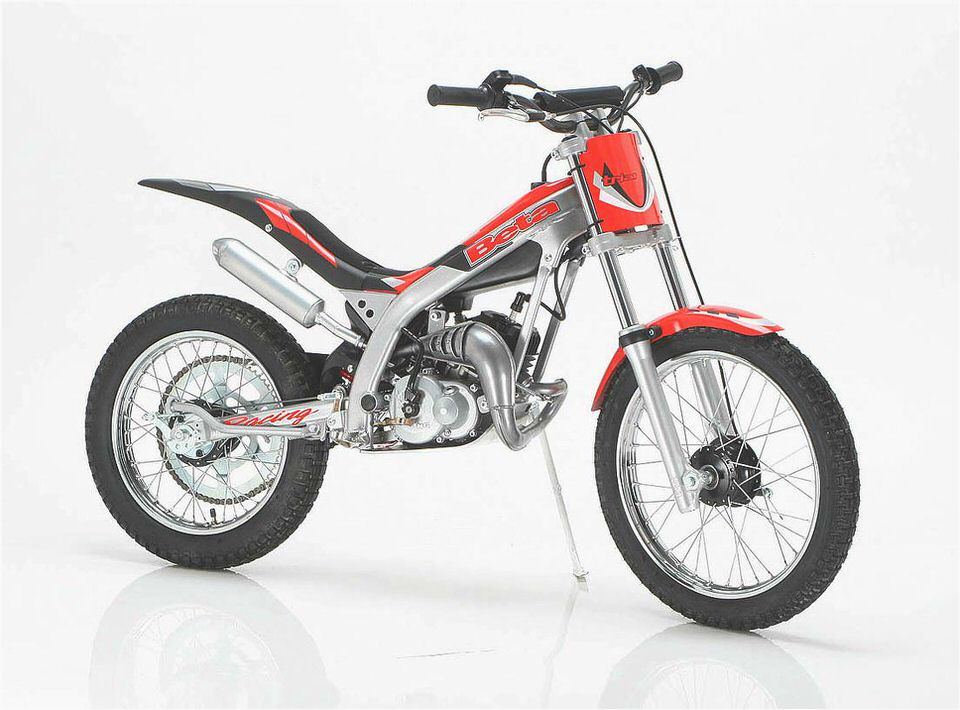 Supermoto, Trials, Trail Enduro Motorcycles
2003 Beta Trials Bikes
2003 Rev-3
Beta now makes trials bikes for all ages, all sizes and all abilities. From the mini trial 50 auto up to the mighty Rev-3 270. Improvements for 2003 Rev-3 125/200/250/270 include a revised crank, lighter but with the same inertia, magnesium clutch cover, modified water pump and cooling system, new ignition settings, new gear ratios, higher first and lowered 2nd, 3rd 4th.
New forks and new rear lighter shock.
Modified exhaust, new air filter access, new lighter rear hub, brake pedal. And last but not least BNG featuring stunning yellow and er, glorious grey. I'll have a 250 demo bike at local trials as soon as they arrive, in October.
There are now two bikes that fill the gap between the Minitrial 50 and the adult size bikes of 125cc upwards: The Rev 50 and Rev 80 – the 80 has the same frame as the 50 but with a new engine, hydraulic clutch and bigger full size wheels.
NEW FEATURES – 125/200/250/270
Exhaust Pipe
Reduced thickness of the pipe to decrease the weight and improve the performances.
Final Silencer
Modified the fixing to come it close to the fender and make it more stiff.
Front Fork
Revised spring rate and the hydraulic settings; new racing features.
Shock Absorber
A new rear shock with no remote reservoir. Designed to remove weight from the rear end and also improve the dampening characteristics.
Shock Absorber Air Conveyor
No plastic cover around rear shocker, designed to increase the amount of cooling for the rear shock.
Rear Wheel
New wheel hub lightened with a much stronger attachment of the rear brake disc.
Rear Brake Pedal
Modify the shape and the related hub to improve the pedal leverage and prevent breakages.
Filter Box Cover
Completely modified to permit an easy maintenance; with only two screws removed you can reach the filter.
Engine Crank Shaft
New shape of engine crank shaft with a cut in weight but giving the same moment of inertia.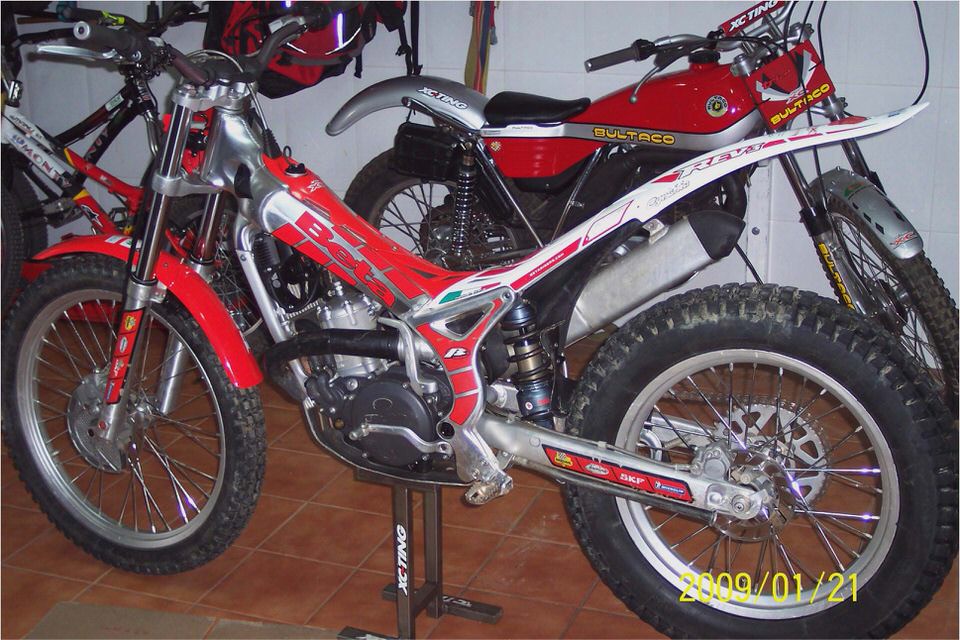 Gear Box
Completely revised with a more correct rapport of first, third and fourth gear.
Clutch Cover
In magnesium alloy to reduce the weight.
Cooling System
Modified circuit with a new water pump body which gives a more stable and controlled engine temperature.
Flywheel
New ignition flywheel with stator smaller and lighter ; to improve the performance. The electromagnetic brake effect has been reduced
Motor: Beta – 1 cylinder 2 strokes Liquid Cooled with reed valve – Unleaded gasoline – 95 RON
Ignition: Electronic digital flywheel with changing spark adv. controlled by adjustable central unit.
Bore x stroke: 72,5 x 60,5 mm. – (54 x 54 mm.) – 249,6 cc. – (123,6 cc.)
Compression ratio: 12:1 – (14:1)
Spark plug. Champion N7YCC – (Champion N3C)
Carburator: Mikuni VM 26-208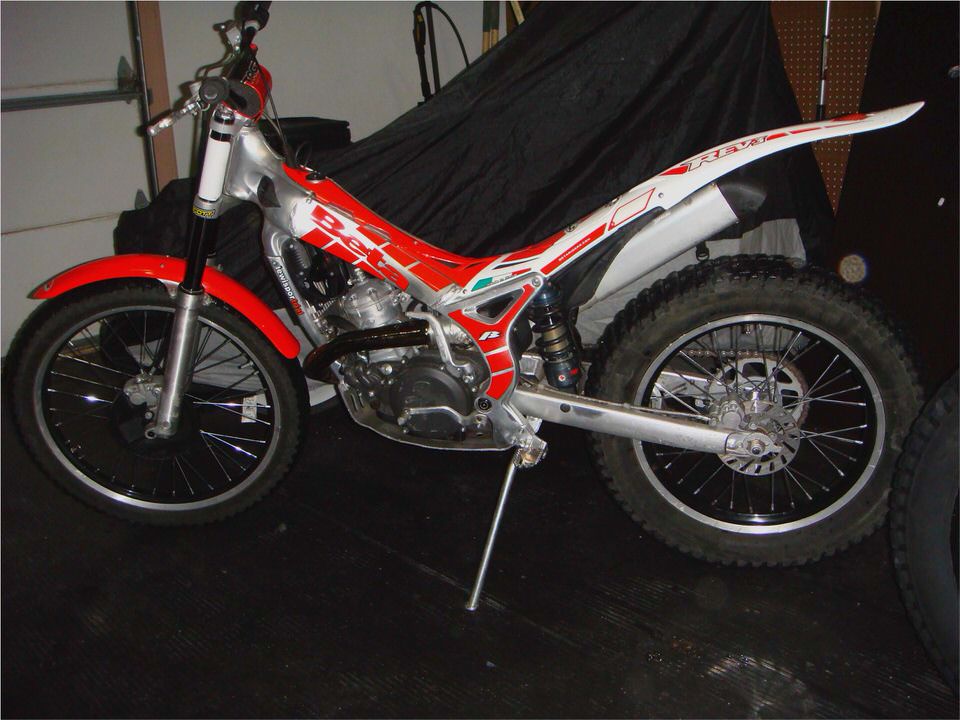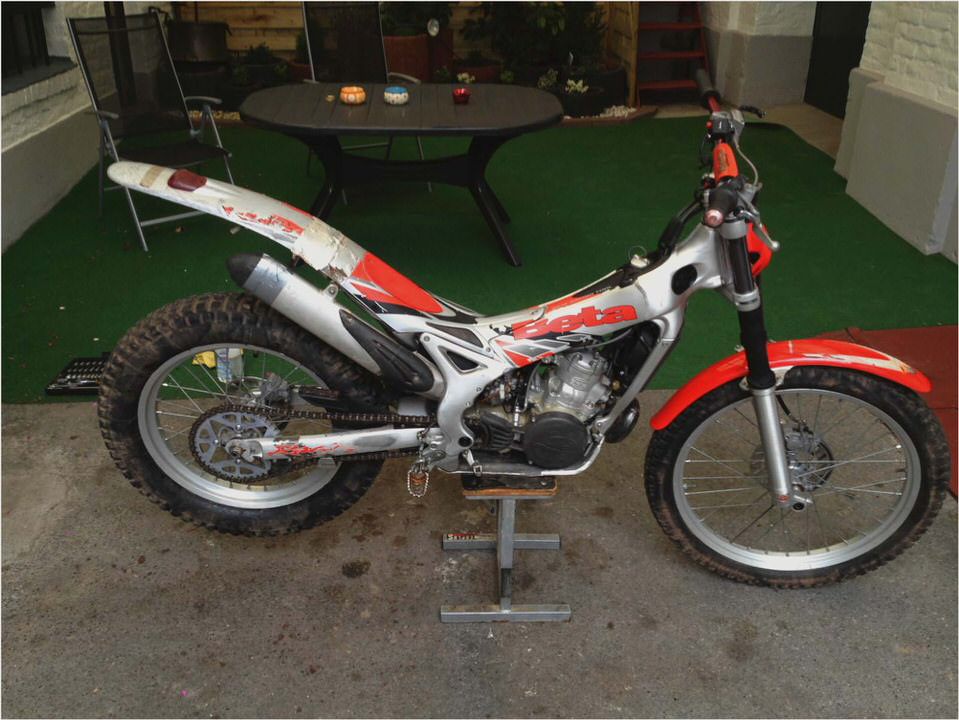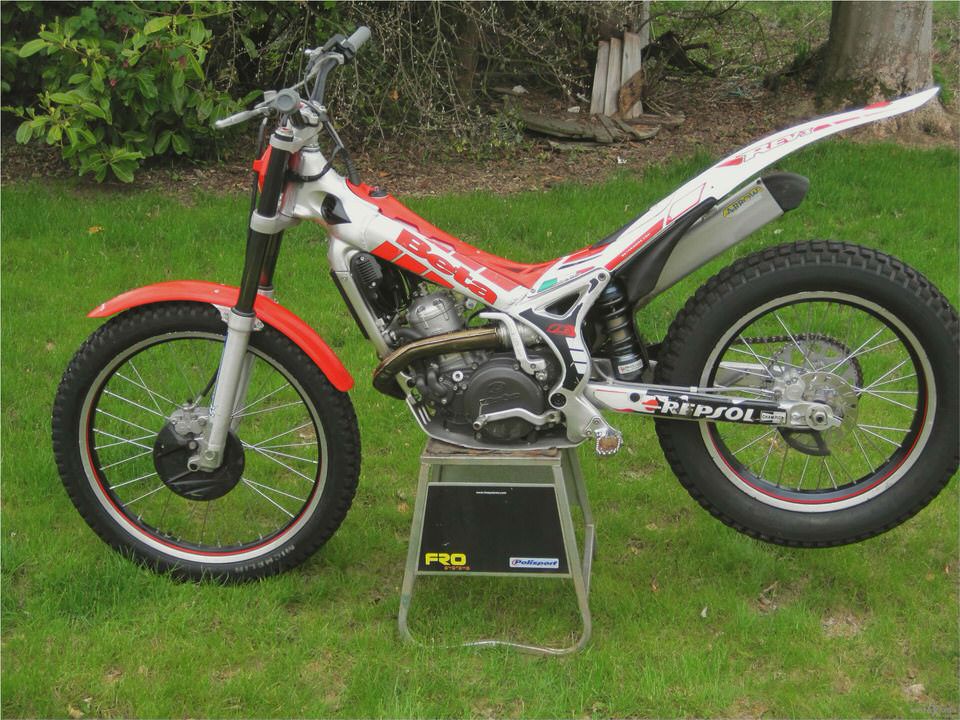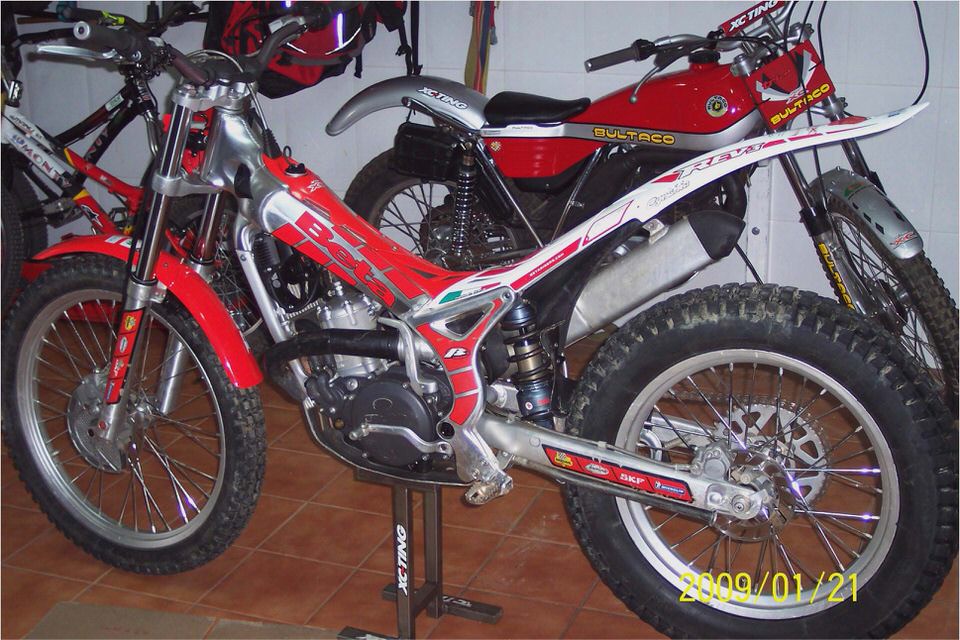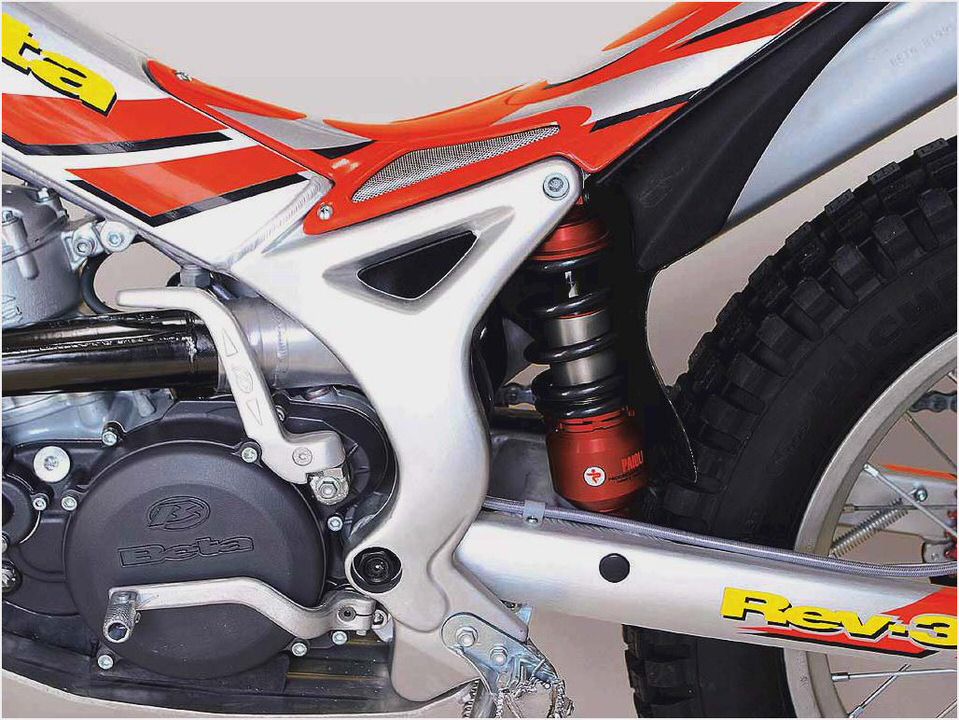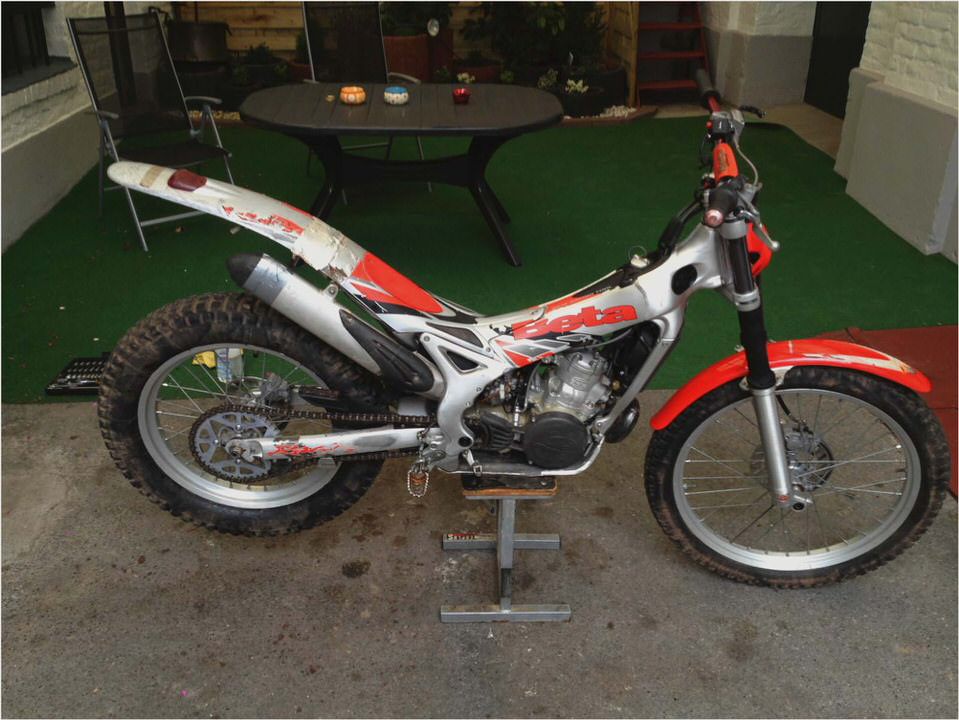 Beta Rev 3 200 (2007) eBay
2010 Beta Evo 250 4T Review – Ultimate MotorCycling
2013 Beta RR Enduro 4T 125 motorcycle review @ Top Speed
BETA RR 4T-250 WORKSHOP MANUAL Pdf Download.
Test Beta 450 RR 4T and 498 RR 4T 2013: Large gauges of Enduro 4-time