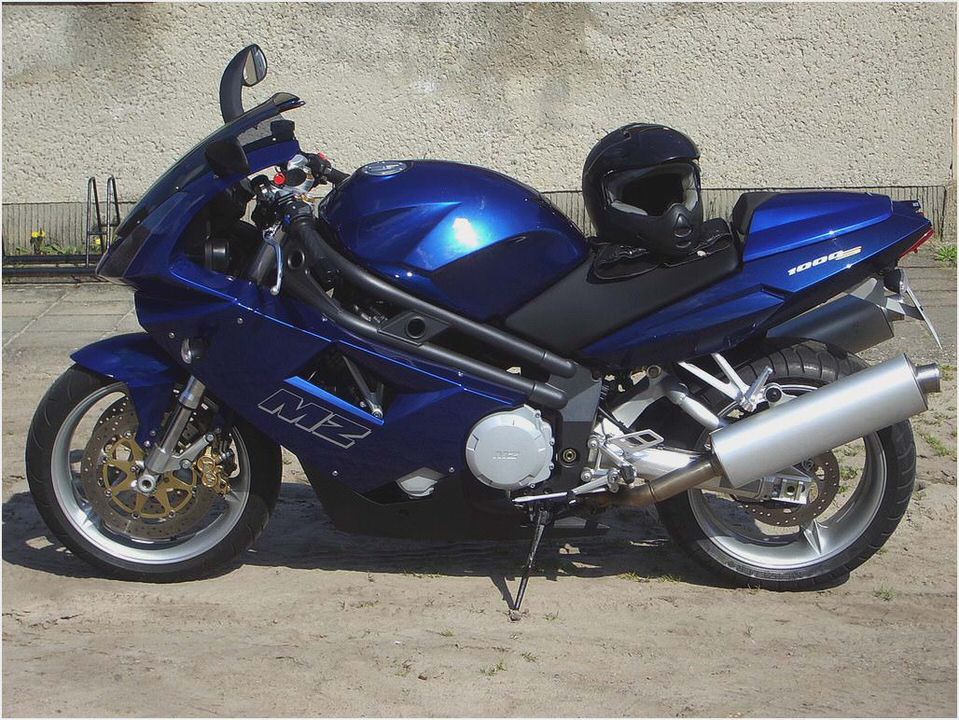 Weight was saved everywhere but not compromised. MZ chose the strongest chain. Quality-coated with sealing rings, constructed for a long life. That's coming on strong for the MZ 1000S.
The dual tube bridge frame made of highly stable chromium molybdenum steel (CMDT), allows extraordinary road performance. In contrast to other bikes, the MZ 1000S is not only designed for uncompromising sportiness, but also features fully adjustable suspension, sporty or comfortable – even individual. The upper and lower fork bridge is a high pressure alloy casting. The removable rear subframe is exchangeable in the event of damage.
The advantages compared to aluminum constructions are impressive. Higher rigidity at an equal weight, more stability and a longer life.
The dual- cantilever- swing arm is made of highly stable aluminum alloy and therefore extremely rigid. This makes sense. The optimal kinetics of the rear wheel suspension combined with the high quality, fully adjustable rear shock for individual chassis tuning. That is nearly ingenious.
These principles are not only to be permanently felt when riding the MZ 1000S, they also make the bike absolute magic to ride.
The holistic design of the MZ 1000S glistens with engineering competence. Individual in both worlds – engineering and design, sovereign in every situation and from every perspective, dynamic in realization of power and appearance. Therefore the driving performance of the MZ 1000S is not only convincing, but purely addictive. This philosophy continues in the tail light design: the perspective for the others – that is the MZ 1000S.
The high-quality suspension is fully adjustable. Rebound, compression and hydraulic spring preload are way above class standard. An external compensating nitrogen reservoir optimizes heat dissipation for consistent damping.
Fully adjustable inverted forks work in an equally convicting manner. Suspending the MZ 1000S precisely and providing optimum control in every situation.
The wheels continue the design concept. Patented and new: Twin System wheel, exclusively produced for the MZ 1000S. This revolutionary technology enables a 10% reduction in rotating mass compared to cast rims.
Precisely balanced 3.5 x 17 front and 5.5 x 17 rear. A unique look and a magnificent technological feat, a feast for the eyes.
The brake system permanently proves the concept of the MZ 1000S, uncompromising. 320 mm full floating dual disk brake and four-piston caliper provide the stopping power up front. With a single 243 mm disc brake in the rear. It goes without saying that both brake and clutch levers are adjustable.
The true build quality is reflected in the brake system, the MZ 1000S has one of the best.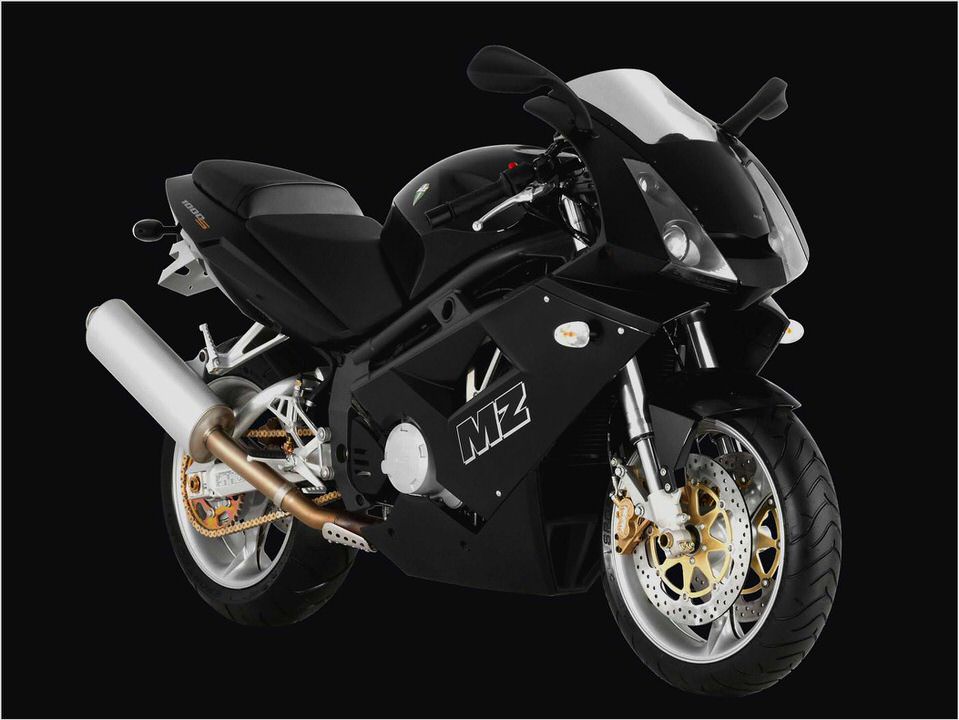 MZ believe that you should always have everything under control. The multifunctional electronic instrument with its individual design is extremely light weight and precise. Analogue speedometer and odometer with 8 control lights.
Multi-function display with mileage, trip odometer, coolant temperature display, digital clock and warning flasher. Acoustic turn signal reminder via way/time registration (optional). A unique instrument in design, function and ergonomics.
Sporty, Dynamic, Passionate. The driving dynamics are awe-inspiring. The comfort is superior.
The high performance engine in connection with a tubular chassis and a powerful brake system are for us a kind of condition and a distinctive character of the MZ 1000S. The design interprets classic design values in a future-oriented way. Desire for dynamics, And more.
Sophisticated aerodynamics and ergonomic technology saves energy. The intelligent lightweight construction provides more usable power and the innovative instruments delight through precision and ease of use. With its aggressive face, sharp body lines and distinctive tail section, the MZ 1000S takes us into a whole new motorcycle dimension with a new standard in motorcycle technology. A strong inline twin cylinder – 4 stroke – 999cc, 86 KW (117hp), 95 Nm engine powers a 6-speed cassette gearbox.
A dual exhaust system with 3-way catalytic converter expels clean spent exhaust gasses. The MZ 1000S engine concept is unique in its alignment. The most powerful series twin cylinder inline engine worldwide. The sound is phenomenal. Optimum power development, low noxious emissions, low fuel consumption and all this at the same time.
That is not only modern, it is new. That makes us not only proud, but the MZ also damned fast.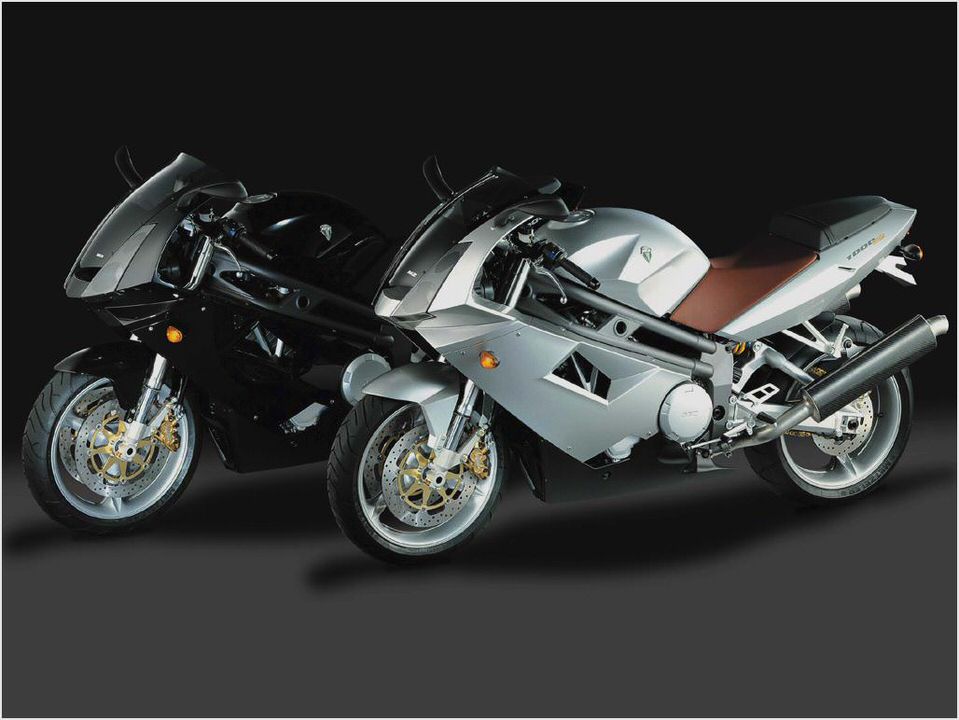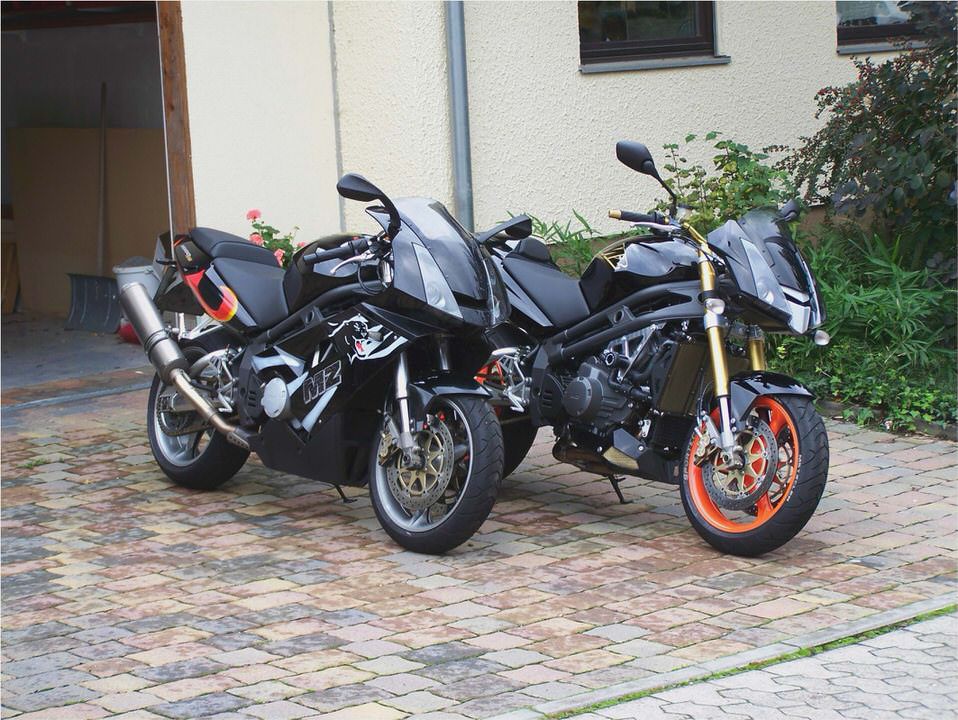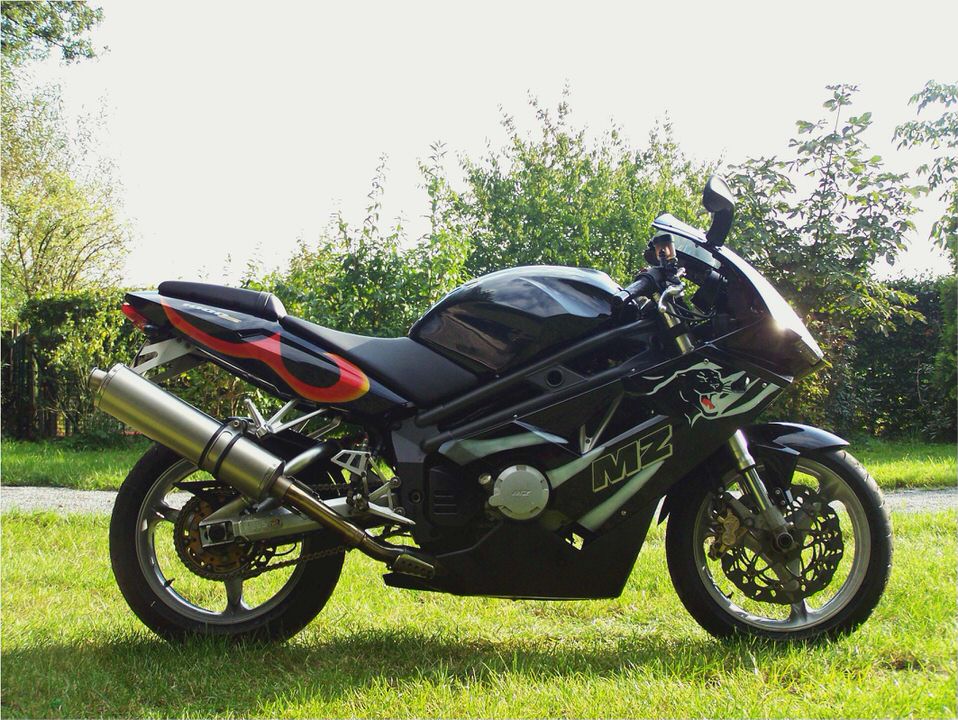 Ed Youngblood's Motohistory News April 2007
MZ ETZ 301 1988 – 1992
MZ-Motorradwerke Zschopau
MZ ETZ 250 Tuning – Real Classic Motorcycle Rebuild Techniques
MZ 1000 S