Off-Road.com's Ride-Net! 2002 Kawasaki Dirt Bikes – KX 125
To remain competitive in the fast-paced world ofmotocross racing, the KX125's liquid-cooled two-stroke engine was almost completely refurbished. The combustion chamber was reconfigured to increase compression for better response and more power throughout the rev range.
The Electrofusion-coated cylinder houses a new tin-plated, machine-streaked piston, which is connected to a lighter-weight crankshaft for quicker engine response.
Fuel reaches the engine through a new Mikuni TMX 38mm carburetor that's 2mm larger than the old model and dramatically improves top-end power. Revised ignition timing ignites the fuel mixture. A new two-piece powervalve replaces last year's three-piece butterfly unit, and improves low-end torque while sealing better at high rpm.
Complementing the other engine changes is a lightened crankshaft with revised moment of inertia for quicker engine response. Optional flywheel rotors are available in two different sizes for fine-tuning engine performance.
The KX125 has a compact, high-tensile steel perimeter frame with new footpegs that are designed to prevent mud build-up in the pivot area. Up front, the fully adjustable fork was increased in diameter, while tube thickness was decreased. The upshot is increased rigidity with less weight.
The upper triple-clamp now has KX250-style bolt-on bar mounts with rubber dampers, so less vibration reaches the rider's hands and the handlebars can be positioned to suit different riding styles.
Rear suspension is handled by Kawasaki's highly acclaimed UNI-TRAK® linkage system that progressively increases damping and spring rates on the fully adjustable rear shock as the suspension is compressed. For '02, the system was revised with longer pull rods and new rocker dimensions for a new linkage ratio that improves performance, especially near bottoming.
Rounding out the KX125's enhancements are taller, straighter handlebars, an aluminum clutch-cable adjuster, reshaped saddle with thicker foam and a base that increases air flow around the airbox. The already-flat fuel tank is even flatter for '02, and incorporates new square inset nuts where the shrouds and seat base mount for more security. New side covers complement the new seat and tank, as do new thicker graphics.
FEATURES:
Liquid-Cooled Engine
Reshaped combustion chamber for increased compression
Reshaped exhaust and scavenging ports, and revised exhaust timing for better power at high RPM
Piston tin-plated and machine-streaked to prevent scarring, especially during break-in
New, lighter crankshaft for quicker engine response
Revised ignition timing for more power at mid to high RPM
Optional flywheel weight for more customer choices
Electrofusion Cylinder
Improves heat transfer for consistent power output
It's porous so it holds lubrication well
It's hard so it resists abrasion and seizure
Improved honing method allows more precise piston-to-cylinder clearances for more horsepower
Kawasaki Integrated Power Valve System
Revised governor bearings and springs stabilize operation and open quicker
New, two-piece powervalve improves low-end torque and seals better at high RPM
Mikuni TMX38 Carburetor
New carb significantly boosts top-end power
Positions needle closer to intake tract
UNI-TRAK@ Rear Suspension
Cast-aluminum section of the swingarm is designed for less weight and more rigidity
The shock features both low- and high-speed compression damping adjustments
Single-rate shock spring and matching damping settings
48mm Upside Down Cartridge Fork
Bladder system helps control bottoming and smoothes outjolts
Increased rigidity and reduced weight
Straight-rate springs
Polished internal surfaces for smooth action
Upper triple-clamp now features KX250-style bolt-on handlebar mounts with rubber dampers, which can be rotated to change handlebar position
Front and Rear Disc Brakes
Front brake caliper's twin pistons made from aluminum to reduce weight
New push rods in rear brake master cylinder improves pedal position
Details
U-shaped rims have no shoulder to prevent mud build-up in wet conditions
New thicker graphics
Thicker, reshaped seat designed to be more durable and increase airflow into the airbox
Fuel tank is flatter and incorporates new square inset nuts to more securely mount the shrouds and seat base
Optional 20-inch rim or wheel assemblies available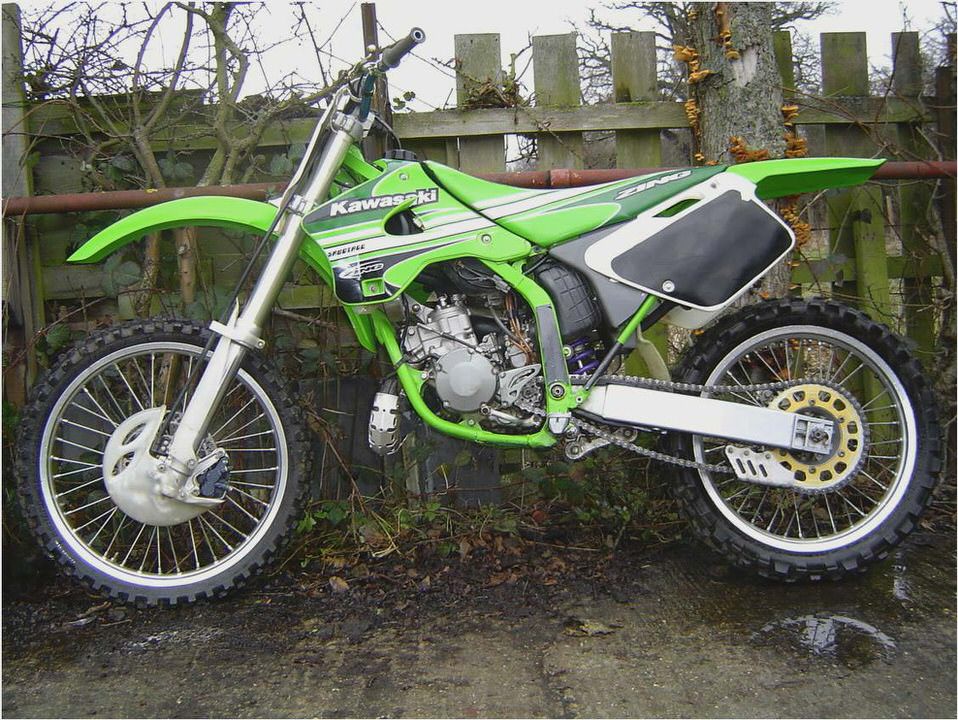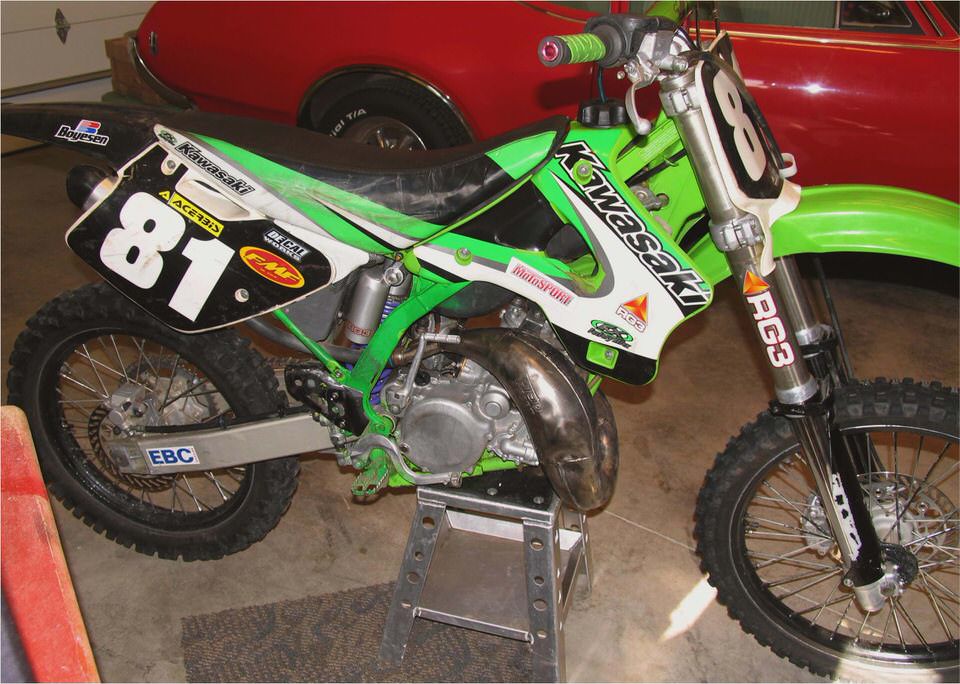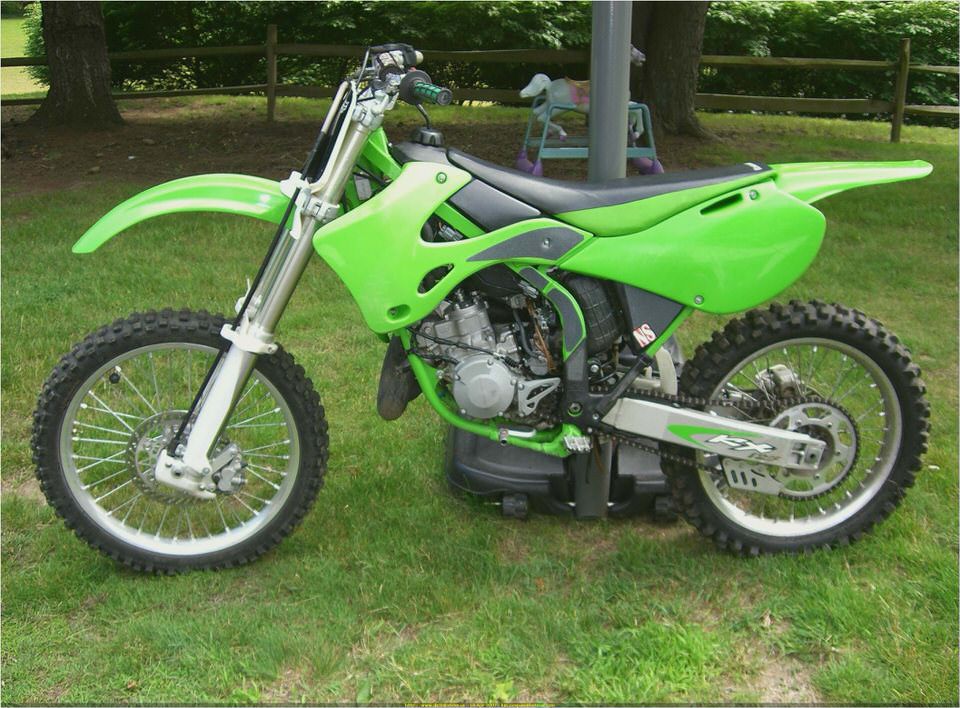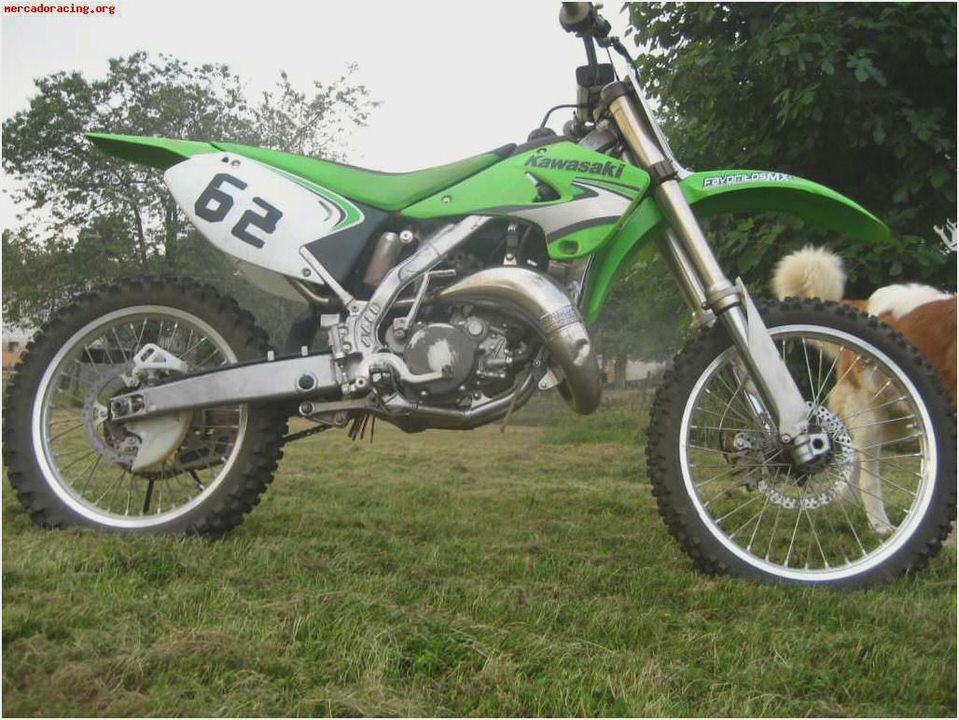 Kawasaki Kz1000 – Video Encyclopedia
2010 Kawasaki Versys Review –
2010 Kawasaki Mule and Teryx Lineup Unveiled
Kawasaki Exhibits Ninja ZX-14R and Three Other New Models at 2011 Milan…
Kawasaki Launches KLX125 and D-TRACKER 125 that Boast Superior Environmental…