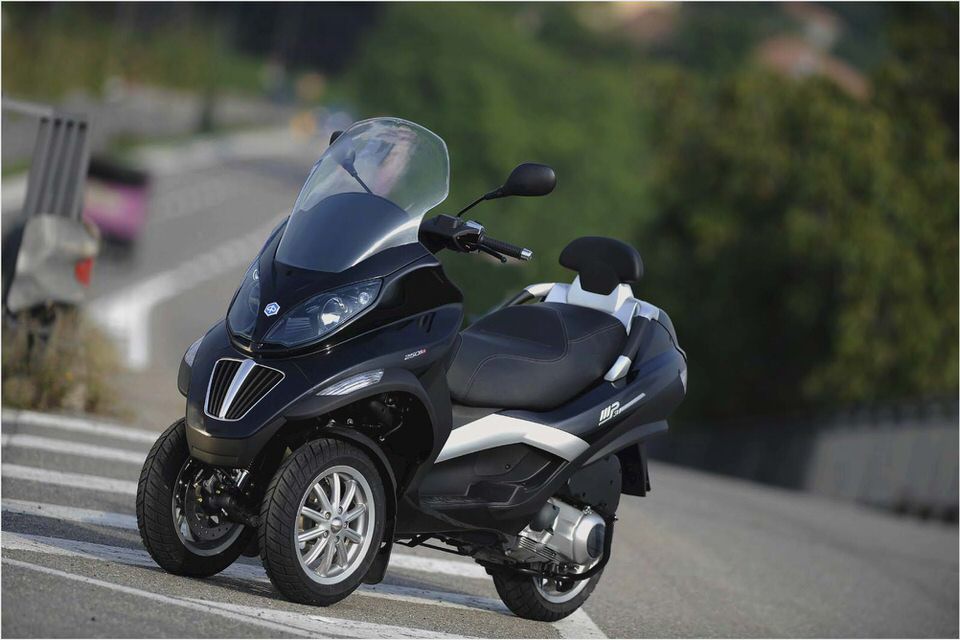 Piaggio MP3
The Piaggio MP3 (an acronym of Moto Piaggio a 3 ruote . Italian for Piaggio motorcycle with 3 wheels) is a tilting three-wheeled scooter from the Italian manufacturer Piaggio. It was first brought to market in 2006. It has two wheels in the front and one at the rear.
Suspension mechanism
The MP3 suspension requires regular maintenance, typically every 10,000km
Because of its unique three-wheel mechanism, it can be brought to a stop and parked like a car, without using a traditional kickstand or centre stand, and can be parked even on irregular or sidewise-sloping ground. The front suspension is similar to the single-sided trailing arm of Vespa -style suspensions, linked by an alloy parallelogram and a central steering arm. When moving at slow speeds or stopped, the rider must maintain balance through forward motion or with feet on the ground.
The front suspension locks or unlocks with the flick of a switch, located just below the throttle on the right handlebar. The suspension lock can be activated only manually, and only at low speeds or at a stop; it is disengaged when the engine speed exceeds 2,500 rpm. [ 1 ] A parking brake is used in conjunction with the locking mechanism to park the bike. A traditional center stand also is provided, useful in situations where the suspension cannot be locked, such as with a dead battery (though the suspension will remain locked if the battery fails or is removed while the scooter is parked.)
Variants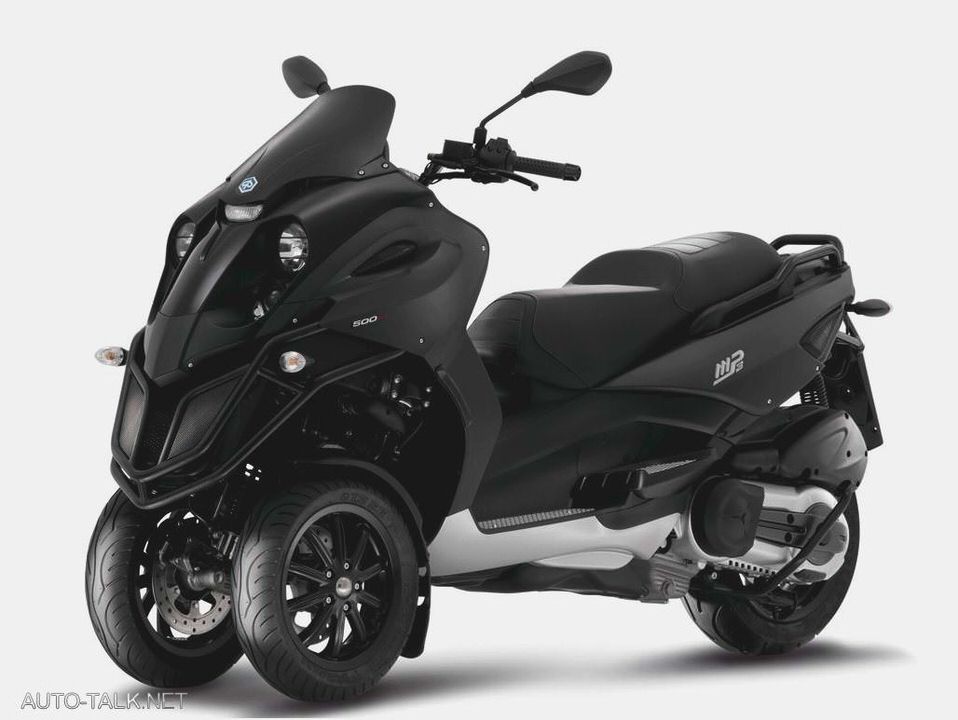 125cc, 250cc, 278cc, 400cc and 500cc versions are available.
In Europe, the 500cc version is marketed under the sporty Gilera brand, called the Gilera Fuoco 500ie. [ 2 ] In the United States, the 125cc is not available, and the Fuoco is marketed as the Piaggio MP3 500.
In June 2009, the MP3 LT 400 was launched in the UK. This version has a slightly wider front track allowing it to be classified as a tricycle rather than as a motorcycle (as are the other versions). This allows the LT400 variant to be driven on a standard UK car licence rather than the motorcycle licence required for the original versions. [ 3 ]
In September 2009, a plug-in hybrid version of the MP3 was launched, [ 3 ] following trials in 2008 by the New York City Police Department. It has a 125cc engine and a battery-driven 2.6kW (3.5hp) electric motor, with a regenerative braking system. The vehicle has three user-selected variants of hybrid drive to create a vehicle capable of up to 141 miles per US gallon (1.67L/100km; 169mpg -imp ) and 0–60mph (0–97km/h) in 5seconds when both methods of propulsion are used. [ 4 ] In electric-only mode the MP3 can travel a distance of 11 miles (18km) at a maximum speed of 20mph (32km/h). [ 3 ] When both power sources are used the MP3 can run for a maximum of 25minutes, with performance equivalent to a 250cc scooter. [ 3 ] When powered solely by the petrol engine the MP3 is slower than other 125cc machines due to its weight: 249kg (549lb) compared with 208kg (459lb) for the petrol-only model. [ 5 ]
Singapore Civil Defence Force Piaggio MP3 Firebike (Red Scorpions)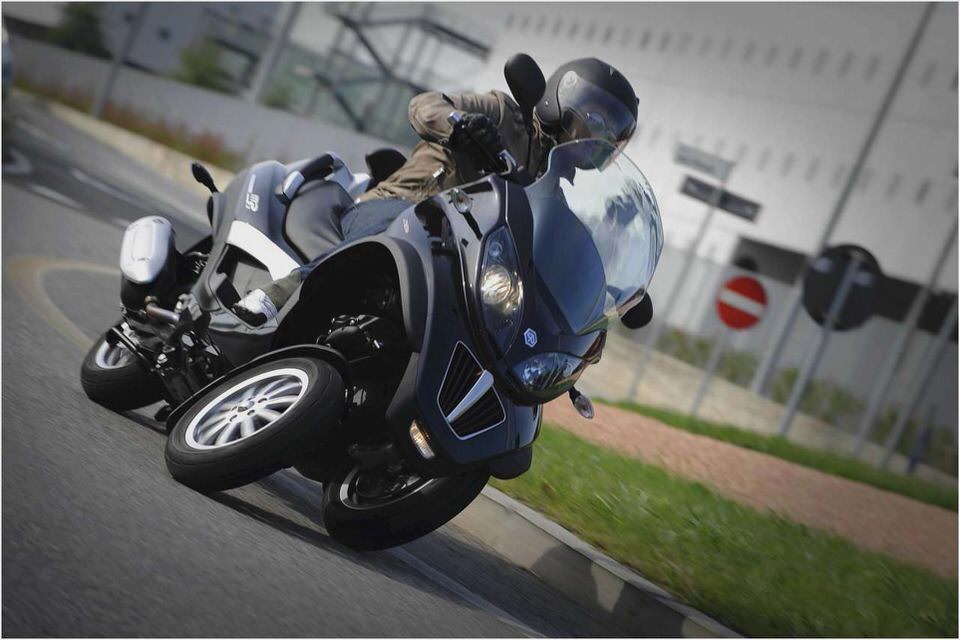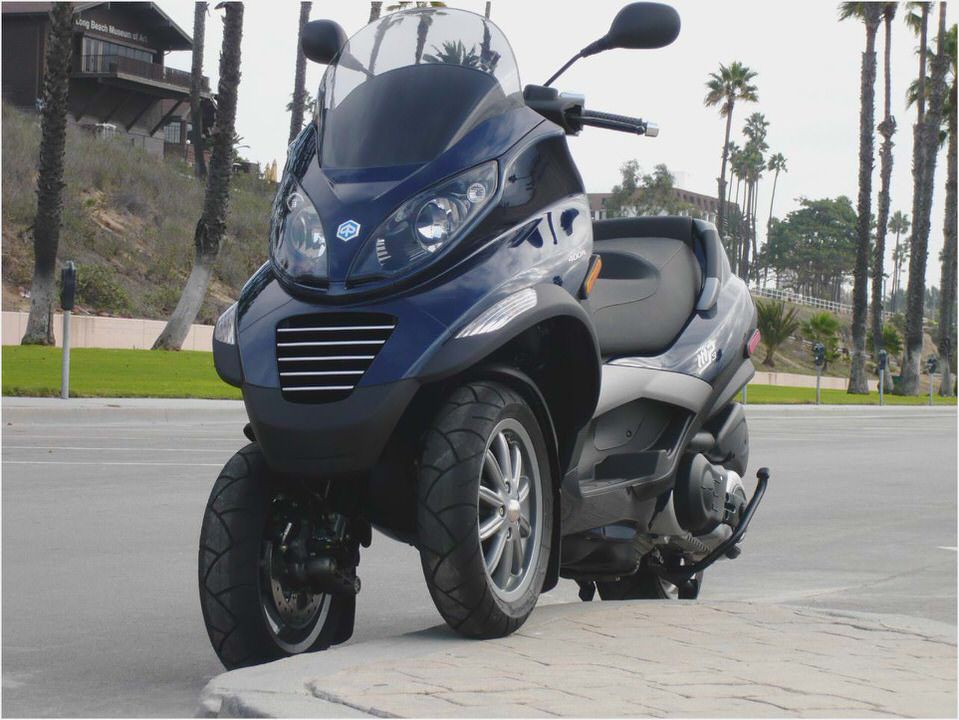 Piaggio Beverly 125cc-300cc Scooter Scooters Mopeds
2010 Piaggo Vespa Scooters: New models, hybrid coming
Piaggio Fly 50 & 150 Motor Scooter Guide
Piaggio MP3 Yourban 300 LT Auto Express
Test Piaggio Beverly 125 Motors TV