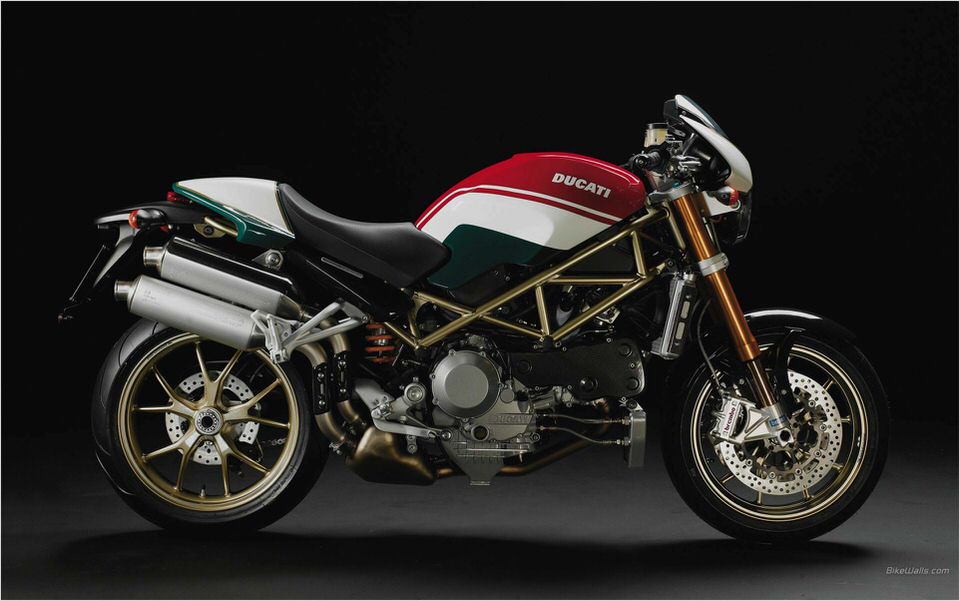 Ducati Monster S4R "Kelevra" by SGC
by Adrian • July 28, 2013 • Ducati. Monster. Motorcycle. S4R • 1 Comment
This Ducati Monster S4R dubbed Kelevra is one of the latest builds by South Garage Cafe from Milan, Italy. This project was first presented at the EICMA 2012 and took first place as the "BEST CAFE RACER". The contest was organized by EICMA Custom Lowride and sponsored by WW Motorcycles. International journalists were asked to vote and judge the builder's achievements.
The judges were astonished by the technologically advanced and the nostalgic charm which was perfectly captured by SGC.
On the engine side the handmade 2 in 1 stainless steel exhaust was custom built on SGC specifications. They have gone from a pencil sketch on a sheet of paper to this work of art with the help of the SGC fabricator Fabrizio. The double turned collector around the casing was made ​​of about 70 tig welded pieces, which is coupled to an vintage "Trombone" counter-cone muffler.
The ignition has been relocated to below the tank to keep in theme with the build. The tank and tailpiece are handmade fiberglass composite.
The tailpiece is a derived "aermacchi ala d'oro" which was extended about 5 cm to reach the width of the frame. The housing includes the installation of a plate which anchors the tail to the end of the reservoir. This places the seat higher about 6cm and perpendicular to the ground.
SGC thought it was necessary to resize the length of the sub-frame at the rear by 20 cm from the original, thus giving the bike a much more harmonious racing line. By lengthening the distance between the wheel and the end of tail (motorcycle highest point), and the shortening of the same from the point of insertion of the reservoir (motorcycle lowest point), SGC was able to attain the look they wanted.
There are many subtle details that are part of this Ducati Monster S4R. SGC really went out of their way to build the ultimate cafe racer. Form and function at its finest.
The headlight is a Lucas cafe racer style.  SGC was invited to participate in the   "Ton Up – Speed, Style and Cafe Racer Culture" as part of the builders world championship to be held in Sturgis this summer.  This competition includes the top 30 cafe racer considered among the most beautiful in the world.
In this competition you will see builders such as Paul D'Orleans, David Edwards, Roland Sands, Bryan Fuller, Jason Michaels, Willie G Davidson, Ray Drea (Harley-Davidson's design director), Arlen Ness, Satya Kraus, Kevin Dunworth (Loaded Gun Customs), Jay Larossa (Lossa Engineering) and Steve "Carpy" Carpenter (Nostalgia Speed ​​and Cycle). We really hope they win as this is a truly remarkable build. Check out the gallery below for the rest of the pictures.
Technical Specifications:
Corbin Motorcycle Seats & Accessories Ducati GT 1000 800-538-7035
MotoGP Engine Usage at the Halfway Mark: Yamaha Struggling, Honda Dominating…
Ducati Multistrada 620 Motorcycle – First Ride & Review – Motorcylist Online
Ducati Multistrada 1200 on Tour – Urban Ducati News Today
AutoRacing1.com – Hot News Page