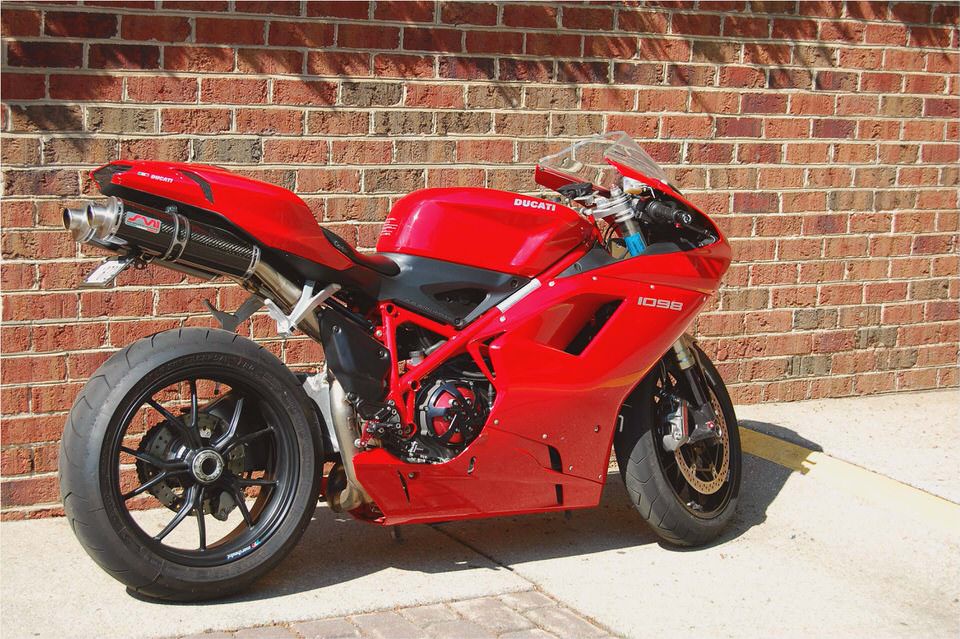 Superbike World Championship
Superbike World Championship (also known as SBK) is the premier worldwide Superbike racing Championship. the championship was founded in 1988. The Superbike World Championship season consists of a series of rounds held on permanent racing facilities. Each round has 2 races and the results of each race are combined to determine two annual World Championships, one for riders and one for manufacturers
Europe is Superbike World Championship's traditional centre and leading market. [1] However, rounds are also held in Qatar and Australia. In 2008 the championship will also return to the United States for the first time since 2004. [2]
2003 – 1000cc engines
2004 – control tyres
2007 – Superbike return to glory
With MotoGP machines reduced in capacity from 990cc to a 800cc maximum displacement, 1000cc Superbikes, both at World Championship and top national championships (AMA Superbike and British Superbike ) become the most powerful racing bikes being road raced in 2007. While superbikes remain two or more seconds per lap slower than MotoGP bikes at most tracks they have equal or even more power. [10] [11] Troy Bayliss will defend his title riding once again a Ducati 999.
Even though production of the 999 ended in 2006 and the bike was replaced by the Ducati 1098. Ducati produced 150 limited edition 999s to satisfy homologation requirements. Bayliss main rivals in his title defense include former MotoGP rider Max Biaggi riding a Suzuki, 2004 champion James Toseland riding a Honda and Noriyuki Haga riding a Yamaha
The combination of some boring races in MotoGP [12] [13] and some thrilling races in SBK saw the championship's popularity increase even more.
2008 – 1200cc twins
After introducing the Ducati 1098 in 2007 powered by a 1098cc v-twin engine Ducati requested that Superbike rules be changed to allow v-twins of up to 1200cc compete against 1000cc four-cylinder bikes. Ducati argued that they no longer produced a road-going 1000cc V-twin superbike [14] and that the level of tuning now needed to make their 999 competitive on the race track was too expensive. [15] Ducati said they would quit if the rules were not changed [14]. Alstare Suzuki team boss Francis Batta also said that his team would quit if the new rules gave Ducati an unfair advantage. [16]
The FIM eventually included the 1200cc displacement limit for twins in the 2008 superbike rules. According to the new rules twin motorcycles will be 6kg heavier than four cylinders (168kg to 162Kg) and will also have a 50-mm air restrictor fitted. The weight limit and the intake-restrictor size of twin machines will be updated, if needed, during the Championship, by a system analysing the race points obtained. [17]
The new rules also changed the minimum number of bikes required to acquire homologation. For 2008 and 2009, all manufacturers, regardless of total production numbers, must produce a minimum of 1000 bikes to acquire homologation. From 2010 onwards, the minimum production number will be increased to 3000 bikes.
In the past, smaller manufacturers were allowed to build as few as 150 bikes to meet the homologation requirements. Manufacturers took advantage of this by producing 'homologation specials'–highly tuned versions of their road bikes with performance parts designed especially for racing. [18]
Riders
Riders from all over the world compete in the Superbike World Championship. The championship is perhaps most closely followed in Italy because of Ducati and the United Kingdom where superbike racing has been the most popular form of motorcycle racing. Rider from Australia and the United States have traditionally been successful in the championship.
For the last couple of years however no American riders have competed in the championship.
British rider Carl Fogarty is the most succesful rider in the championship's history winning the championship 4 times and a total of 59 race wins.
Many riders such as Colin Edwards and Chris Vermeulen have used the Superbike World Championship as a stepping stone to entering MotoGP. James Toseland will also move to MotoGP in 2008. Other riders such as Max Biaggi and Alex Barros came to SBK as an alternative when they were unable to secure MotoGP rides.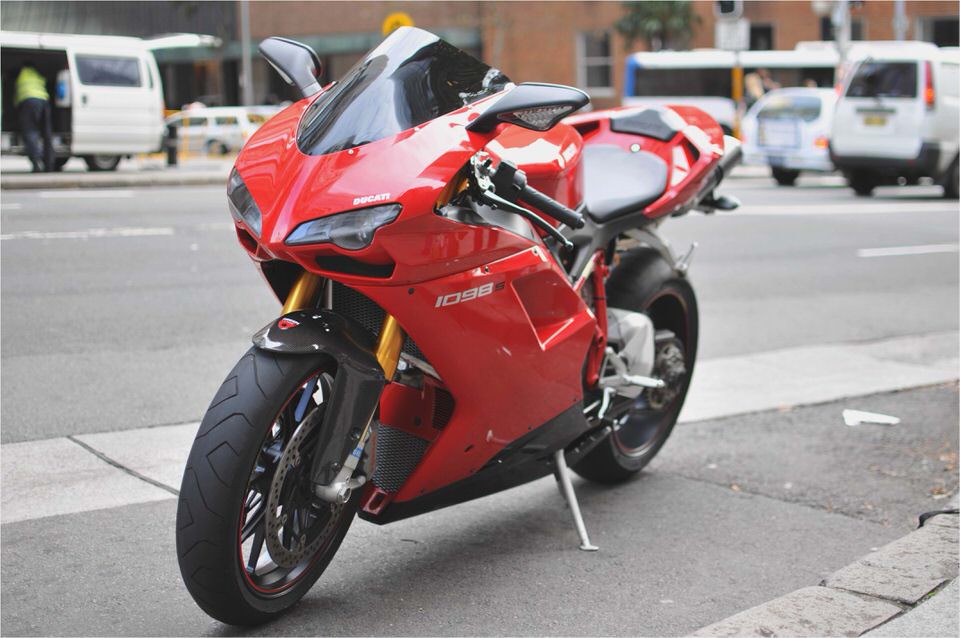 Except for the Frenchman Raymond Roche. who won the championship in 1990. all other Superbike World Champions were English native speakers.
Superbike motorcycles
Superbike racing motorcycles are derived from standard production models. In the past however manufacturers took advantage of loopholes in the rules to create homologation specials, motorcycles with low production numbers made especially for racing.
Race weekend
Friday 1st free practice (60 minutes) and 1st qualifying (60 minutes)
Saturday 2nd qualifying (60 minutes) and 2nd free practice (60 minutes)
The times of 1st and 2nd qualifying are combined and the 16 fastest riders qualify for Superpole. The rest receive a grid position based on lap time, starting with 17th. To qualify for the race, riders must record a lap time no longer than 107% of the time recorded by the pole-position rider. * Superpole Riders go out one by one in reverse order of qualifying position; in Superpole, riders may use a qualifying tyre.
If Superpole is declared wet, a 50-minute session takes place for all 16 riders to set timed laps; each rider may complete no more than 12 laps including in and out laps.
Sunday Warm-up (20 minutes) Race 1 and Race 2
Race distance must be from a minimum of 90km to a maximum of 110km.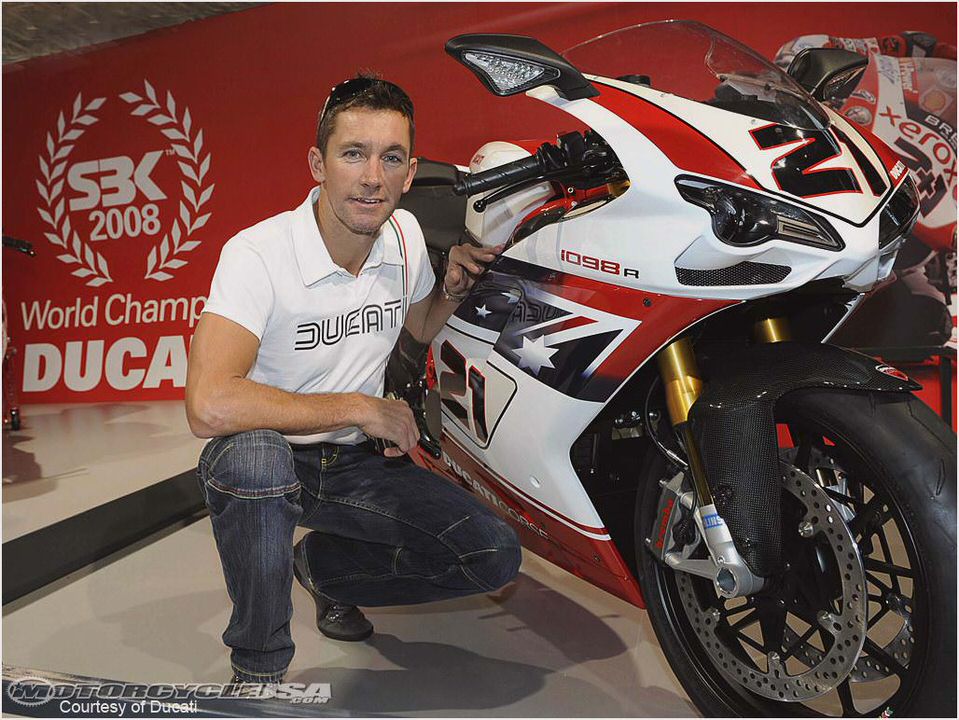 Motodisiac
2011 Ducati 1198 SP Review –
2002 Ducati Monster 620 i.e.: MD Riding Impression …
Ducati launches customization contest for new Monster 1100 S – Autoblog
Ducati 848 EVO vs. Suzuki GSX-R750 vs. Triumph Daytona 675R- Road Tests