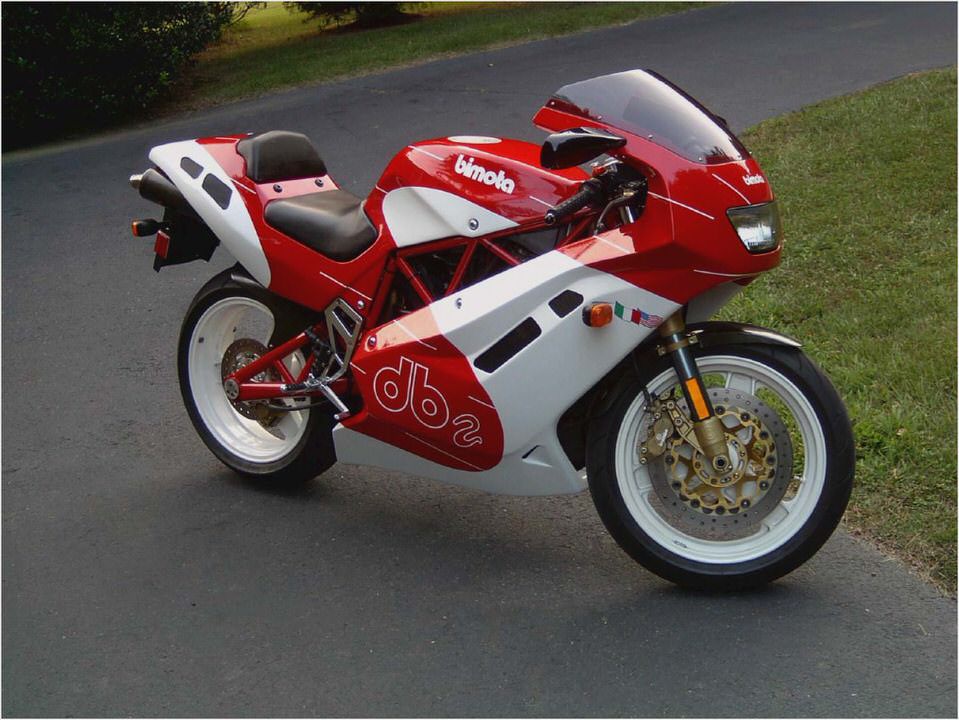 Bimota DB4 W/ FACTORY RACE KIT tech info
Type: Sport Bike Engine Size (cc): 904 Warranty: Vehicle does NOT have an existing warranty For Sale By: Private Seller VIN: ZESDB4002YR000012
Bimota DB4 W/ FACTORY RACE KIT description
2000 Bimota DB4 w/Factory Race Kit – VIN: ZESDB4002YR000012
This motorcycle is a very nice and very original 2000 Bimota DB4 with factory Tri-Colore paint scheme – my favorite model and paint scheme that Bimota has ever made. It is equipped with the rare Factory Race Kit which includes Keihin FCR Carbs (no choke), a special Bimota gas tank to clear the carbs, Corse titanium exhaust, and an Ohlins rear shock. The bike runs super well and is ridden only occasionally on our Sunday morning "coffee rides".
As you can see from the pics, it is in very nice condition. I have added adjustable clip-ons that raise the bars about 3". They improved the comfort level for my nearly 60 year old body significantly, but the original Bimota clip-ons are included if you'd like to change it back – see pics. (No changes were needed to wiring or throttle, brake and clutch lines/control cables.) The tires are Michelin Pilot Powers.
The front is a 120/70 ZR17 Pilot Power II and is nearly new. The rear is a 180/55 ZR17 Pilot Power 3 and it is new (I got a nail in the previous Pilot Power II a few weeks ago and just replaced it!).
The body work is generally in very nice condition and paint/gelcoat is excellent throughout. There are a few spots that show minor spider webbing around fasteners (standard on Bimotas that are ridden) but nothing significant, and a tiny chip here or there. These are all very minor and you need to look extremely closely to see them (see pics).
The worst cosmetic issues are a chip in the paint on the right side of the front wheel rim near the Antera logo and the cap for the front brake master cylinder reservoir – the cap is standard Brembo and should be easy to replace with new. You can see both in the pics if you look carefully. The bike will also come with the Factory race stand that is shown in a couple of the pics.
The bike was last serviced about 120 miles ago with an oil change, brake and clutch fluid change and valve adjustment. The engine runs well and the bike is a blast to ride. I have had several Bimotas including inline 4's and other DB's and this is my favorite of all of them.
It handles super well (the Ohlins rear shock is a nice addition). It is air cooled (not a lot of extra weight – it is super light – around 380 lbs or so) and easy to work on without having to deal with all the extra bits for water cooling – water pump, radiator, plumbing, etc. It is carbureted so you can work on it easily without a computer.
It also doesn't have any heat issues that some of the other models have and handles stop and go traffic with no issues. The Corse exhaust sounds wonderful, and I don't think there has ever been a more beautiful Bimota made! I prefer limited electronic gadgetry, and this bike fits the bill perfectly. Unfortunately, I've reached the age where my body just can't tolerate clip-ons anymore and I am finally forced to admit it!
Even with the raised clip-ons I added!
I will facilitate shipping, but Buyer must make arrangements for pick up and pay for any shipping costs. Pick up must be arranged within two weeks of the auction's end. If you care to inspect the bike before the auction ends, give me a call or send me an email to make arrangements.
I live near the Phoenix Sky Harbor airport and would be happy to pick you up if you would like to fly in for an inspection.
This is a very nice example, but it is a USED motorcycle that is nearly 14 years old and it is NOT perfect. It is sold as is where is with NO warranty, NO guaranty or any other kind of "–ty". The motorcycle has an Arizona title in my name with no liens so no issues there. If you have questions email me at " wallaman at cox dot net " or call me at (six zero two)-373-one five one four.
I'm in Arizona and we're on California time now (no daylight savings time here).
Terms: $2,000 non-refundable deposit (Paypal) within 48 hours of sale. Balance due within 7 days. Balance must be paid with certified funds (bank check), or bank wire transfer (preferred).
NO Paypal ON BALANCE. Bike will be released on confirmation of funds and must be picked up within two weeks of sale. Any questions, please ask BEFORE the close of the auction!
On Aug-30-13 at 16:50:54 PDT, seller added the following information:
I've gotten a number of questions about the engine in this bike. Bimota used what is basically the same air cooled 904cc 90 degree L-Twin that powered the Ducati 900SS of the same vintage. The Ducati motor can be serviced by any Ducati dealer and uses Ducati filters, etc. for service.
As mentioned in the description above, this one has been retrofitted with the Corse race kit which includes larger (I believe they're 39mm) Keihin FCR carburetors and a titanium Corse two into one titanium exhaust.
News from Bimota Spirit
How I Crashed my Beloved BMW R1100GS
Vyrus – World's most exclusive and lightest sports bike…
Bimota Tesi 3D First Ride Review- Bimota Tesi Sportbikes- Photos
Bimota DB4-Bimota