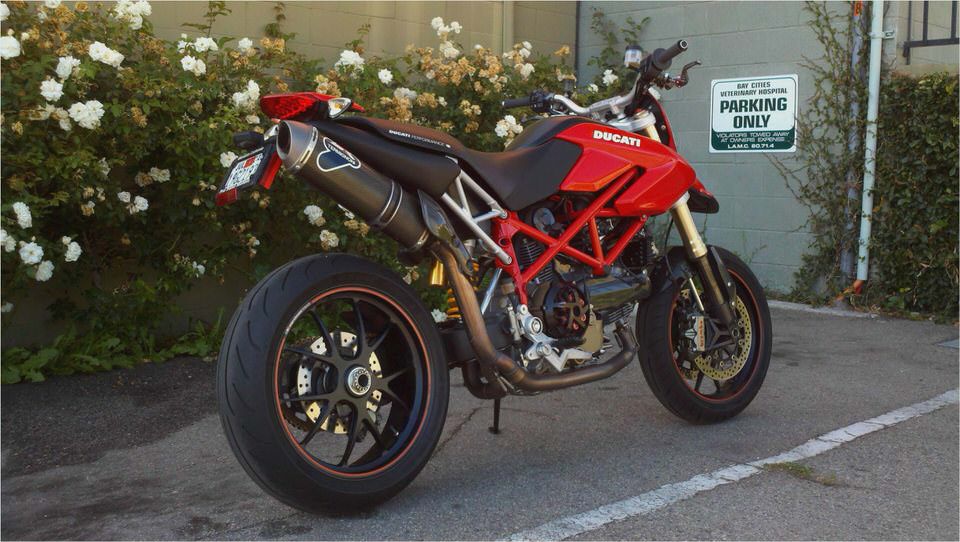 Ducati Sport 1100. Black Gold
Gorgeous bikes, great motor and chassis, but weak stock suspension and brake components need correcting for serious sport duty.
Performance Mods
Ohlins forks, andshock
3 spoke brembo wheels
4 piston brembo brake calipers EBC HH pads
Custom made airbox lid and modified airbox
Termignoni slip-ons with Ducati Performance ECM
Dynojet Power Commander
1078cc big bore, with Pistal hi-compression pistons (11.25:1)
43 tooth rear sprocket
Cosmetic/Other Mods
Gold anodize-like finish on front brake disk carriers, rear brake inner andrear sprocket carrier… to balance out the Ohlins bling
Wasp tail chop and LED turn signals
"GT Rossi" rear hugger
Frame sliders
Custom gauge lowering brackets
Custom integrated 360 deg radar/laser detection system
Custom "Sport 1100" tail decals
07 risers with custom "bent" clip-on bars, for a dramatic comfort improvement
Sound Power
T ermignoni megaphone slip-ons (with performance ECU and open air box lid) look great and provide a suitably retro tone to the glorious bark and bwooarr of an free flowing exhaust on a 2 valve Ducati.
While the brake and suspension upgrades were necessary the big bore job and power commander was over-kill, as these motors are big-torque fun even when stock. But seeing as I was touching the engine performance some I opened up the airbox with a custom filter cover and a big hole in the bottom to aid breathing.
Handling and Braking
T he stock SC1000 forks aren't real good. Too much high speed compression damping, not enough spring, non-adjustable, not even re-valvable (w/o a 2nd mortgage, payable to Traxxion Dynamics). They bang and shudder their way over sharp bumps and ripples, so they're not real comfortable when bimbling about.
And, they're also too soft and not well-controlled when you get all jiggy with it in the twisties. The worst of both worlds.
Originally the planned fix was to snag some used Ducati Supersport forks (fully adjustable Showas) which fit without mods and are sprung and damped pretty well. They work real well on the similarly light supersport bikes. But then Paul at NPR Ducati came up with an irresistibly good deal on a blingy set of Ohlins forks, and a shock too!
For my 190lbs the Ohlins shock needed only a tiny amount of preload increase to get the desired 30% rider sag, and the forks gave me the same straight out of the box.
Replacing the stock hoops with sticky (and less rounded) sporty tires helped a lot too. Reduced steering effort (at speed), a seemingly bigger contact patch (when cornering) and more confidence/grip are benefits I felt from some Michelin Pilot Powers and the Dunlop qualifiers I've run.
Brembo 4 piston brake calipers had to go on. The stock 2 piston sliders require too much lever effort. Unfortunately there is no good way to go 4 piston with the stock wire spoked wheels.
Some people have ground down the inside of 4 pad Brembo calipers to provide the necessary clearance, but I'm not that brave (foolish?).
Alpina spoked wheels provide enough clearance, and are sexy, plus lighter, plus tubeless, but they're also $2300 a pair! So, I decided to fit some 3 spoke Brembo wheels (off an ST4) because they provide enough clearance, fit without modification, are about 9lbs lighter than stock (combined) and are appropriately "retro" in style. Plus, they can be gotten used, cheaply.
The diagram at right shows relative wheel/caliper dimensions… you need to consider when making these mods.
I played with the wheel color options a lot (digitally) before settling on a satin black. White would've looked good too but not real "tough", and they'd need cleaning a lot.
Result? Handling and braking are now 2 of the bike's strengths.
T hese bikes don't need much cosmetic fettling, they're mostly dead sexy straight from the factory. The Ohlins suspension stuck out a bit much though so I mixed up a custom blend of automotive paints to match the gold anodizing, and refinished a few parts to balance it all out. I modified a clutch cover with gold-finished perf-metal vents just for this purpose, then the brake disk carriers, and the rear sprocket hub.
The tough sporty look provided by the black wheels made the classic and bulky taillight/fender arrangement look out of place. A handy bloke named "Wasp" in Aus provided a tail chop kit that looks more suitable.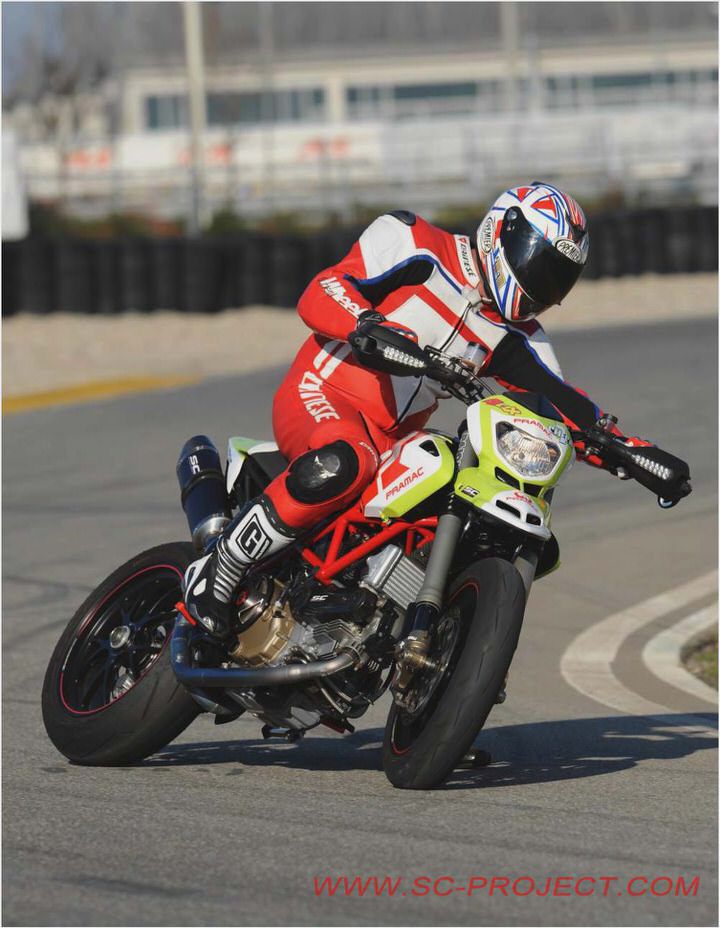 Just for fun I fabricated some brackets to lower/tuck in the gauges, and got some "Sport 1100" decals made for the tail cowl, and "Ducati" ones for the wheels.
Comfort Versatility
Riding position:
These bikes are hideously uncomfortable in stock form. A lonnnng reach to the lowww bars strains wrists and lower back more than just about any sport bike out there.
A surprisingly simple and effective fix is to use 07 risers to add height, and then fit the ends of some 7/8" handlebars, to reduce reach. I used an old set of speed triple handle bars. The trick is to leave a few inches of the bars stock bend on the ends.
The bent ends fit into the risers, providing pull back, and variable bar angle (up/down).
The end result is very adjustable; up to 2.5 inches of increased pull-back (less reach to the bars) and about the same increase in bar height. In the highest/flattest setting these bars actually made the bike too comfortable, and very non-sporty. They can also be set down lower than the stock bars.
Easily adjustable too – it takes all of 3 minutes with an allen key to make adjustments from all-day-touring comfort to aggressive track-day ready. I settled somewhere in between so now this bike has gone from being the most painful bike I've ever ridden to the most comfortable bike I've ever owned.
Two-Up passenger kit:
For even more versatility I "made" a kit to allow me to take my kids and wife on the occasional jaunt. Click on image at right —-
It uses an 07+ biposto sport 1000 seat that fits right on. Then all that was needed was to fab up a pair of suitably strong steel brackets and aluminum spacers, to attach some Ducati passenger pegs I had left over from my 2001 900ss. It worked great and looked almost factory.
This template file details the passenger footpeg brackets.
End Result
Don't whack the throttle open too fast in first or second gear unless you want to flip over backwards. Handling and braking that's street easy and track day ready. More than enough comfort and aggressiveness for the aging hooligan, and looks that make the stocker appear a bit tame.
Priceless.
Evolution
Here's some pics of its previous forms..
Pre-bling Some bling Pre-tailchop
For more pics check out the Sport 1100 photo album and these track day albums :
First Look at the New Ducati Diavel: Video – Bloomberg
2014 Ducati 899 Panigale review – Road Tests: First Rides – Visordown
Sale on Galfer 906 Paso/1000 Replica Ducati Rear Race Sintered Pad Street…
Ducati 916 – the bike, the legend – Page 2 – Features – Visordown
BikeBoy.org – Ducati 620 Sport Base Runs, Mufflers, Etc