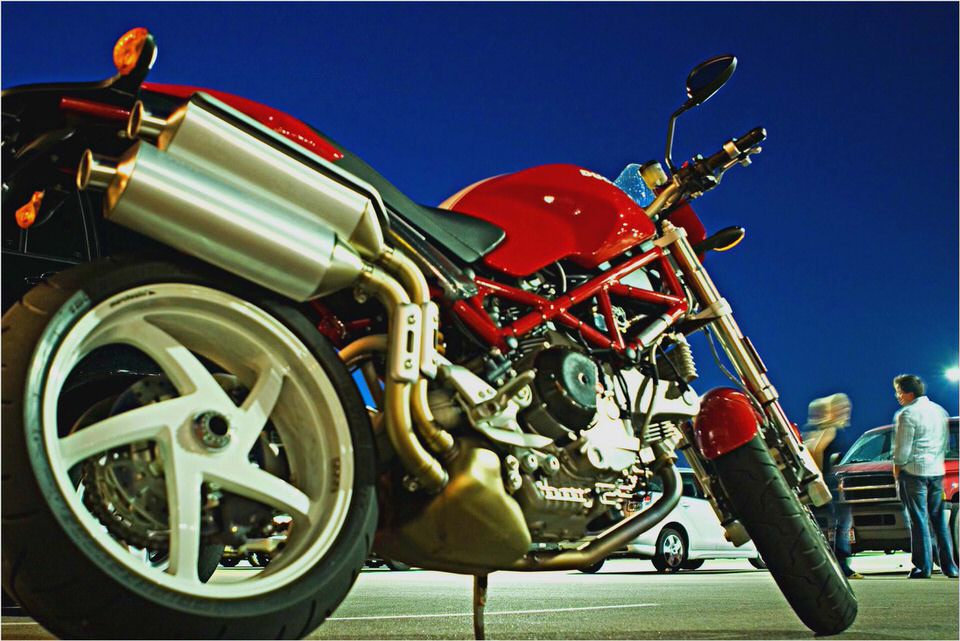 Ducati 1098 Super Bike – #x0024;12600
2007 Ducati 1098 with 10,120 miles Bike has a clean original title with all paper work and service records from the beginning till now. CASH ONLY. No Checks, No Cashier Checks- too many scams going on. (Serious inquiries please ) NO LOW BLOWS if you can't afford the price don't waste my time I won't even respond, I'm not selling this bike because I need money.
Call # 347-752-2732 NO TEXT messages I will not respond,if you are a serious buyer you will call.
One of the most beautiful and one of the most well equipped Ducati's in the region, always garaged and never driven in the rain not a spec of dust on it.
Bike is very fast it Dyno'd 162 hp and 92 lbs of torque at the rear wheel.
Red bike with red frame.
It comes with the following options all included :
1. Full Termignoni 70mm full exhaust system with carbonfiber Termignoni mufflers(not a slip on), Race Ducati ECU, KN air filter installed and tuned bu Ducati dealer – $4,000
2. Ohllins TTX36 advanced technology superbike race shock with 2 matching inetrchangable Ohllins springs it depends on your weight you can use either one – $1675
3. Ohllins height adjustable link – $95
4. HID lights with HID highpower boxes not just the bulbs the whole system installled by Ducati dealer – $300
5. Front carbonfiber Ducati fender from Ducati dealer – $250
6. Pazzo custom brake and clutch lever – $170
7. Puig tinted double bubble windshield – $120
8. Ducati original carbonfiber open clutch cover from Ducati dealer – $250
9. Rear seat carbonfiber cover from Ducati dealer – $160
10. Rear carbonfiber hugger from Ducati dealer – $250
11. Ottimoto Ducati rearsets – $360
12. Rear and front bike stands – $350
13. Bike loading ramp for your vehicle – $300
14. Battery tender connection for battery tender no need to take the fender off just plug in and out – $75
15. GPS/Speed detector electrical connection with mounting stand all ready to go – $160 (gps and speed detector not included)
16. Shorai performance battery weighing just 2 lbs which saves 10 lbs off the bike – $196
17. Custom LED turn signals intergrated into air ducts – $140
18. Custom license plate mount with matching LED light on top to illuminate license plate at night
19. Bike cover – $75
20. Hiflo high performance stainless steel oil filter adds extra few horsepower and better oil flow no need to buy oil fiter ever – $120
21.Custom handle bar grips and bar ends – $40
22. Pirelli diablo corsa tires almost brand new less than 1,000 miles on them $600
23. Marchesini light wheels
24. Original key card with the code for this specific bike only, without this card if you loose your key you cannot program your new key, without it you have to tow the bike to the Ducati dealer and it will cost you $2,500 to get brand new ignition brand new ECU and Tachometer from the dealer, so the code key card is very important,only very well maintained machines have on of those.
25. Original books and service records everthing documented
26. Bike also comes with the original muffler, rear pegs, rear seat, rear shock plus many more, most of the original parts I saved.
27. Front 14 tooth sprocket for another 7.5% power increase. $140 installed by dealer
This bike fully loaded with fluids and gas weighs under 410 lbs the weight savings comes from Termignoni exhaust system, Shorai battery, turn signals, license plate holder and so on.
As you can see this bike has $9,000+ in accessories
Not interested in TRADES. Thank you for understanding.
Serious inquiries only please
do NOT contact me with unsolicited services or offers
do NOT contact me with unsolicited services or offers
post id: 4366200274
posted: 2014-03-08 6:11pm
updated: 2014-03-09 3:08am
My first group ride – Honda Shadow Forums : Shadow Motorcycle Forum
Ducati ST2 GVH Classic Motorcycles
2009 Ducati 1198 Superbike First Look – Motorcycle USA
New and Used BMW, Triumph, Ducati Motorcycles and Parts Chattanooga…
"Superbike" Ducati 848 Evo Review BigbikeMotorCycles.com