Words and pics: Simon Bradley
Lots of people have argued long and hard that limited editions, no matter how special the extras, how limited the production run and how ostensibly desirable the result has been, they are never worth the price premium they inevitably attract. And I've always been a vociferous supporter of that logic. I mean, look at the Ducati 999R for example.
Sure, so it's got some good quality bits tacked on, but at the end of the day it's just a basic biposto with some frills and a price tag almost twice that of the standard machine. And as such, it can't possibly be worth it.
Well listen carefully to the sound of a bike journalist eating his words. Because, £18500 price tag or not, the Ducati 999R is worth every penny.
Now that's probably a comment worth justifying. It is, after all, an awful lot of money for a motorbike. As many, many people told me during the test. But the truth is that if you took a standard 999 and added a beautiful carbon fairing, carbon seat unit, carbon front mudguard, cam belt covers and exhaust, magnesium cam covers and Marchesini wheels, top line Ohlins suspension and steering damper, Brembo radial brakes and a few subtle engine tweaks to boost power you would spend maybe twice as much.
And it would still, ultimately, be a base model so come resale time it would be painful indeed to see all that money get thrown away. No, purely in financial terms the 999R is actually quite good value.
But the real value of a bike like this is not financial. This Ducati, more than any other in the range, cries out to be ridden. And, more than any other 999, it is an object of beauty as well. I'm not entirely sure why the 999R manages to look so much better than the still less than utterly beautiful base machine. Even now we have got used to the looks, there is something about the 999 that jars, while the 999R is, simply, gorgeous.
Maybe it's the depth of the finish, maybe the red frame and one piece fairing. Maybe it's the quality of the components hanging off the ends. Maybe it's all of the above, I don't know. But what I do know is that wherever we went people stopped, looked, pointed and commented. Not a single person had anything bad to say about the bike, whether they were bikers themselves or simply passers by.
Everyone said it was beautiful and that it looked expensive and classy. Then, of course, they all said it was an awful lot of money for a bike. I guess you'll have to get used to that if you get one.
For those of you not familiar with Ducati sportsbikes in general and the 999 in particular, there are some things you should know. First of all, they are physically small and somewhat single minded in design. Secondly, they are bikes that really need to be ridden properly.
By that I mean that they don't really respond well to be ridden in a half hearted way. Sure, you can just bimble around savouring the noise and the looks but the whole package comes alive when you get your head down and start concentrating on what you're doing rather than just acting as ballast. And third, they are not bikes for shrinking violets.
Especially the 999R. No, really.
There is a Ducati trademark. They make a horrible, dry rattling noise when running. A by-product of the dry clutch that almost all of the Bologna machines carry as standard.
Now under normal circumstances, clutch rattle is the loudest thing you'll hear on a Ducati, at least one supplied for road test. Because Ducati are very good and only give us bikes to test that are exactly as the customer would receive them. The 999R is a slight exception to this rule. The bike as we received it is still in standard customer spec, it's true.
But the 999R comes with two different exhausts – a standard wheezy and restrictive affair stuffed full of catalytic converters and baffle plates, and, um, the other one. The test bike came with the other one fitted. Quiet, discreet and subtle it is not.
But the enormous carbon resonator box of the Termignoni system that comes as standard with the 'R sounds simply fantastic and drowns out the unpleasant mechanical clatter quite nicely. It's one of those noises that, despite our certainty that it is totally illegal in terms of volume, provokes no more than an amused and indulgent smile from everyone who encounters it. I rode down to Hastings, bastion of the blue-rinse, and parked up outside a coffee shop on the seafront.
Lots and lots of elderly folk saw and heard me arrive and many of them walked last and looked at the bike. And not one of them tutted, shook their heads or looked disapproving. Likewise the pair of West Sussex' finest in their Volvo patrol car.
It's a bike that you simply can't object to.
So we know that the Ducati 999R gives you the social acceptability of Terry Waite and Kylie Minogue rolled into one. Which on it's own is worth the asking price. But it gets better.
All you need to do is ride to see how.
Swing a leg over the 999R and you will be astonished just how small it is. For those brought up on a diet of Japanese performance machinery, the Ducati will come as something of a culture shock. The narrow tank feels as though your knees are touching. Many riders will never have ridden something this skinny, while most others will immediately feel as though they are back on a 125. Or more likely, given the price and the likely age of most buyers, that they are on their old Suzuki X7 or RD250.
The bars are the perfect reach away and the seat, which seems so hard and unyielding before, provides a surprising amount of padding. The mirrors are there, both of them, and are about as usable as one would expect. Actually they're better than one might expect, but not by much.
Turn the key, watch the display panel do its thing and press the starter button. Oh yes, it's a Ducati alright. The starter struggles against the mighty compression, sounding for all the world as though the battery is flat and you're going to have to bump start it. And then, provided you have remembered to set the choke, it catches after just two or three turns.
And the world and its uncle knows that you have just started a Ducati 999R with a race Termignoni exhaust system. My elderly neighbour thought it was marvellous, but you may want to check with yours. Give it a moment to get warm and revel in the noise.
This, my friend, is what a Ducati should sound like.
Pop the sidestand up and notice how it fits neatly into a cutout in the fairing. Quality. Pull in the clutch and select first. Yes, you can comfortably use the clutch with just the one hand.
Pull away and you will discover that first is a little on the tall side. No problem – dry clutches are pretty tough and slipping a bit to pull away won't be a problem. Notice how precise the handling is, even at low speed, and how little effort is needed to turn. In fact, you may well need to be careful at first to avoid clouting apexes rather than clipping them as the turn-in is quicker than you'll probably be used to.
At low speed the 999R does feel a little as though it is going to fall over, though it only takes a few minutes to get used to it. You may be surprised to find that riding through town is nowhere near as painful as you'll have been led to believe. Oh, the 999R is by no means the perfect commuter, but the narrow width, incredible presence and razor sharp responses mean that actually it'll hustle up to the city quite nicely if necessary.
And your wrists, though they'll know they've done it, won't have seized up either.
But that's just silly. You do not, under any circumstances, buy a Ducati 999R to ride in town. Or if you do then you seriously need some professional help. No, the 999R belongs in the country.
Or, even better, on a racetrack.
Get out of town, drop behind the bubble and let it rip. OK, at least two of those ideas are reckless at best. Getting behind the bubble will require the sort of contortions that really don't work on the road. Unless you need a stepladder to get on, that is.
The bubble is very small indeed.
And letting her rip on the road is an almost instant way to say goodbye to your licence, liberty and possibly life. More on that later. For now, let's look at the riding experience.
Out of town that slightly twitchy, keen to drop in steering becomes communicative and alive. And it makes the 999R incredibly easy to position exactly where you want to be. All the time. The brakes, when you need them, are phenomenal, applying immense retardation at the squeeze of a single finger.
They tyres did the business as well – Michelin Pilot Race that were well worn but heated up fast and gripped like anything. They were even OK in the rain provided I kept them warm, sliding occasionally but giving so much warning that it was never a problem, especially with the rather circumspect way that the fact I'm on someone else's very expensive motorbike in the torrential rain tends to make me ride…
My long term GSX-R 750 is a bike that I really, really love. It's precise, focussed, powerful, fast and all-round brilliant. And yet the 999R makes it feel like a sofa – soft, springy, heavy and saggy.
No really – it is that much of a difference. Approach a bend and will the Ducati into the right spot. Exactly the right spot. Need to lose some speed? brush two fingers over the lever and the big Brembos just scrub it off instantly.
Drop a shoulder, look through the corner and you're already turning, hitting exactly the right apex and getting back on the power to pick her up. Smile, relax even more and repeat ad infinitum.
A word about performance though. On paper, 140bhp from a litre bike isn't all that. And, despite all the exotic material, you've still got a dry weight of 181kg to haul around. So performance isn't going to be that good, is it? I mean, physics alone should mean that the 999R will get destroyed by any decent Japanese sportsbike.
Even that little GSX-R has a better power to weight ratio. And the laws of physics are absolute and immovable, right?
Apparently not.
Nothing picks up speed like a big vee twin, and no big vee twin goes like a Ducati 999R. And I don't know why. This bike is a rolling paradox. It has no real powerband and feels slightly flat and yet anything approaching serious throttle action sees the numbers on the digital speedo change faster than it can keep up. It picks up the front wheel everywhere but stays perfectly stable and still steers.
And we know that's impossible. You can put your knee down on every corner in any conditions but it still works fine if you stay neat and tucked in. It's physically tiny yet I rode over 2000 miles on it and didn't get a single ache, even with my camera gear in a rucksack ('cos that's the only way to carry anything on this bike).
Let me put this into perspective. Regulars will know that we use the Nurburgring and that I have instructed there. I'll go public here and now, and say that with a couple of days to get comfortable and no traffic I would happily go for the lap record around the Nurburgring Nordschleife on a Ducati 999R with these tyres.
And I reckon I might even be able to get it, too.
I hate superlatives. Once something is the best, the fastest, whatever, you run out of things to describe the next, better one as. Which gives me a problem here. Because the Ducati 999R is, by far, the best bike I have ever ridden.
The most desirable, most exciting roadbike on the planet. Today, anyway.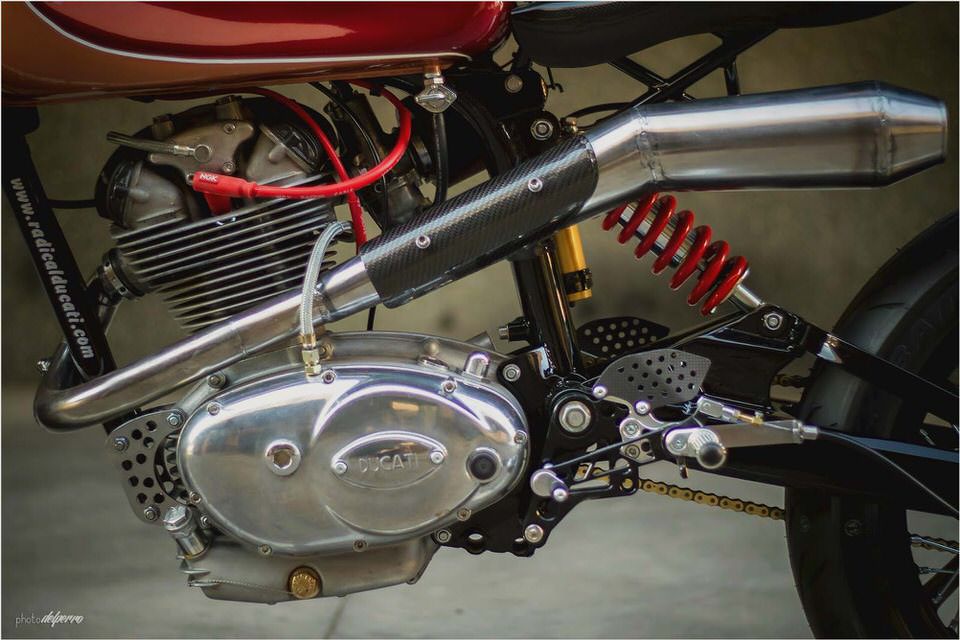 851 Superbike
Test Ducati 1200 Multistrada S Touring Bikes Catalog
2005 Ducati 1000 SS
Nicky Hayden: "I'm Not Coming Back To Ducati In MotoGP Next Year"
Back To Classics Ducati Darmah SD – SSD