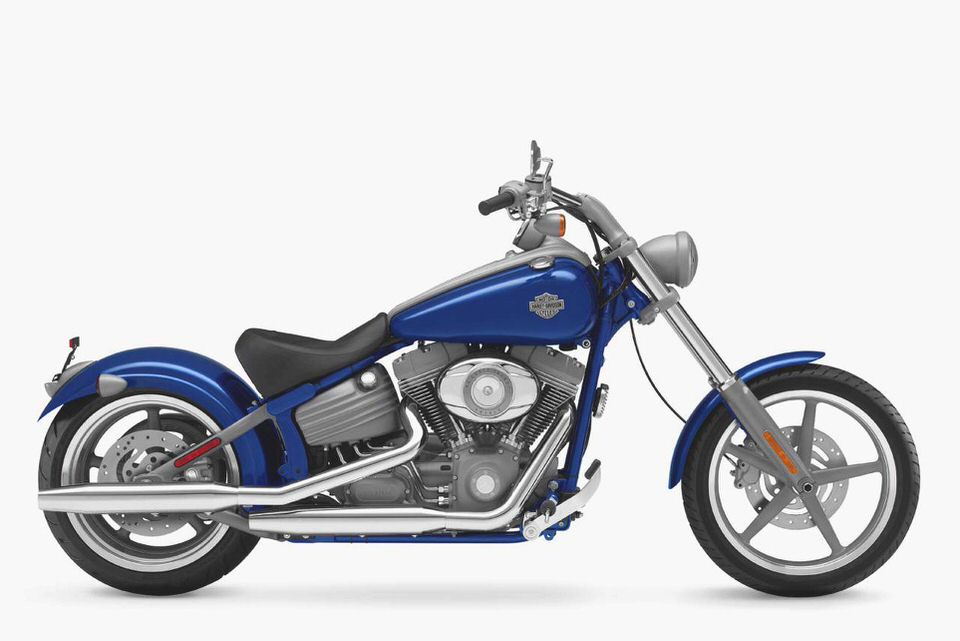 Twin Takes On The Factory-Chopper Concept
Things can get messy when your chopper dream collides head-on with chopper reality. It's easy to fall in love with a chopper's bad-ass style and muscular charm, until you twist the throttle and careen face-first into the brutal facts of punishing ride quality, bothersome vibration, lackluster handling and, more often than not, reliability that would make Axl Rose seem trustworthy.
Leave it to Harley-Davidson-the weekend warrior's best friend-to build a proper chopper for everyman in its new twosome, the Rocker and Rocker C. Think of these bikes as reliable rock stars, mixing plenty of glammed-out custom style with Harley-Davidson's familiar build quality, performance and durability. Kind of like Axl if he showed up for sound check sober and less than two hours late
Fortunately, the base-model Rocker and the chromed-out Rocker C deliver on all counts. Basically a standard Softail given the chop, drop and roll treatment, the Rockers look the part with faux-hardtail rear ends (twin horizontally mounted shocks hidden under the motor provide 3.4 inches of travel). The look is made that much more convincing by the Rockertail rear fender mounted directly to the swingarm with no visible support to mimic a slammed rigid bike but with a modern, comfortable ride.
The smoothie rear fender moves in tandem with a fat 240mm rear tire, and the brake light is integrated into the LED rear turn signals (as on the Nightster) for extra-cool cred. A stretched fuel tank floats over the motor, and the front end likewise looks inspired by an episode of Biker Build-Off, with 36.5 degrees of rake and a wheelbase that stretches out to 69.2 inches-almost OCC territory.
Thumb the starter and get out on the road, though, and you immediately realize that you're not on some bodged-together kit bike-thanks mostly to the unstressed Twin Cam 96B engine, a powerplant so controllable that it almost defies the Rocker's radical appearance. The throttle action is slightly stiff, but the sequential-port fuel injection is flawless-even when cold the motor didn't exhibit any of the beans-for-dinner popping that occasionally gripped earlier fuel-injected Harleys.
And vibration is virtually non-existent thanks to the 96B motor's dual counterbalancers-even at a fast rev the big V-twin remains eerily still. On the Interstate this translates into smooth, thick waves of V-Twin low-end and midrange, easily accessible via the six-speed Cruise Drive transmission and reduced-effort (but still somewhat firm) clutch.
Despite a wet weight of around 700 pounds and a wheelbase that could have been lifted from a Kenworth brochure, the Rocker can find its way around a corner when it needs to. Internally wired V-bars are mounted on swept-back risers; this, coupled with the long fork, makes steering somewhat laborious.
Turning requires a firm input, but steering manners are neutral with none of the weeble-wobble antics that plague most piecemeal choppers, and cornering clearance is adequate for most normal riding situations. Stopping with the single 292mm discs at either end is likewise adequate, though the stretched front end lends a somewhat disconnected feeling under extreme hard braking, a situation that we'd expect would be kept to a minimum on a bike like this.
The primary differences between the Rocker and Rocker C are aesthetic. The majority of the Rocker's hard parts are covered with a unique satin stainless paint that gives the bike a raw, industrial look. The C-model receives trick ghost flames on the tank and fenders and snuffs the satin in favor of lots of show chrome and color-matched swingarm, finned oil tank, and other small parts.
The coolest component by far, though, has to be the trick two-in-one saddle, with a suitable-for-short-distances pillion pad that unfolds from inside the main saddle on its own chrome perch-a tool-free operation that takes just seconds to perform.
We expect Harley-Davidson to do well with this bike, and you'd do well to consider one if you're looking for a chopper you can ride all day long, rather than waiting around for a recovery van in the parking lot of your local biker joint.
Spec Tech
Evolution
H-D's familiar Softail chassis given a chopper makeover with a kicked-out fork, swingarm-mounted floating fender, stretched tank and more.
Victory Vegas Jackpot, various factory choppers from boutique brands such as American IronHorse, Big Dog, BMC and Bourget.
>> Harley Davidson SPRINGER SOFTAIL DELUXE <<
2011 Harley Softail FXS Blackline Review – Ultimate MotorCycling
2010 Harley-Davidson FLHTK Electra Glide Ultra Limited motorcycle review…
2012 Harley-Davidson FLHX Street Glide Review
2010 Harley-Davidson FLHR Road King Road Test Rider Magazine