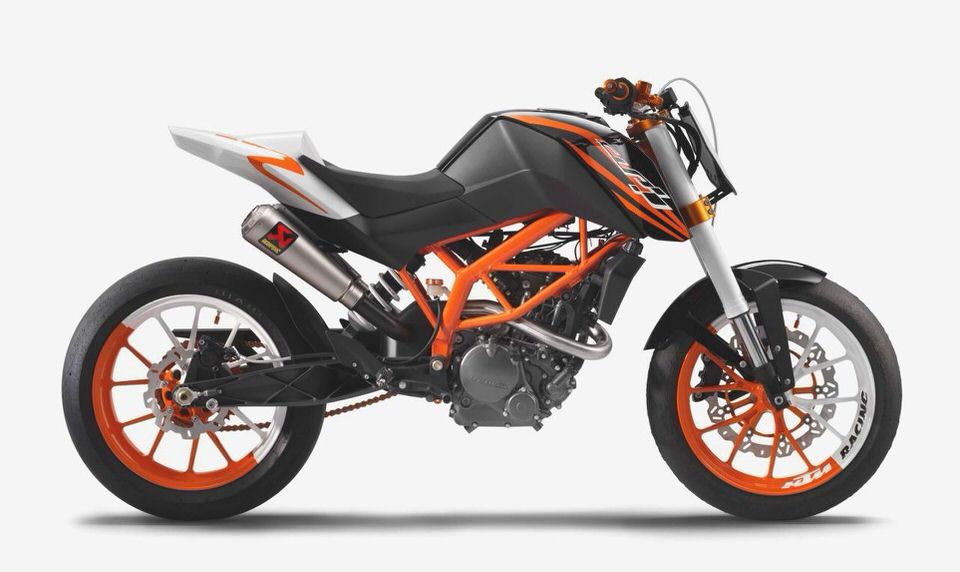 KTM RC range of 125, 200 and 390 revealed at EICMA, Milan (Photos)
KTM trio, RC 125, RC 200, RC 390 has made global debut at the 71st edition of EICMA motorcycle show in Milan. All three RC models are based on corresponding Duke models – Duke 125, Duke 200 and Duke 390, which are made in India, by KTM's 47% stake holder, Bajaj Auto, at their plant in Chakan near Pune.
Though these new RC range of superbikes feature these feature same engines, tyre specs, braking, frame etc, KTM engineers have put immense time and effort to get the special track riding features, aerodynamic fairing, center of gravity, weight management and other such important aspects into place, so that the performance is not compromised. These fully faired motorcycles also get dual headlights, fairing mounted rear view mirrors and LED tail lamps.
Engine lineup is identical to that seen on the Dukes; with RC390 generating peak power of 43 bhp, the RC200 generating power of 25 bhp while RC 125 possesses power of 15 bhp. Stopping power is seen in the form of 300mm disc brakes in the front and 230mm at its rear while the models also sport Bosch 9MB anti lock braking system.
Looking even more similar to their Duke counterparts due to similar paint finishes, the KTM RC 125, RC 200 and RC 390 see changes only in the form of smaller fuel tanks, front windshield and new seats while they also come in with clip on handle bars and a higher top speed which has been increased by around 10 kmph as compared to that seen in the Dukes. The RCs will also be priced higher than the Duke counterparts.
Speaking about it's price, official KTM Blog reveals "Expect the 125 to carry a price tag of around 4500 euros while the 390 will hit a sub-6k figure." But this is for European market. In India it will be cheaper, as the bikes are manufactured here itself. For eg, the Duke 390 retails for about $7000 in Europe, but in India it is sold for about $3000.
After seeing the images, if you think that there is no rear seat, then have a look again. KTM engineers have not attached a seat, but instead, smartly placed special foam for rear seat. "The strategic plan behind [the RCs] – as always in KTM – is to have a sporting tie-in with our models," explained Head of RD Philipp Habsburg to the KTM Blog. "We started racing Moto3 two years ago and we think it has been a success because we are actually beating the world's biggest motorcycle manufacturer and we have 20 consecutive wins; we are quite proud of that. The natural progression is to take a homologated version to the street. We took a lot of technical-driven elements from the Moto3 bike into our new RC model line-up."
Speaking about the rear foam seat, ""The idea comes in the very first stage of the prototype. We tried to fix a seat on it and it didn't look so good. We were searching for solutions but the better a suggestion looked then the less comfortable it was! The 125 is aimed towards youngsters and most kids want to take their friends or girlfriends with them.
They want to look cool, but it also has to be rideable! We considered the foam and found a supplier in Canada – the only one in the world working on things like that – and now we have a perfect rear end of the RC bikes. It looks like a racing unit but it works for the pillion."
"It was not cheap!" he adds. "But I think it is a real selling point of the bike. We are also proud of the headlight because that is something new for the motorcycles of this class. The ABS is also fantastic. For young rider who mostly need the contribution of their parents to own a bike then this aspect of safety is something that counts for everyone."
For more information, scroll through the press release below before scanning through the LIVE images from EICMA.
SIX NEW ONES: KTM PRESENTS HIGHLIGHTS FOR 2014 AT EICMA EXHIBITION IN MILAN!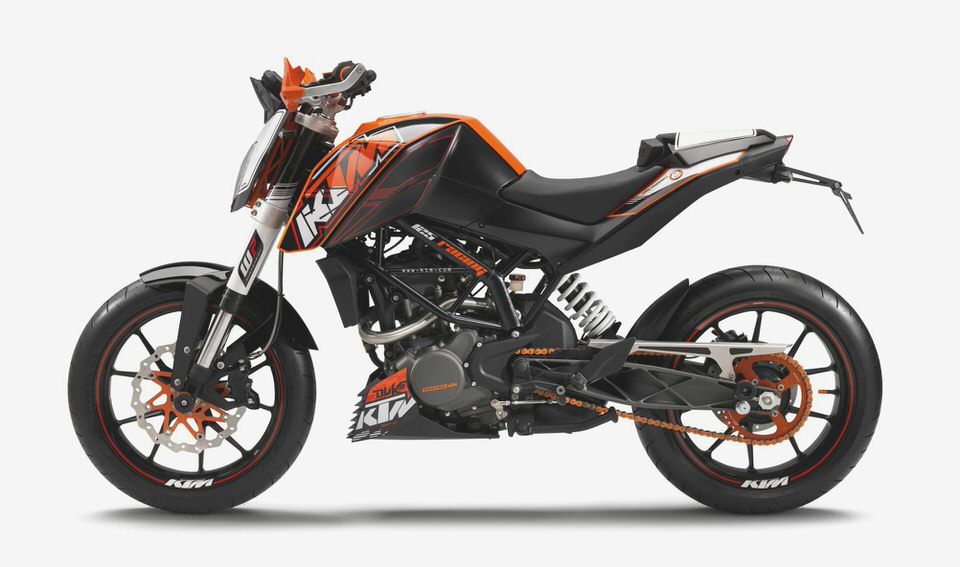 Shortly before completion of another record year, including the launch of the revolutionary MY2014 1190 ADVENTURE and the brute 1290 SUPER DUKE R, KTM presents as a world premiere the three fully-faired RC model range for model year 2014 and the new 450 Rally bike at EICMA (I).
RC125, RC200, RC390
Based on the same engine, three supersport bikes follow on from the small DUKE range which was globally presented in the last three years. With a completely new frame and chassis geometry and a racing oriented design, the RC125, RC200 and RC390 represent the affordable production version and the shining example of the Moto3 world championship bike. No matter who the rider is, a racing enthusiastic novice rider in Europe, a fast city racer in Asia or a true motorsport rookie in the ADAC Junior Cup, the three supersport bikes are the first choice for all, who are really into serious technology and are READY TO RACE!
1290 SUPER DUKE R 
Already one year ago the prototype of the 1290 SUPER DUKE R stole the attention of thousands of journalists and visitors at EICMA Show in Milan. One year later, the production version of the "Beast" reveals itself as an incredibly rideable Naked Bike with almost infinite possibilities and hitherto unprecedented power and torque.
Hubert Trunkenpolz  (KTM CSO):  "As the largest European motorcycle manufacturer the 1290 SUPER DUKE R gave us the chance to once again substantiate our technical knowhow on asphalt and expand our leading position in the Naked Bike segment with the presentation of an entire model range. KTM´s most potent Naked Bike is once again a highlight at EICMA Show in Milan and will be rideable by the public for the first time.
Just before Christmas, the 1290 SUPER DUKE R will be available at KTM dealers. Regarding the supersport RC models we look ahead with great confidence. With a range of in total six attractive models between 125 and 390cc, we are all set to show on a global base that highly attractive supersport bikes are also available at favourable prices."
KTM Duke 690 First Ride BikeThing
2014 KTM 250 XC-W Specs and Review – luweh.com
Details Drop on the 2013 KTM 1190 Adventure R
KTM 990 Adventure Review – UK Motorbike Forum
1983 KTM 504 MXC