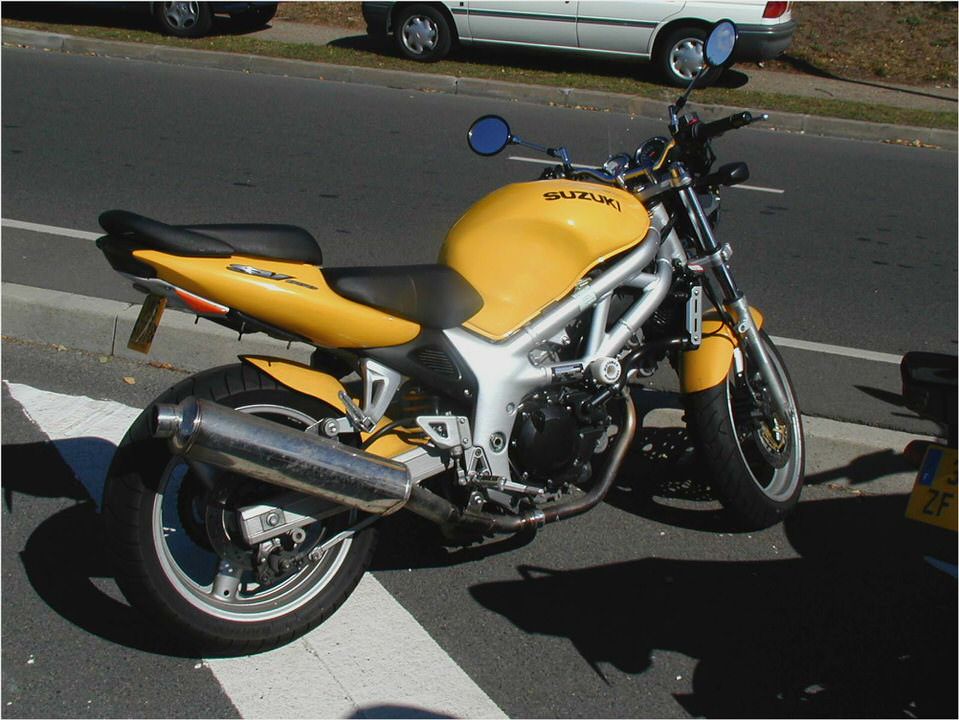 An owner's perspective on Suzuki's middleweight v-twin sports bike.
It's so pretty! My SV650S in its element at Cheddar Gorge – the best opportunity for 'canyon riding' in south west England.
A brief introduction to the bike. The Suzuki SV650 was first released in 1999 and quickly developed a positive reputation. Eminently affordable, the bike offered a simple and effective package of good looks and a sweet engine combined with a frame of exceptional handling characteristics.
The SV soon earned the title of 'a great bike for the real world' from various commentators, and became a recommended choice of transitional ride for those taking a step up to larger machines (though some have argued that the SV650's 70 bhp could tempt an inexperienced and incautious rider into trouble, or at least one who was coming straight from a learner 125). Suzuki have since sold many, many of these motorcycles, in both the upright, flat-barred version and the sports S version. If you're looking for a middleweight road bike there are a lot of very good reasons to consider the SV650.
Soul music
Every engine configuration has its own characteristics. With some configurations you are more aware of the engine – the way it sounds, the resonances that it transmits through the vehicle, the way that power is delivered. Among motorcycle engines the v-twin occupies its own special niche.
The v-twin makes a lot of sense from an engineering point of view – it's compact and narrow for a start – but beyond this it has special, sensory qualities, a spirit of the machine that is expressed in its sound and the visceral feedback that it provides to the rider. And of course the v-twin has a noble lineage stretching back through motorcycling history – evoking such august marques as Harley, Indian, Vincent, Morini, Moto Guzzi and Ducati.
In fact, it is with that last marque – Ducati – that I think one can most readily draw comparisons. It seems pretty clear to me that Suzuki took a lot of inspiration for the SV650, both mechanically and stylistically, from the Italian manufacturer of zeitgeist-chart-topping objects of desire. The SV has been designed to appeal to those people, like me, who adore Ducatis but can't countenance the long term costs of owning one.
(For an interesting perspective on Ducati vs. Suzuki v-twin ownership, see this FAQ page on a Ducati enthusiast's site . Even he recommends considering the SV650!).
A few years back I was lucky enough to ride a friend's Ducati 748 for a couple of weeks while he was abroad (yep, I'd pinpoint that as the moment when the v-twin bug first found its way into my system). And whilst the Ducati is unquestionably the pedigree beast of the two, still, in terms of riding experience, the SV stands a good deal of comparison with the Italian machine – not least in the particular characteristics that result from mounting a punchy v-twin engine in a fine-handling frame.
I reckon the SV650's engine sounds great. It has that distinctive v-twin timbre; a rich, sonorous quality under acceleration and deceleration that, while not quite matching the sublime basso profundo of a Ducati, certainly sings from the same hymn sheet and deserves its place in the choir.
The styling of the original model is a design classic in my opinion.
On the subject of styling . for me the original (1999-2003) Suzuki SV650S is a design classic. There's a fluid elegance to the lines of the original SV, and especially the half-faired S model – to my mind it is a perfectly resolved form, a triumph of graceful design that pleases the eye from almost every angle. Indeed, it was the love of this original styling that meant I had no option but to buy a second-hand bike.
Sadly, in my opinion, Suzuki's restyling of the new-model SV has replaced the original's sensuous curves with an aggressive angularity that, while not unattractive, I personally felt was anodyne by comparison with the earlier bikes. Of course the new model benefits from improvements such as fuel injection, is still incredibly good value as a new bike, and will be just as much of a hoot to ride, but it just didn't float my boat like the original.
I've always been of the opinion that understatement often makes the most powerful impact. The styling of the SV650S is a perfect example of this. It's striking, it has presence, and even when, as with mine, it is vibrantly yellow it's not the least shouty or garish, it simply looks purposeful.
People like the SV. People who don't even like bikes are given to remarking about what a nice looking bike it is. It has charm.
Riding the SV650S
Let's be clear, the SV650 is no screamer, not the fastest bike in the middleweight class by a long way, although no slouch either. But now, with the experience of owning one, I firmly share the oft-expressed view that it's a really great motorcycle. It simply does what it does exceptionally well.
The SV is easy to ride in town, with plenty of manageable low-end response and a smooth, light clutch (two useful characteristics that certainly weren't a feature of the 748!). The bike feels nimble and narrow enough to encourage threading it through traffic with confidence, and its comparatively low seat height means an average height rider can easily get both feet down, which adds reassurance to low speed manoeuvring. If the seat height is an issue for you, you can modify the rear suspension linkage, dropping the seat by a further 25mm without any notable degradation in handling.
However, while the SV650S is easy to ride in town, it's not necessarily all that comfortable. As a sports bike, the ergonomics of the S – the clip-on bars and slightly pitched forward weight distribution – mean that even a couple of miles of straight arm, on the brakes, town and slow traffic riding can put a lot of pressure on the palms of your hands; do enough of it and your fingers can start getting numb. And I'd only describe the saddle as just about adequately padded too.
But get the bike moving along at a reasonable clip on a twisty road and the whole set-up makes perfect sense, putting you in the most balanced posture for optimum control of the bike. In fact, it's on sweeping fast A-roads and medium-speed, twisty Bs that the SV really shines; its outstanding, positive and confidence-inspiring handling making you want to really carve out smooth, clean arcs of road surfing on this machine.
As with riding any bike, in corners the SV responds best to carrying just the right amount of throttle into the curve, and then using the v-twin's great wedge of torque to scoop you out of the apex – an experience that is so rewarding that you instantly want to do it again. The SV engine produces so much grunt that it'll pull smoothly in any of the middle ratios, and it is this predictable, linear pick-up that makes this Suzuki such a joy to ride on a twisty road, without the need to endlessly swap through the gears to keep on the power.
Under hard acceleration on a straight road the engine can appear to peak out earlier than you might expect (or at least to someone like me, having spent most of my formative motorcycling career on an assortment of banzai two-stroke twins) so it feels that you're called upon to keep snicking up through the gears to keep it charging. The effect is deceptive, because the SV is quicker than it seems, and it'll scoot you up to way over the national limit so smoothly that you need to keep an eye on the speedo, especially in these times when it's become so easy to fall foul of a mobile radar trap. (Yes.
Twice. On dual-carriageway in the middle of the countryside. Don't let me get started on the 'war on speeding' debate or we'll be here forever. ).
That's the thing with the SV – while it may fall short of the bhp or top speed figures of the other bikes in its class, what it has is pitched exactly where you can use it best for life in the real world. Acceleration on this bike is all about riding that mid-range v-twin torque rather than hitting some peaky powerband. I've been surprised to discover that among its many fine attributes the SV650 is a brilliant, stomping traffic-light dragster.
Once you've mastered slipping the clutch up into the engine's torque sweet-spot, the SV (even the taller-geared S model) can really hustle 0-60; and it does it with a smooth, booming dignity that means you just look quick, rather than like someone trying too hard. I've found the SV can decisively humble even powerful sports and muscle cars off the line, and it's all over before they're able to press their more licence-threatening top-end advantage.
Top tip: tyre pressures
One of the most useful handling tips that I've picked up so far regards tyre pressures. When I first got my bike it was set up F33/R36 – which, it transpires, is the officially recommended set-up. At the time I'd no idea if this was right, and had no manual to refer to. Shortly afterwards I read a forum post in which an Avon Tyres developer is quoted as saying that all manufacturers now work to a standard of 36/42 for all middleweight road bikes, so I thought I'd give this a try.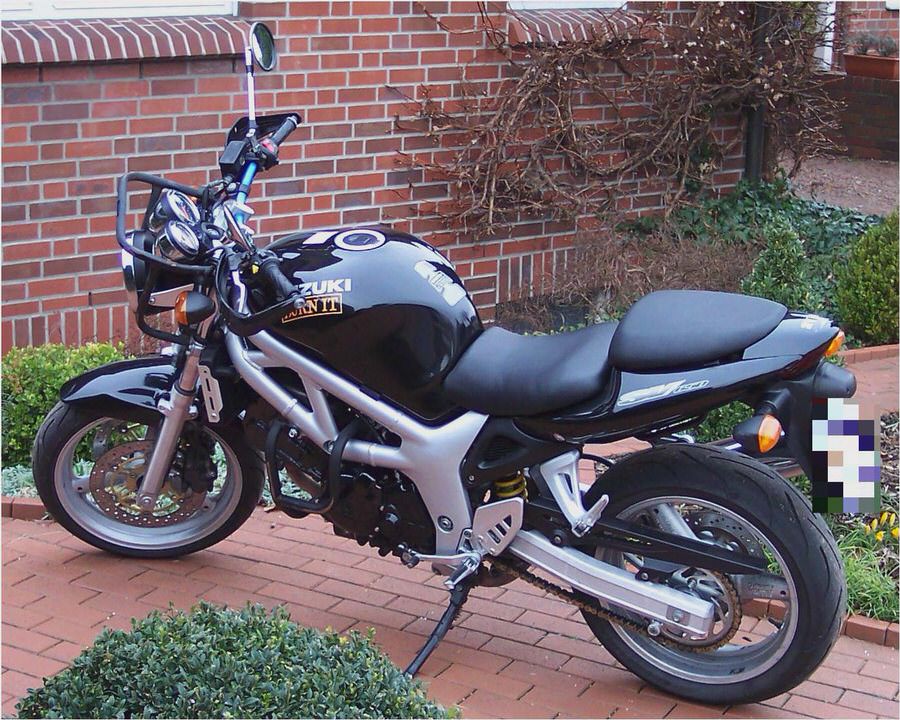 I found that the SV does seem to respond positively to a slight increase over the standard pressures. With the standard set-up I was experiencing an unnerving 'tipping-in' sensation from the front in slower turns, but a few extra psi tunes this out nicely. With some experimentation I've now settled on 36/40 as optimal for my SV. (Update note: these statements have proved controversial.
As with everything written here, this is simply an opinion based on my experience of what works for me in the conditions in which I ride, and I've yet to encounter any adverse effects from this pressure set-up. I'm certainly not advocating that anyone ignores any tyre manufacturer's specific advice, but you might find that a bit of cautious experimentation yields some interesting results).
As to the matter of which are the best replacement tyres to fit to the SV, you'll find extensive discussion on the subject in the SV650.org forum (see 'links' alongside). The standard Metzelers are quite adequate, but popular alternatives that complement the bike and contribute to improved handling seem to be the Pirelli Diablo and Bridgestone 020.
Suspension
While these bikes handle brilliantly, the suspension, particularly at the front, is one of the areas where economies were made on this model. On the original SV there is little in the way of suspension adjustment – none on the front, and only spring preload on the rear. Front preload adjusters were added to the post-2002, re-styled models.
The front end had been one of the only disappointments about my bike – it would dive sharply under braking, and even moderate bumps and potholes would provoke a loud clonk as the tubes bottomed out (though on the positive side, this does teach you to be smoother with the controls and steering to compensate for it). However, a recent full service that included fresh fork oil has improved things significantly – this is clearly a maintenance item that shouldn't be overlooked on these machines.
The bike feels fine on a motorway, easily powerful enough to plough through head and cross winds – and if you tuck down behind the fairing wind buffet is dramatically reduced, although I find this is an awkward posture to sustain for any great length of time. But mostly when I get on a motorway I just find myself wondering why I didn't take the winding route instead.
The brakes are certainly effective, though they need a progressive touch – I soon noticed that it's very easy to lock up the bike's rear wheel in the final moments of a hard stop. Again, learning to work within the limits of the suspension is a factor here.
The SV's stock exhaust system is okay, but I was intrigued to know how much better it could sound, so after I'd had the bike a month I fitted a stainless steel Scorpion end can. Now the exhaust note is not so much louder but gratifyingly 'phatter', and I'd say it has made the engine just a tad smoother and more responsive too. In my opinion it was Ј150 well spent.
I'd been concerned that changing the exhaust might affect my insurance, but it transpires that with the – very reasonably priced – Suzuki-specific insurance policy I have (Norwich Union, brokered by Bennetts), exhaust replacement is permitted without penalty, as long as the after-market system's value doesn't exceed Ј300.
So, there it is. The SV650S – two thumbs up.
© 2005 All written and photographic material on this page is copyright David Harper and may only be reproduced with permission.
contact: david.harper@westernaspect.com
Page last updated: 10/11/2005
Further reading can be found at my motorcycling blog: 'Rambling thoughts of a UK biker'.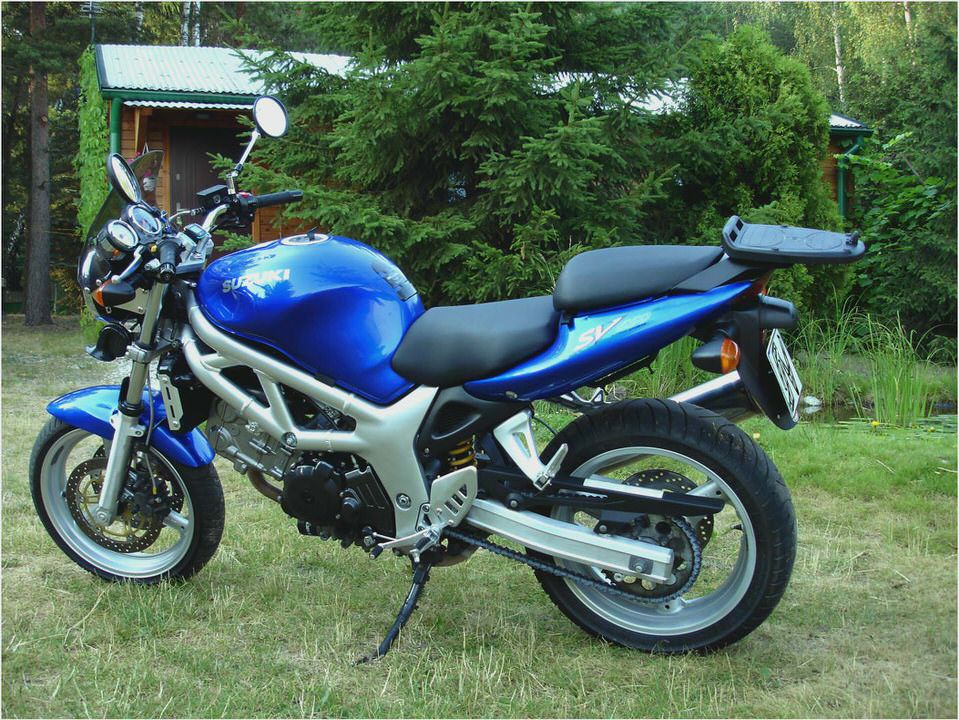 Where it's from Archives Page 42 of 60 Bike-urious
Suzuki NUDI-Suzuki
Suzuki RG 125 150. Full 12 Months MOT. Ready To Ride Away!!! eBay
XN85
Bombardier DS 650 – Test Ride & Review – ATV Rider