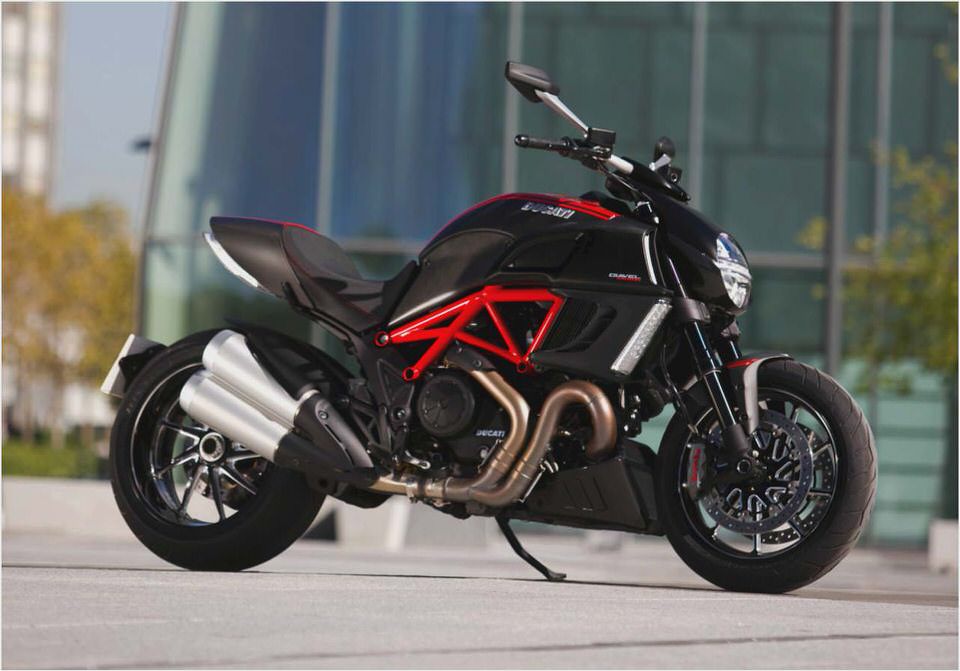 Ducati Diavel New Bike Review
Well, this was a treat. It's not too often we get to wring out the finest cruiser Italy has to offer, as Italy doesn't offer many. And with RoadBike 's cruiser-centric focus and Ducati's heavy slant toward sportbike products, the opportunities are even rarer.
We covered the versatile Multistrada tourer not long ago, and we've seen some naked-standard Monsters on these pages, but it's been perhaps too long. Rumors and grainy, spy photos had been bouncing around on the Internet for awhile, but when Ducati made the official announcement in October 2010 that it had rounded out its lineup to include a cruiser, I immediately contacted Ducati's US press office, throwing my hat in the ring for a first ride. Finally, Ducati had a fitment for RoadBike readers.
Fast-forward to early February when I found myself sitting in the elaborately adorned golf resort of Villa Padierna in Marbella, Spain. Ducati took over a wing of the grandiose mansion, set up camp, and rolled out the Ducati red carpet, literally. You would have thought Ducati owned the place. The presentation was awe-inspiring. The lights dimmed, the video started, and ominous deep violin music began.
It was Palladio, better known to the masses as that song from the DeBeers diamonds commercial, synchronized to the shadowy video of the new Diavel tearing up the roads on screen. I just knew I'd be humming that song throughout the next day's ride.
As one presenter began, "At last, it's a reality." By now, we've all heard the folktale of how the Diavel got its devilish moniker — and make sure you say it right: "dee-YAH-vel," heavy on the Y. The Diavel has thrown a curveball at those insecure people who need to fit everything into its proper box. Is it a cruiser? Is it a naked bike? I, for one, am confident in calling it a cruiser, a cruiser more technologically advanced than any other on the road; a fat-tire-equipped cruiser that can actually handle; a cruiser that can loft the front wheel with ease; and a cruiser that can naturally answer the paradoxical question, "If Ducati built a cruiser, what would it look like?"
Don't be so surprised, folks. Similarly it can be asked: What if Porsche built an SUV? Oh, yeah, it does. And what if Mercedes AMG made a station wagon? Oh, right, it does.
And what if Maserati built a four-door sedan? Uh-huh, you bet it does.
Ducati forgot to check the cookie-cutter cruiser rulebook. And I'm glad. It rose to the challenge and built a comfortable and safe power cruiser with an innovative blend of design technology and perfection.
Loaded with authentic Italian performance. it's big, low, and fast. Its visible frame and engine are unmistakable Ducati characteristics. One person jested that it's like a Monster/Softail/sportbike.
It's Ducati's athlete.
11 Degrees Of Separation
There are actually two versions of the Diavel, a base model and Carbon. Both use the Ducati Testastretta 11-degree L-twin, derived directly from the incredibly powerful Testastretta Evoluzione engine that powers the 1198 sportbike. The difference is, while the valve overlap (the period which both the intake and exhaust valves are open at the same time) on the racer-boy version is 41 degrees, the Diavel's angle has been retuned to a more street rider-friendly 11 degrees.
As a result, the fresh inlet charge flow is less compromised by the exiting exhaust gases, resulting in a much smoother combustion — in addition to improved fuel economy and lower exhaust emissions. Ducati's Diavel Testastretta 11-degree L harnesses the immense power of the superbike engine and makes it smooth and adaptable, balancing high performance with an enjoyable ride.
It produces 162 hp and a colossal 94 ft-lbs. of torque, with a strong torque curve at low rpm, which remains strong through a wider rev range. Those valves can go 15,000 miles between clearance checks, there's an oil cooler hidden in the belly pan, and the engine uses a wet clutch.
The massive 2.28″ exhaust headers are more akin to something you'd find on a big-displacement, high-performance automobile, and form a 2-into-1-into-2 system with equal-length tubes for power enhancement. Each header tube gets an O2 sensor, and the over/under silencers carry catalytic converters. An electronically controlled mid-section valve optimizes exhaust pressure throughout the rev range.
Two side-hung radiators, positioned on either side of the bike, cool the engine with the aid of electric fans. Also, on each side of the tank is a massive functional aluminum air intake to feed the engine's large airbox. The Mitsubishi fuel injection with Mikuni throttle bodies are manaroadbikedged by Ducati's ride-by-wire (RbW) system.
Yet that's just the tip of the technology iceberg.
Staring you in the face as you ride the Diavel is a split-level instrumentation package. The upper LCD is mounted on the bar/riser and provides crucial ride time info such as mph and rpm, warning lights, time, and temperature.
The lower, full-color thin film transistor (TFT) display is grafted into the top of the fuel tank and provides a clear, high-resolution readout of adjustable settings for riding mode, gear selection, and Ducati traction control (DTC) and RbW settings, as well as total mileage and trip meters. Commonly used on mobile phones and computers, TFT technology provides easy-to-read graphics, like a video game screen. It is sensitive to ambient light and automatically adjusts to black or white background color.
The Diavel's ignition is enabled by an electronic key fob kept in the rider's pocket. It communicates with the motorcycle when within a distance of approximately 6-1/2′. A press of switch mounted on the bike activates power to all systems, and the engine can now be started.
The key fob also contains a mechanical flip-out key which is used to open the seat and fuel tank cap. The steering head lock is also electronic; it's engaged by turning the forks to full-lock left and pressing the ignition's Off button a second time.
The aforementioned ride-by-wire (RbW) system electronically controls throttle application and configures an ideal power response depending on the riding mode selected.  In the three different settings, throttle application is regulated to suit the mode. Setting the Diavel in Sport mode will get you 162 hp output with an aggressive sports-type delivery, pretty much a one-to-one throttle application.
In Touring mode, the engine output will still be 162 hp max, but with a softer, progressive delivery. And Urban mode delivers "only" 100 hp with soft, progressive application of throttle. Changing the setting is done via a left hand switchgear button.
Within each of the three Driving modes the DTC is also adjustable (there is a default setting for each). This is what tames the beast. DTC is an intelligent buffer between the rider's right hand and the rear tire to reduce the chance of rear-wheel spin under heavy acceleration.
The system acts within milliseconds and offers eight levels of "sensitivity." Level one is programmed to offer the least amount of intervention for sport-oriented riders, while level eight uses the most intervention for added confidence. When you push the Diavel to its limits and reach your setting in a particular riding mode, the DTC kicks in and retards ignition first, then fuel injection if needed.
It works at all lean angles; however, below 15 kph (about 9.3 mph) you burnout enthusiasts can still have fun. The traction control is wheel rotation sensitive, so wheel spin due to dirt or dust on the road is controlled as well as spin caused by too much acceleration.
The Diavel is equipped with Ducati's latest, most compact ABS system as standard equipment. The ABS CPU is made by Bosch and the hard parts come from Brembo. The front brakes use Brembo Monobloc calipers, actuated by alloy master cylinders with reservoirs sporting attractive milled tops.
The twin, four-piston, radially mounted calipers grip 320mm discs, while a relatively huge single 265mm disc on the rear is gripped by a two-piston Brembo caliper. The Diavel Carbon uses specially milled aluminum disc carriers which have natural aluminum colored recesses machined around the cut-outs to contrast to the carrier's black finish. The braking power is practically unbeatable in any late braking contest.
The Ducati Diavel offers a commanding presence, custom shop beauty, state-of-the-art technology, innovative design, and extraordinary riding pleasure, all blended into one. But one of its most eye-popping features is the specially engineered Pirelli Diablo Rosso II 240 rear tire mounted to a forged and specially machined 8″-17″ Marchesini wheel, hanging on the 25′ single-sided swingarm. The first night I joked with my colleagues, "You know what this bike needs?
A fat tire kit!" They thought I was crazy. But the handling prowess we experienced the next day made everyone forget how huge the rear tire already is. The sheer width of rubber communicates so much power and style that the RD team vowed to find a way to make it handle: not an easy task, but they did an admirable job. While the handling's not on par with a sportbike or even a healthy naked standard, I will qualify the Diavel is the best-handling fat-tire cruiser I've ever ridden.
The key to making it work was Pirelli and Ducati's ability to use a 17″ wheel instead of an 18″ one, which allowed them to bend the tire inward more for a rounder profile, allowing easier transition into lean angles of up to 41 degrees.
Initially, I feared for the long-term outlook of a specially constructed tire such as this. If the wide 17″ rubber doesn't catch on with other tire or motorcycle manufacturers, what's a Diavel owner to do for replacements? Pirelli reps have assured me that their contract with Ducati is a long-standing commitment, and this tire may just be the first of many variations to come.
The standard Diavel's wheels have a thoroughly custom look. They're 14-spoke black wheels with machine-finished detailing. The front rim is 3.5″-17″, wearing a conventional sized 120/70-17″ Pirelli Diablo Rosso II to match the rear.
The Diavel Carbon model, though, has custom-finished, lightweight, forged, turned, and milled nine-spoke rims by Marchesini that provide and additional weight saving of 5-1/2 pounds.
The Diavel uses black-bodied 50mm Marzocchi front forks that are fully adjustable for spring preload, compression, and rebound damping. The forks are gripped by a slash-cut triple-clamp; cast-aluminum lower and forged upper clamps connected to tapered alloy handlebars. The Carbon uses virtually the same suspension as the standard Diavel, but with fork sliders black-finished in super low-friction, diamond-like carbon  (DLC).
Both versions have a Sachs rear shock, slung horizontally low under the chassis. It is compression and rebound adjustable and has a handy control for easy spring preload adjustment.
What Are You Lookin' At?
The Diavel sports the signature Ducati Trellis frame, using large diameter, light gauge steel tubing with two lateral die-cast aluminum sections that flow into the polymer rear sub-frame for weight savings. Atop that rear sub is a wide twin-level seat that I found comfortable and kept me in one spot. The seat height is 30.3″, one of the lowest in the Ducati range.
The seat also comes covered by a handsome and easily removable single seat cover, which is formed in carbon fiber on the Diavel Carbon. Slender passenger footpegs, almost completely hidden from view when not extended, ingeniously fold down from the rear sub-frame, and the innovative, T-bar shaped rear grab rail slides out easily by removing the seat and releasing a knob.
The rear license plate holder is a work of beauty. It mounts on the rear hub of the swingarm and duplicates Ducati's signature Trellis framework leading to a central mounting plate around the rear tire. The framework carries a hidden power feed to dedicated LED illumination. The Diavel uses two clear vertical strips of LED lighting under the rear seat to provide brake and taillights, as well as directional signals.
The front directional signals are clear LED strips mounted vertically down the leading edge of the lateral radiator covers. The headlamp uses over/under high and low beam double reflectors in addition to a horizontal strip of LED positioning lights through the middle.
I found the Diavel sporty but easy to ride, and with 0-60 times in the 2.6-second range, envious motorists will have to look quickly to catch a glimpse of it. I commend Ducati for its attention to detail and for doing what folks thought couldn't be done. Even a detail like the US-mandatory emission canister is mounted near the rear of the fuel tank, hidden beneath beautifully sculpted body panels. The Diavel certainly does turn heads.
It's so "out there" that folks won't be able to look away. The gauntlet has been thrown down. I doubt any other manufacturer can pick it up. RB
Words By Steve Lita, Photos By Milagro
Story as published in the June 2011 issue of Roadbike
For more photos and video on Ducati's new cruiser check out 2011 Ducati Diavel First Ride .
Splitting Heirs: Ducati 998 v 1098 – Road Tests – Visordown
Ducati 900 SS VS Guzzi Le Mans 1000Dennis Noyes Tribute Classic 80s Motorbikes
Ducati 749R Custom 7 ½ Sportiva by Radical Ducati Spain – Moto Rivista
2009 Ducati 1198 Superbike First Ride – Motorcycle USA
2009 Ducati GT1000 Touring Motorcycle Road Test Rider Magazine