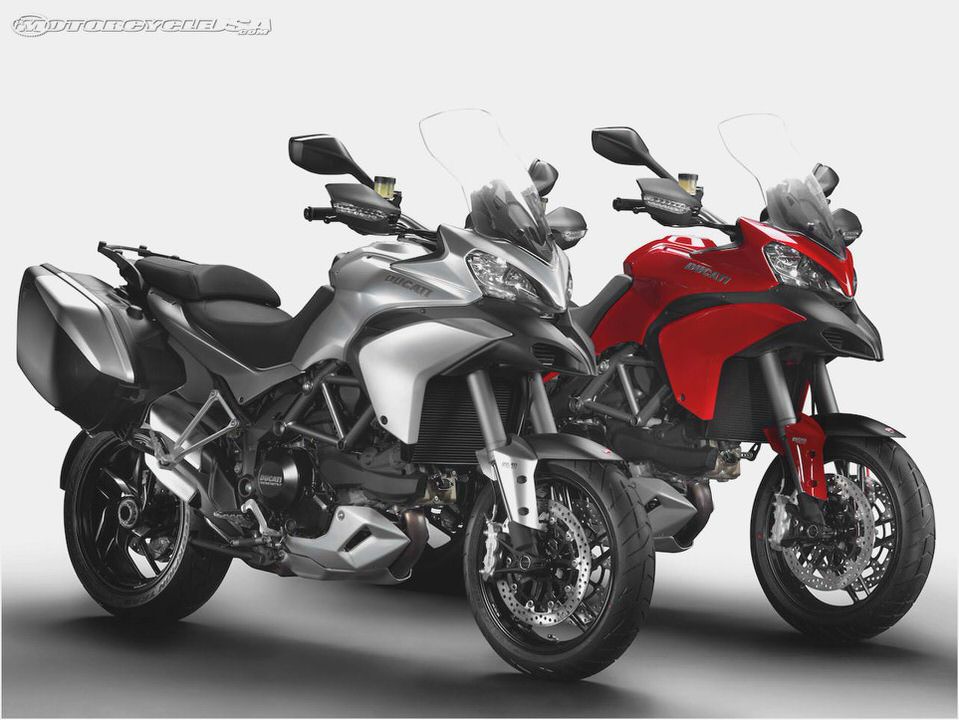 Ducati News Today
Ducati Multistrada 1200 on Tour – Urban
Ducati News Today has tested the Ducati Multistrada 1200 before but we wanted to put the many roads machine to a real test.  How well does it really cope with the different demands of three of its 4 modes – commuting, touring and sports riding?  We decided to take it on a week long tour of some of the best roads in New Zealand along with (mostly) Ducati mounted buddies to find out.
 First up, commuting or urban as Ducati refers to it.
Scrubbing in new tires is best not done in the rain, but raining it was as we picked up the red Ducati Multistrada 1200.  This example was the base model without ABS and of course lacking the trick Ohlins electronically controlled suspension.  It retains the 4 different riding modes however with the promise of a customized map for each of 4 modes labelled Urban, Touring, Sport and Enduro.
 Each allows for a different combination of power output (100 or 150hp), traction control level (1-8), ABS (where equipped), ignition map and suspension settings (on the S models).
With the stock exhaust, the Multistrada sounds most un Ducati like at idle.  Since the clutch is wet, there is no characteristic rattle rattle and nor is there any boom.  The engine is very free revving for a 1200cc twin though and quite smooth to boot.  As the revs rise it begins to growl rather thanthunder.  What you do get is a civility unseen in most earlier big Ducatis.
 The engine is happy to tick over in the 2-3,000rpm range if you are smooth and gentle with the throttle which makes commuting a lot more enjoyable.  Serious acceleration is available from about 3,500rpm and in fact the engine produces more torque than the sporty 1198 up until 6,500rpm.  With new tires, slick roads and an unfamiliar machine what better test of the Urban mode could there be?
 Selection is done simply by pressing a button until 'Urban' is highlighted and holding it for 3 seconds.  If you are not moving, that's it, if you are on the run, you briefly close the throttle and the new mode is implemented.
If you've ever wanted to know what riding a Honda Deauville would be like, just select Urban on the Multi and you've got it. Urban means a maximum of 100hp and a very, very soft map.  The transformation is amazing, you really would believe you are riding a bike with a much smaller engine.  A large twist of the throttle is needed to gain any meaningful forward motion but it is very safe and no stress.
  It certainlhe helps ensure you don't gather too much speed accelerating away from lights to attract unwanted attention.
Still within 5 minutes, we'd switched the bike back to sport mode which unleashes the whole herd of 150 horses but more importantly sharpens the throttle response so that you now feel like you are riding a bike with a potent, responsive yet progressive powerplant.  As we have said previously, we don't understand what the point of the urban mode is.
 The bike has so much torque that you are never going to need more than 5,000rpms in a commuting environment so the artificial restriction to 100hp seems moot.  It might just be us, but we'd rather have the sharp throttle response of sport mode which is so precise it feels like you can meter out the ponies one at a time if you want to.  Besides it becomes difficult to adapt your throttle hand to the vary different responses you get from the same twist in the different modes.
 After running in sport, nothing seems to happen when you twist the throttle in Urban.  The other way around has you popping unintended wheelies as the crisp response momentarily surprises.
Comfort is not normally the first word that springs to mind when you are free forming around Ducati but the Multistrada is truly comfortable around town.  With a high stance care of the long travel suspension you have a superior SUV-esque view of the world, comfortable wide bars to grip onto and an adjustable screen that will keep most of the elements at bay.  If you come from a sport bike sitting so upright takes a bit of getting used to but you soon adapt and it begins to feel natural not to have a sore back / arms / legs / neck (delete those not applicable) after a ride.
We loved the weather protection garnered from the clever dirt bike style hand guards that double as high, easy to see front turn signals.  Just watch yourself when filtering though as the bike is quite wide at the bars and mirrors height.  Although the Multi is heavy compared to a sport bike it is reasonably light against its adventure tourer style peer group and feels much lighter and well balanced when being ridden.
 You do feel the weight though when moving it around in a parking situation, especially with a full tank and quickly learn to not go nose in to any stop that slopes downward.
With the optional hard side luggage installed you can securely stow your gear whether it be your lunch or work papers and have quite a practical commuter.  Popping along to to the shops or running an errand in the city is something we'd readily do on this bike, which is more than you could say for our Monster S4RS or pretty much any other 4-valve Ducati.  It is even reasonably economical for such a potent motorcycle.
In the next installment we'll get the Ducati Multistrada 1200 out of the city and onto the open road to see how it copes in what would seem its natural environment – touring.  Be sure to read Ducati Multistrada 1200 on Tour – Touring Mode .
Ducati Australia / New Zealand supplied the Ducati Multistrada 1200 and a tank of gas care of Haldanes Motorcycles
Want More?
Read More Posts like this in our Reviews category
AutoRacing1.com – Hot News Page
2004 Ducati Monster 1000S – Used 2004 Monster 1000 S at Motorcyclist Magazine
New Launched Bikes in India Actor Surya falls for Ducati Monster 796
Minichamps MIN122060257 2006 Ducati 999 F06 Team Ducati-Xerox Superbike…
Ducati 1198 SP