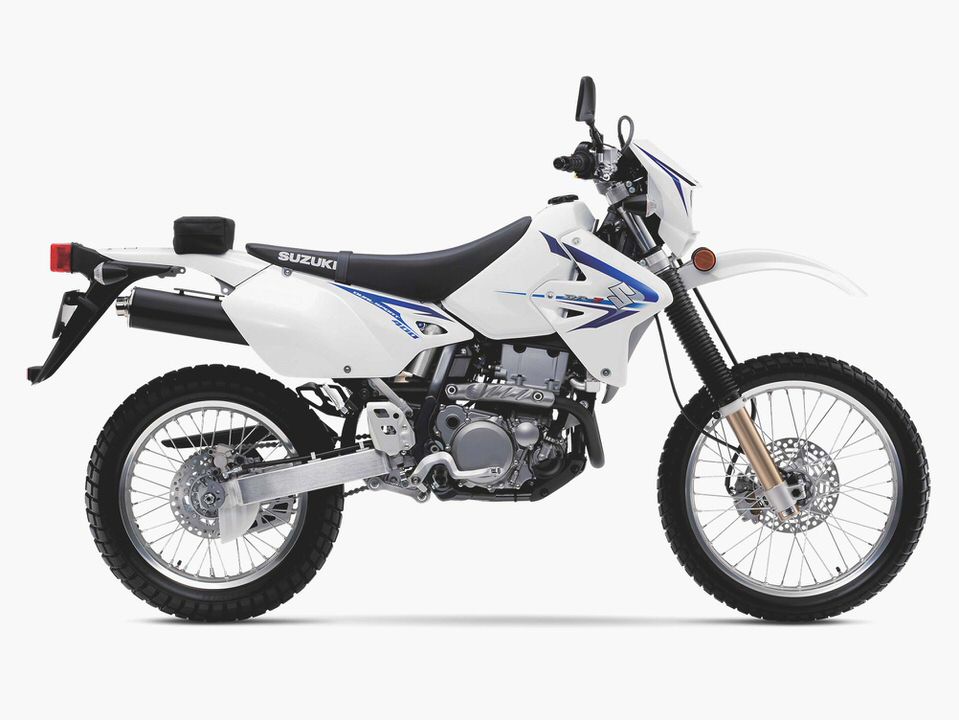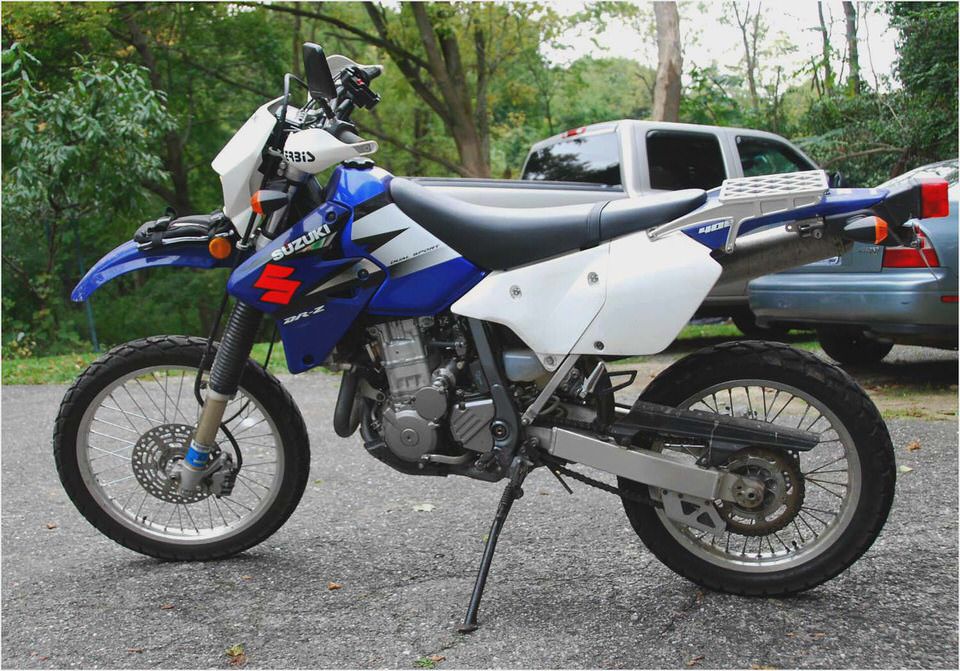 Suzuki DR-Z400E (July 2008)
Suzuki looked to make a race weapon, but instead ended up with one of the most successful trailbikes of all time. Damien Ashenhurst from Dirt Bike Trader mag takes a look at what makes the DR-Z400E such a popular and enduring choice the world over
For the people
We live in a world where what you see is not always what you get. We're told that if a woman makes the right choice of cosmetic product, she'll have a great day riding a horse on the beach. If a bloke eats the right yoghurt, that woman on the horse will find him utterly irresistible.
Then there are products that are just blatantly bizarre, like 'Canned Whole Chicken', but I'll leave that one for you to ponder.
However, it's heartening to know that from time to time, you can still get what you payed for and then perhaps a little more. 'Google' does what it says it will and it's free. Frisbees never let you down either. And in the trailbike world, the king of kept promises is the Suzuki DR-Z400E.
It doesn't pretend to be anything but a reliable and capable trailbike that, in the right hands, can achieve most everything but the greatest feats of the other race-bred machines on the market.
Few bikes elicit the same warm response from owners and former owners than the Suzuki DR-Z400E. It's the sort of response and that can only come from countless, trouble-free hours and low maintenance needs – it's everything a perfect marriage should be.
THE BIRTH
Introduced in 2000, the DR-Z400E has remained basically unchanged because, well, it works just fine, thank you very much. It was designed to pick up where the DR350, (another great bike) had left off, and it hit the market with much fanfare and anticipation.
It was originally heralded as a race winner, but the world was still besotted by Yamaha's groundbreaking and all-conquering WR400 (released in 1998), and it seemed as though Suzuki had missed the boat and was forced to rethink just where the DR-Z sat – and it wasn't alone.
Kawasaki's KLX300 and Honda's XR400 were also hopelessly outgunned on the track by the Yammie, which was followed up by the infamous WR426 in 2000, and in some ways they're all still playing catch-up even now in 2008.
Although the DR-Z did see some success in competition – Chad Reed was once a DR-Z pilot, as was Mike Kiedrowski, who raced one in the AMA GNCC series – the focus was soon shifted to the trailbike market, where Suzuki's investment has since repaid itself in spades.
KEEP IT SIMPLE
Much of the DR-Zs success comes from the fact that it suits most of the people, most of the time. Our sport is unique in that we're directly marketed the machines that the top racers in the world compete on. Budding horse riders don't learn to ride on Kingston Town and you can't buy Craig Lowndes' V8 Supercar from a dealer. But you can buy David Knight's KTM, or Craig Anderson's Honda, if you have the money.
Sure they might have a few tricky factory pieces here and there, but on the whole you'd be surprised just how close to stock a lot of these bikes are, and most of their bolt-on goodies are available over the counter. It's only when you get to the AMA factory bikes that things get seriously funky.
The capabilities of the average bike surpassed the capabilities of the average rider at the moment Yamaha's monster 400 hit the ground. From that time on, bikes started being built for racers, but were marketed to muppets like you and me.
However, Suzuki knows that the DR-Z400 has everything and more the average rider needs to have a load of fun in the bush, without the hi-maintenance, hi-tech format of so many other track-bred bush rockets.
ALL YA NEED
This isn't to say that the DR-Z is antiquated. Outdated in many respects maybe, but it's still relevant.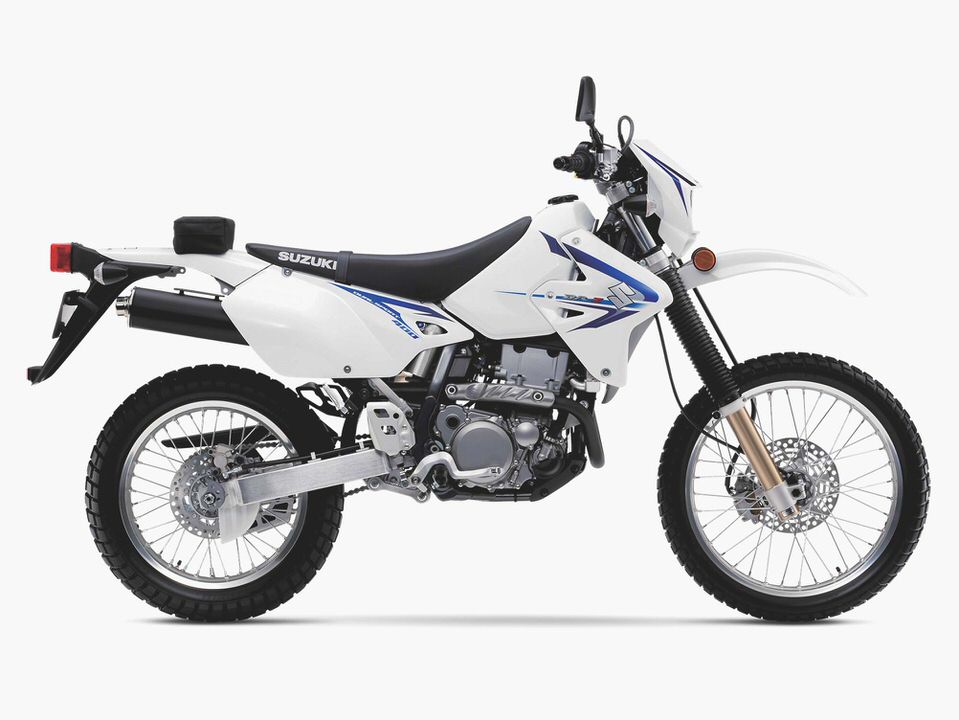 Its soft suspension is robust enough to take a good pounding year after year, but all the while remaining comfortable and keeping posteriors monkey-butt free. It's adjustable, but basically only between hard or soft. That's all we needed for many years though, so embrace the simplicity.
The 398cc engine is a pearler. It really is fast enough for most people, and will climb any hill and blast any corner. It's versatile too, with all the poke you'll need, whether you're learning the ropes or you're racing enduro.
The bike's also backed by a 12-month, unlimited kilometre warranty, which is bloody rare these days and shows the faith Suzuki has in the model.
Okay, so far it's been a bed of roses, but the bike does have shortcomings. The ergonomics are disastrous for anyone over 5ft tall, with bars so low you can turn the blinkers on and off with your knees. Get a good set of bars and bar raisers.
There's not a whole lot of ground clearance either, and that's not made any better when you bolt on all the protective gear you need for bush bashing onto a bike that's already 119kg dry.
My final gripe is the price. With a retail price of $8790 the DR-Z sits in an odd price bracket. The way prices get screwed down these days, it can be a tough choice as to whether to take the Suzuki or unload a relatively small amount more to get something like a Yamaha WR250F.
The Gas Gas Pampera 450 also occupies a similar price point, but with extra ponies.
I don't think the Pampera is as universally compatible or well credentialed as the DR-Z as to make a serious dent in the latter's sales, but people like big numbers and the Gasser is a good all-round package. To its credit, Suzuki often has cash-back offers on the DR-Z range, so that's something to look out for.
IT'S LOVE
The DR-Z will one day be phased out by a new soopa-doopa enduro weapon (Suzuki's had long enough to work on it), and when that day comes I've got no doubt that people will speak about the DR-Z in the same respectful and fond terms as they do now about Honda's XR400.
They share the same formula, but in different eras. Simplicity and functionality. Power to the people – right on brother.
Suzuki DRZ 400 SM DIY Reviews!
OneWheelDrive.Net 2007 Suzuki Bandit 1250S – Refinement Runs Deep
Suzuki GSX 1300 RY eBay
2001 Suzuki RM125 –
Suzuki LTZ 400 Specifications eHow